Farm-to-table advocates gather for symposium
---
September 20, 2013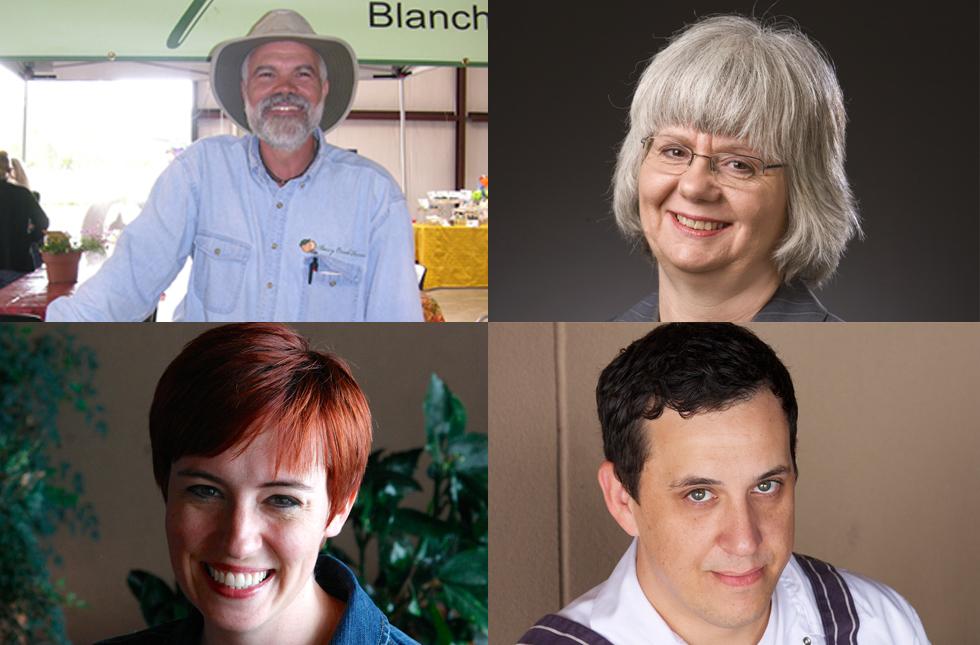 Traditional wisdom suggests that trends develop on America's East and West coasts and slowly make their way to the Oklahoma heartland. However, the urge to reexamine the relationship between the land, the food produced from it and the people who eat it has found fertile soil in Oklahoma at a speed that defies expectation.
Four Oklahomans with a deep investment in the future success of the farm-to-table movement will come together for a panel discussion about sustainable food beginning at 2 p.m. Sept. 30 in the Student Center Ballroom at the University of Science and Arts of Oklahoma (USAO).
The panel is being held as part of the 6th annual Ray and Mary Giles Symposium for Citizenship and Public Service, which features award-winning chef, restaurateur and sustainable food advocate Dan Barber as its keynote speaker.
Barber is scheduled to deliver the symposium's keynote address at 7:30 p.m. in Te Ata Memorial Auditorium, located inside the historic Troutt Hall on the campus of USAO.
The symposium, as well as the afternoon panel discussion, is free and open to the public.
The farm-to-table movement emphasizes using locally grown and raw or lightly processed foods for a healthier and more satisfying diet.
In addition to improving the local ecology by producing foods suited for a particular area, the farm-to-table approach reduces the energy necessary to transport food long distances.
Joining Barber for the panel discussion are Larry Hocking of Berry Creek Farms and Dr. Gail Gates, Regents Service professor of Nutritional Sciences at Oklahoma State University as well as Heather Steele and Chef Kyle Mills, general manager and head chef, respectively, at LOCAL, a farm-to-table restaurant in Norman.
Larry Hocking is the proprietor of Berry Creek Farm in Blanchard. Berry Creek is an organic-certified farm that is also animal welfare approved.
Specializing in the cultivation of a wide-variety of fruits, vegetables and poultry, Berry Creek uses all natural fertilizers, pesticides and growing techniques. In addition to selling to restaurants seeking flavorful ingredients for their menu, Berry Creek sells directly to the public to raise awareness about the benefits of their careful cultivation model.
Dr. Gates earned her bachelor's and master's degrees from Texas Tech University and her Ph.D. from Penn State University, all in nutrition. She is a registered dietitian and has served on several national committees of the Academy of Nutrition and Dietetics and the Commission on Dietetic Registration.
Dr. Gates has published more than 40 research articles related to nutrition education and food choices.
Steele and Mills represent LOCAL, a family dining restaurant in Norman, Okla., that focuses on locally sourced, sustainable, creative American food. Its seasonal menu features weekly chalkboard cuts of grass-fed meats, as well as special dishes created with the freshest local produce.
The restaurant also features a retail space offering complete take-away single and family dinners, farm market baskets and local products for home kitchens.
Dr. Chris Walker, associate professor of psychology and chairman of the social sciences and business division at USAO, chairs the Giles Symposium committee. He envisions the panel as a way to localize many of the issues that Barber, as a national figure, articulates.
"For a state that has, throughout its history, had agriculture as one of its cornerstones, we have, at times, learned the hard way the importance of maintaining sustainable practices," Walker said. "Oklahomans have a wealth of organic outlets for food in comparison to other states, and this panel seeks to examine the methods and implications of the farm-to-table movement."
Serving as the moderator for the panel is Dr. John Bruce, professor of language and literature.
Bruce earned his Ph.D. in English literature from the University of Glasgow and has been a member of USAO's faculty since 1998.
Bruce received the USAO Regents Award for Superior Teaching in 2009, a Faculty of Arts Research Grant from the University of Glasgow, a Selden Leavell Endowed Scholarship from the University of Texas-Pan American and a Journalism Scholarship from Humboldt State University.
He is a member of the Rocky Mountain Modern Language Association, the South Central Society for Eighteenth-Century Studies and the Horned Lizard Conservation Society.
Barber has written extensively about the farm-to-table philosophy for media outlets likeThe New York Times, The Nation and Gourmet. He serves on the President's Council on Physical Fitness, Sports and Nutrition and is an advisory member of the board to the Harvard Medical School Center for Health and The Global Environment.
Barber was named toTime Magazine's Time 100 list of influential people in 2009. He appeared as a guest judge on Bravo's Top Chef that same year.
Barber, along with his brother and sister-in-law, opened the flagship Blue Hill restaurant in Greenwich Village in New York City in 2000. Using Blue Hill as a vehicle to showcase locally-produced food and wine, Barber received accolades as a chef, including being named one of the Best New Chefs by Food and Wine magazine in 2002.
In 2004, the Blue Hill operation was expanded into a second location outside New York City that is part of the Stone Barn Center for Food and Agriculture. In addition to its culinary and educational functions, Stone Barn is a working four-season farm and provides some of the meat and vegetables for the Blue Hill restaurants.
In 2013, Barber's Blue Hill was awarded the top restaurant award from the James Beard Foundation, a not-for-profit organization dedicated to inspiring, educating, entertaining and fostering a deeper understanding of America's culinary culture.
More information about the Giles Symposium on Citizenship and Public Service is available at /giles-symposium.