Feaver Accepts Award for OCW President Dan Procter
---
October 28, 2008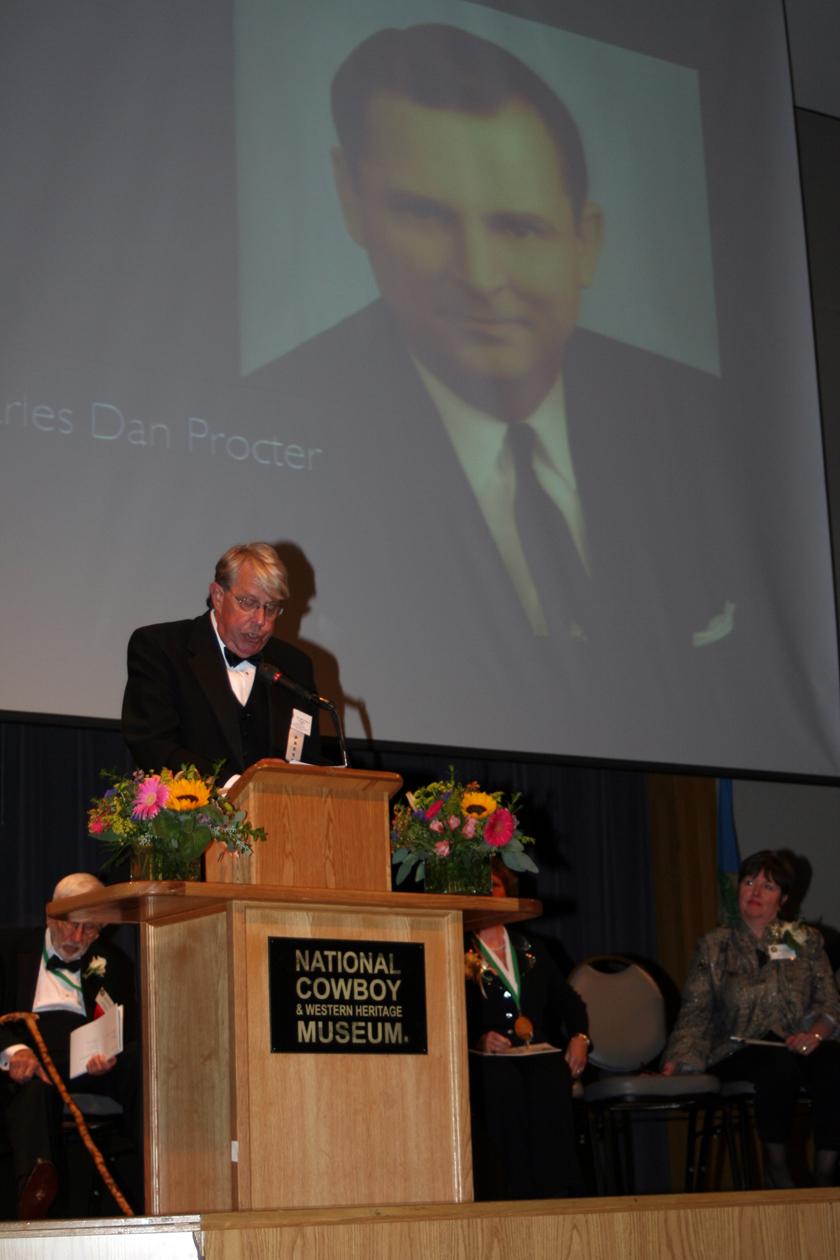 Two luminaries in the colorful history of the University of Science and Arts were inducted into the prestigious Higher Education Hall of Fame this month. And for the sixth time in his presidency, John Feaver took the stage to accept the award on behalf of one of them, the late Dr. C. Dan Procter (1905-1987), the sixth president of the college.
"Dan Procter's legacy follows the great leaders and visionaries who nurtured the Oklahoma College for Women to prominence," said USAO President John Feaver, before an audience of 1,000 at the Oklahoma Cowboy and Western Heritage Museum on Oct. 7. "Through the years, I have been privileged to accept this award on behalf of five OCW greats. I consider it a priceless honor."

Besides this award for Procter, Feaver previously has accepted the honor for OCW's fifth president, Mell Achilles Nash (1996); philosopher and educator J. Clayton Feaver, his father, (1998); legendary fine arts educator Frances Dinsmore Davis (2002); historian Anna L. Lewis (2003); and OCW's visionary fourth president George Washington Austin (2004).

"From OCW emerged some of Oklahoma's finest educators," Feaver said. "Masterfully guiding the institution through World War II and the resulting nationwide enrollment declines at exclusively women's colleges, Dan Procter was regarded as a dynamic and engaging visionary who oversaw a prosperous period of renewal at OCW. He remains, among our alumni, one of the most beloved of campus leaders in our 100-year history."

Dr. Charles Dan Procter became the sixth president of OCW in 1943, following the resignation of President M. A. Nash, who resigned to become the first chancellor of the Oklahoma State Regents for Higher Education.

A prodigy, the 38-year-old Procter had been highly successful in all his previous undertakings. A graduate of Ada High School and East Central State College, he became a high school business teacher and went on to complete two advanced degrees at the University of Oklahoma. In 1939, he was president of the Oklahoma Education Association, and in 1942, was appointed to the State Board of Education.

He was a skilled orator, and used his gift frequently to travel the nation and the world, speaking to civic clubs, educational conventions, and church gatherings.

Leading the college through a lean and troubling wartime, he built a new student union, renovated housing and built Nash Library, dedicated in 1950. He also built a new education and home economics facility, Gary Hall, dedicated in 1950, and renovated the Administration Building and Austin Hall. He persuaded Jane Brooks School for the Deaf to move on campus.

In 1958, Procter left higher education for a corporate position in Houston, where he eventually would retire as chairman of the board. But his contribution to the Sooner State – thoughtful leadership, discerning vision, political acumen, and strategic planning – cause him to be remembered still among the best leaders in Oklahoma higher education history.

The other person connected to USAO who was inducted to the Higher Education Hall of Fame this year was Emily Blanton Smith (1904-1975). Smith graduated from OCW in 1927 and then earned a master's degree from the University of Oklahoma in 1936. She served as dean of the Altus Junior College, today known as the Western Oklahoma State College, from 1933-43.

Smith was heralded as saving the institution from near collapse in the 1930s, when enrollment fell to 27 students. She built the enrollment to 600 and led the college to receive a national award from President Franklin Roosevelt's National Youth Administration program. She launched an aviation department and was certified herself in meteorology, aerodynamics and navigation, so there would be an instructor in aviation after male instructors were called to serve in WWII. And, despite physical handicaps, she learned to fly, worked on her doctorate, and launched another career after WWII.

A member of her family accepted the award on her behalf.