Feaver to be inducted into Hall of Fame
---
July 26, 2012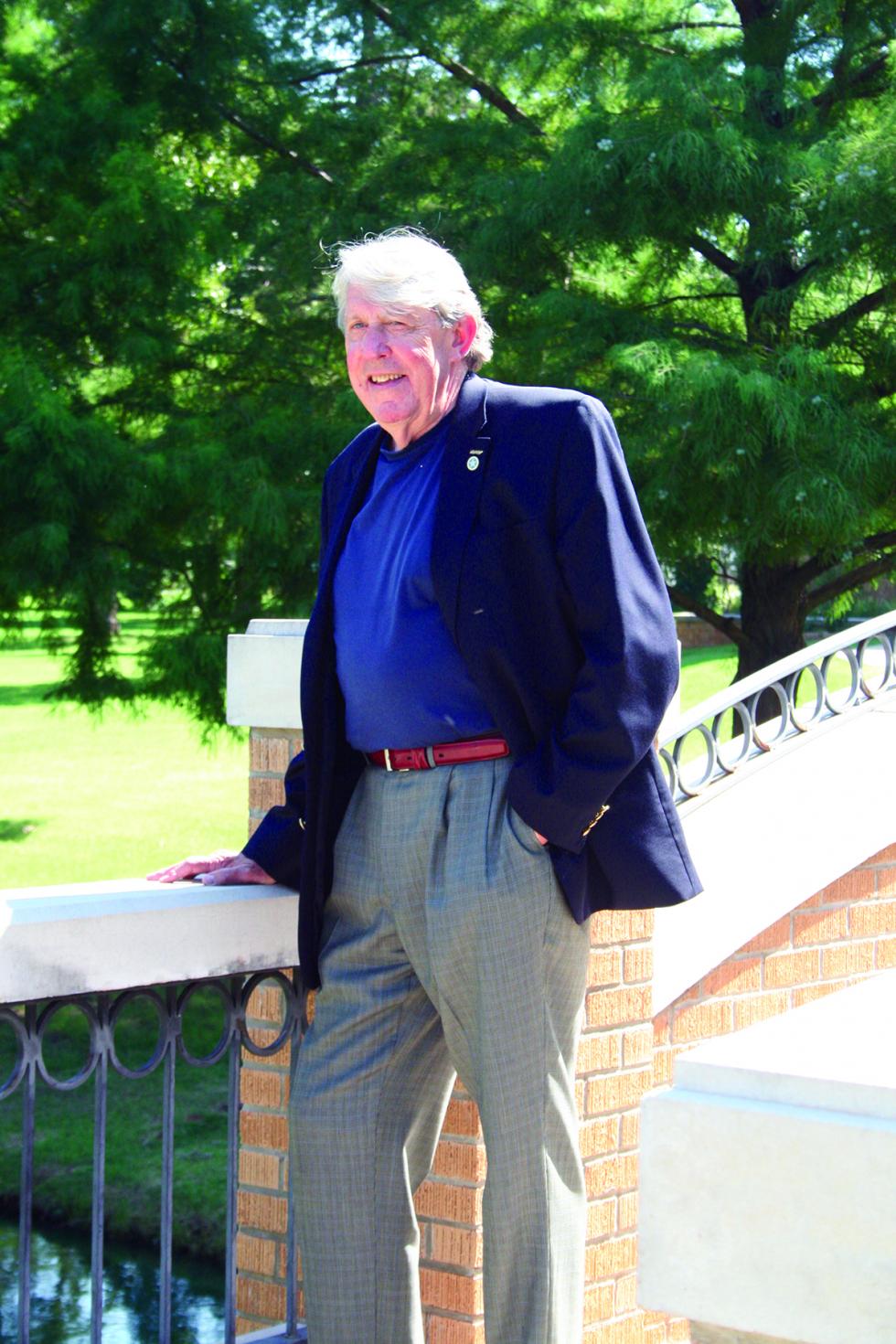 College president, outspoken historic preservationist and education reformer John Feaver will be inducted to the Higher Education Hall of Fame in October, joining a very short list of living presidents ever selected for the honor.
"What a profound and deeply gratifying honor," Feaver said.
"To be recognized among the people whose stories comprise Oklahoma's higher education legacy over the last century is the greatest tribute of my career. I am indebted to so many individuals and organizations for my success, especially the hardworking faculty and staff who devote themselves to making USAO a great place to live and learn."
Feaver is chief architect of USAO's 10-year Mission Enhancement Plan that guides all decision making, strategic planning and advancement. Under his watch, USAO has become nationally recognized for quality and value by independent research firms and media, built first-class campus housing, earned status as a National Historic District, become a focal point for public art in Oklahoma, installed a list of legacy projects with private gifts and become nationally competitive in athletics.
Feaver received his doctorate in history and political science in 1980 from the University of Oklahoma. In that same year, he joined the faculty at the University of Science and Arts of Oklahoma in Chickasha. He was appointed chair of the division of business and social science in 1985, assistant to the president in 1987, and vice president for academic affairs in 1988. In the summer of 2000 he was named the college's 12th president, a position he continues to hold.
Presently he is a member of the Council of College Presidents that serves in an advisory role to the Chancellor and the Oklahoma State Regents for Higher Education. He sits on the statewide Boards of Directors of A+ Schools, Creative Oklahoma, the Oklahoma Academy for State Goals, the Oklahoma Community Institute, and the Oklahoma Arts Institute.
Others to be inducted this year into the Oklahoma Higher Education Hall of Fame are:
Florence G. Birdwell is a professor of music Oklahoma City University. She has been honored as a distinguished alumna of the university and was inducted into the OCU Performance Hall of Honor. Her former students include actor and performer Kristin Chenoweth and former Miss America, Susan Powell. She received Oklahoma's highest arts honor, the Governor's Arts Award, in 1985.
Bill W. Burgess Jr. was appointed to the Oklahoma State Regents for Higher Education in 1993 and reappointed in 2002 by the governor for another nine-year term. He is one of the youngest state regents to be appointed in the state's history. He graduated from Cameron University with a bachelor's degree and received his juris doctorate from the University of Oklahoma School of Law.
Dr. Jerry D. Carroll began his career in 1970 at Tulsa Community College, holding a wide-range of positions that culminated in serving as provost from 1990 to 1992. Carroll served as president of Northeastern Oklahoma A&M College in Miami from 1992 to 1997. He was named president of OSU-Oklahoma City in 1997. He earned his doctorate of education from Oklahoma State University.
Dr. Don C. Davis was elected to the Oklahoma House of Representatives in 1970 and served there until 1980. In 1980, Davis was selected as Cameron University president, and held this position until he was named president emeritus in 2002, and retired officially from Cameron University in 2003. Davis was appointed as an Oklahoma State Regent by Gov. Brad Henry in 2010 to complete a term ending in May 2011.
Dr. Beulah M. Hirschlein, a professor emerita of human development and family sciences, taught at OSU from 1970 until 2010. In addition to being a passionate and influential instructor, Hirschlein co-founded the Family Resource Center at OSU, a facility that serves as the center of activity for the Family Graduate and Student Housing residents that provides programs like wellness classes and morning and after-school programs for toddlers. She earned her doctorate in human development and family sciences from OSU in 1972.
Dr. Robert E. Howard is a professor of chemistry at the University of Tulsa. Howard was awarded the Champion for Success Award in 2003 by the Oklahoma State Regents for Higher Education for his work in developing chemistry curriculum for elementary and middle school students. Howard earned his doctorate in chemical physic from Indiana University in 1975.
Sul H. Lee served as dean of libraries at the University of Oklahoma for more than 30 years. His time at OU was marked by a dramatic expansion of library facilities and fundraising. Before coming to OU, Lee was dean of library services and professor of library science at Indiana State University. He earned his master of arts degrees in political science from the University of Toledo and in library science from the University of Michigan, and conducted doctoral work in international relations from Michigan State University. Lee retired in June of this year.
Dr. Kenneth E. Starling is a professor emeritus of chemical, biological and materials engineering at the University of Oklahoma. He was awarded the Gas Processors Association Don Katz Award for outstanding accomplishments in gas processing research and technology, and for excellence in engineering education in 2003. Starling did his masters and doctoral work at the Illinois Institute of Technology where he earned his Ph.D. in 1962.
Dr. Douglas W. Voth is a professor of medicine and director of development for the OU Health Sciences Center College of Public Health and the Graduate College. Voth first joined the OU Health Sciences Center in 1973 as a professor of medicine. After working abroad, Voth returned to Oklahoma and OU in 1987. Voth was the acting chair of the department of neurology from 1990 to 1992, executive dean of the college of medicine from 1992 to 1996, development officer for the OU Health Sciences Center, and dean of the college of pharmacy from 2002 to 2007. The University of Oklahoma awarded him a Regents' Professorship in 2010.
The Oklahoma Higher Education Hall of Fame was established in 1994 to recognize and honor individuals, living and deceased, for outstanding meritorious service to higher education in Oklahoma.
To be eligible for induction, an individual must have been employed by one or more institutions of public and private higher education in Oklahoma on a full-time basis for a minimum of 10 years. Individuals not so employed, but who have performed outstanding service to higher education in the state, or organizations or institutions, are also eligible for consideration, such service to be above and beyond financial contributions.
The formal induction ceremony and banquet is scheduled at 6:30 p.m. Oct. 9, at the Jim Thorpe Association and Oklahoma Sports Hall of Fame Museum in Oklahoma City.
For more information about the Oklahoma Higher Education Hall of Fame or the Oklahoma Higher Education Heritage Society, please visit: www.ohehs.org or call 405-522-0778.