Feaver: 'Graduates face complex world but ready'
---
December 09, 2011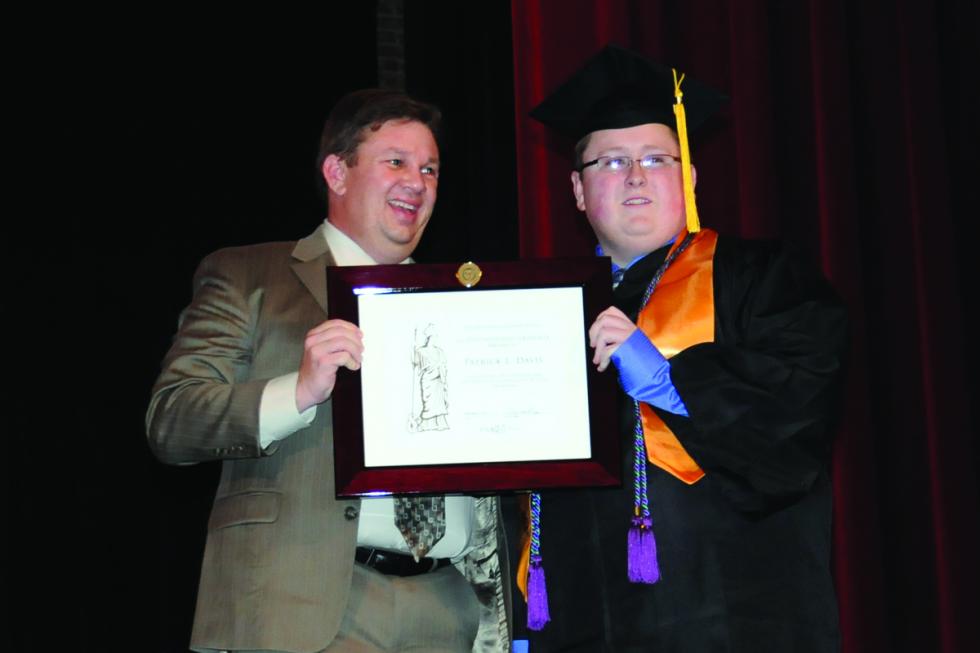 Graduates can face a complex world with confidence argued President John Feaver on Friday night as he addressed fall commencement at the University of Science and Arts. Families and friends filled Te Ata Memorial Auditorium to honor 75 graduates in the college's 103rd year.
"The world we live in is terribly complex, full of contradiction and paradox, full of mystery," Feaver said. "In order to deal best with its complexity, contradiction, paradox and mystery, it will be necessary to continue to learn anew everyday for the rest of one's life.
"With your degree and the skills and abilities that it represents, I ask each of you to emerge as one within the community in which you choose to work and live -- to lead in the effort to improve not only your life and that of your family and friends, but to improve also the quality of life for those who are your neighbors, the fellow citizens of your community and beyond."
Eric Feuerborn, director of USAO Alumni Development, presented the USAO Alumni Association's Distinguished Graduate Award to Patrick Davis.
Davis graduated cum laude with a bachelor of science degree in elementary education. He is from Verden and completed an associate of arts in general studies from Redlands College.
"He (Patrick) sets high standards for all of his work and completes all assignments in a professional manner," said Dr. Linda McElroy, associate professor of education at USAO. "He never settles for anything less than his own personal best."
While at USAO, he was named to both the USAO honor rolls and Regents honor rolls. He served as vice president of Kappa Delta Pi, as a member of the Student National Education Association and was nominated for the outstanding graduate award from the division of education and speech language pathology. He participated in Books for Tots and received the Mark Walter Howery scholarship twice from the USAO Alumni Association. While at Redlands, he was named to the Phi Theta Kappa international honor society.
As part of an independent study project, Davis worked with Relay for Life. He helped paint murals at John Adams elementary in Oklahoma City and participated in a community service project during the spring convention of the Student Oklahoma Education Association. He volunteers for his church as a vacation Bible school teacher.
"I believe Patrick will bring a good sense of empathy to any setting where he is working with children. He possesses a good knowledge of strategies that will help him to be effective in the instruction he provides," McElroy said.
Davis has already been hired by the Mustang Public School system and will begin teaching after graduation.
Last week, four graduating seniors were recognized as the Fall 2011 Distinguished Graduates for the college's four academic divisions.
Communication major Rachael Brown, of Chickasha, received the distinction of outstanding graduate from the division of arts and humanities. Quinton Talley, a business from Cookeville, Tenn., was named the outstanding graduate from the division of business and social sciences. The division of education and speech pathology bestowed their distinction on Kelsey Jones, a deaf education major from Sulphur. The outstanding graduate award for the science and physical education division was awarded to Deborah Stone, a biology major from Chickasha.
The evening ceremony began with the traditional "Pomp and Circumstance" processional performed by Dr. Stephen Weber, professor of music and chairman of the arts and humanities division. Graduating music majors Joshua Smith, of Blanchard, and Stephanie Goodwin, of Midwest City, performed Johannes Brahms' First Sonata, Op. 120, No.1 Allegretto Grazioso as a piano and clarinet duet.
Weber, Dr. Ken Bohannon, associate professor of music and music department coordinator, and Dr. Jan Hanson, professor of music, led graduates and guests in singing "The College Hymn." Dr. Dan Hanson, professor of music, performed the recessional, the "Grand March" from Verdi's Aida.
Copies of the ceremony will be available on DVD in the USAO Media and Community Relations office or by phone at 405-574-1318.
Feaver issued 55 bachelor of science degrees and 20 bachelor of arts degrees.
Receiving bachelor of science degrees were:
Alex: Seanan Tao Anderson
Anadarko: Kellie Anne Moser
Blanchard: Priscilla René Craig, Amanda Lynelle Smith, Emily Elizabeth Yeo
Chickasha: Juliana Xavier Bassetto, David Aaron Buchanan, Nikola Cakarevic, Terra Doan, Frank Bernard Gibson, Nicholas Allen Lovell, Kyle Austin Mottinger, Regulo Moises Moy, Debora Dourado Mendes Pereira, Gretchen Nicole Phelps, Angela Ann Rangel, Danilo Rasovic, Dusan Rasovic, Monet Free Rounds, Ashley Lynn Sanders, Deborah Ann Stone, Kirstin Elizabeth Toland
Dibble: DaRae Nichole Crawford
Duncan: Vincent Kyle Linke
El Reno: Luanna José
Fort Cobb: Kearsten Dianne Williams
Foster: Teresa Lynn Pruett
Lawton: Mary Alice Rios
Lindsay: Shelly Ann Tarver
Mannford: Samantha Raquel Fowler
Midwest City: Kayla Antoinette Locke
Minco: Jordan Wesley Langford
Mustang: Brittany Danielle Faye Bollinger
Ninnekah: Shelby Alexander Hurst
Norman: Amy Jo Pennington
Oklahoma City: Chase Webster Ainsworth, Kristina Michelle Boehlke, Desiree Dawn Dicharry, Tiffany Michelle Fleming, Sarah Denise Hurt, Gavin Otieno Ochieng, Cassandra Ann Stroup, Lauren Ashley White
Purcell: Austin Lorann Muncie
Rush Springs: Trent Dean Parrish
Sapulpa: Kristin Leigh Bowen
Sulphur: Kelsey Donell Jones
Tuttle: Stephanie Kay Conner
Verden: Patrick Lane Davis
Out of State
Porterville, Calif.: Rosalinda Campos
Cookeville, Tenn.: Quinton Brice Talley
Dallas, Texas: Ashley Desiree Browder
Denton, Texas: Rachel Elizabeth Moulden
El Paso, Texas: Brenda Jeanette Portillo
Bow, WA: Conner Mark Bridgman
Out of Country
Belgrade, Serbia- Danilo Rasovic, Dusan Rasovic
Receiving bachelor of arts degrees were:
Anadarko: Marcenella R. LaFerr, Kellie Anne Moser
Blanchard: Joshua Stephen Smith
Chandler: Stephanie Anne Blank
Chickasha: Nashae Nicole Billinger, Rachael Stella Brown, Lindy Marie Gibson, Jeremy Shane Stapp, Robert Ryan Newbrough, Shannon Mika Wares
Marlow: Andrew Joel Morphew
Midwest City: Stephanie Amber Goodwin
Moore: Beatrice Lee Mitchell
Newalla: Robin Renee Mosher Teeter
Noble: Whitney Page Story
Paoli: Miranda Lynn Chandler
Valliant: Veronica Nicole Fennell
Vinita: Trey Elliott Moss
Yukon: Victoria Danielle Petrosky