President Feaver outlines plan to bolster USAO' success in coming year
---
January 12, 2022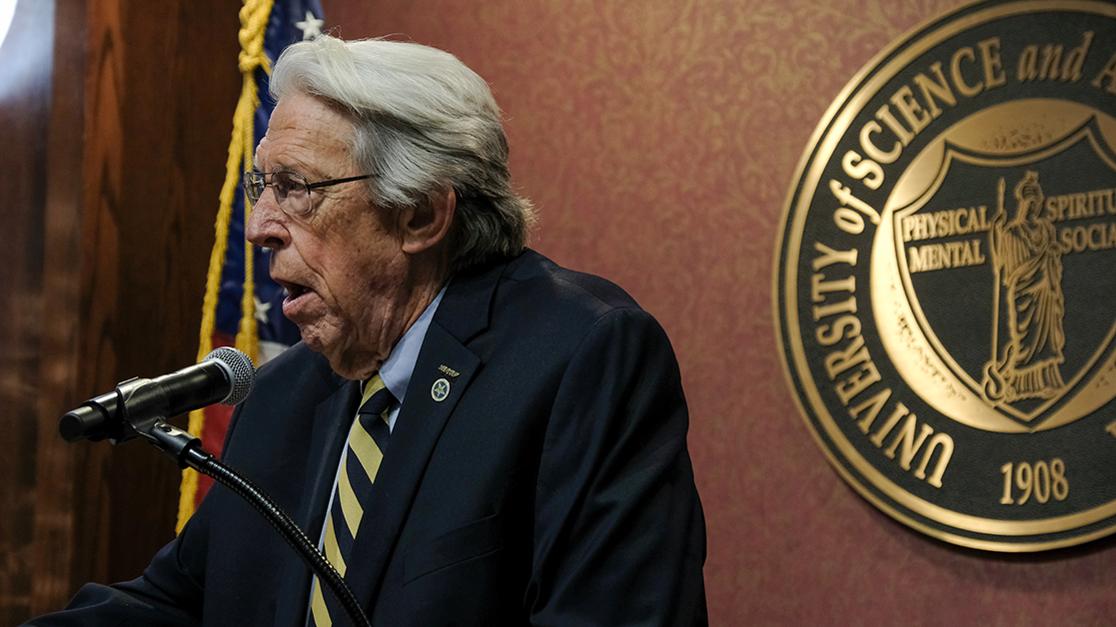 While the COVID-19 pandemic has wreaked havoc across the world, many institutions of higher education have faced increasingly uncertain times as they struggle to meet their students' needs and fulfill the scholastic mandate. But for the University of Science & Arts of Oklahoma, the past year was one marked by tremendous growth in the student body, innovative collaborations with other institutions as well as our local community, increased and diversified sources of funding, and a general sense that USAO remains an outlier when compared to other colleges and universities, large and small, public or private. As I look eagerly into the possibilities 2022 may bring, I see a clear trajectory towards a bright future based on the lessons we have learned thanks to the past two years' disruptions and to the mutually beneficial connections we have made in that time.
First and foremost, I must again trumpet the fact that our fall 2021 enrollment numbers were by far the highest in my tenure as president of this institution. When other universities saw precipitous drops over the course of the pandemic, USAO has faced the opposite problem: ensuring we have the facilities necessary for all the students eager to take advantage of our interdisciplinary methodology. We not only saw record numbers of first-time students enrolling, but, thanks to new scholarship incentives, we also welcomed almost double the number of transfer students than we did in previous years. While I am ecstatic to see so many new Drovers on our campus, I am equally concerned about freshman retention and if our sophomores, juniors and seniors are receiving the kind of support they need to complete their studies and walk across the stage a USAO graduate. To this end, this year I am heavily focused on figuring out what is most important to our students, finding ways to improve their college experience, and helping them see this institution truly as their alma mater.
Part and parcel of improving student outcomes have been the partnerships we have recently forged between both other colleges and universities, as well as with the Chickasha community that has supported us for so long. Though COVID-19 forced us to shift to online learning across the board, we have decided to retain and refine certain online options to expand academic opportunities for USAO students. Together with Cameron University and Western Oklahoma State College, we are participating in a joint institutional research program that is aimed at improving outcomes for students at all three institutions. We have also arranged for shared degree programs with Cameron so our students can earn a bachelor's in computer science, as well as creating pipelines for our students to enter several of Cameron's graduate programs directly after completing their degree here. Similarly, we are partnering with the University of Oklahoma to offer a joint nursing degree and also forged transfer portals with many two-year institutions across the state so their students can seamlessly transition to a four-year school. Furthermore, we are now affiliated with Coursera, one of the world's leading providers of online education, which will give USAO students a chance to learn from world-class instructors across a huge range of course material and, in addition to their majors, earn highly sought-after, industry-recognized technical certifications while still a student.
Though our digital expansions are indeed critical, more concretely, USAO is also heavily focused on further strengthening the bonds between this institution and the community which has been our home for more than a century. Chickasha's historic downtown has already begun a wonderful renaissance, and I am thrilled that this institution is intertwined with this new flowering. Just recently we opened the remodeled Art Wrecker Studios, which not only provides our students with a fully functional professional gallery in which to exhibit their creative works, it will serve as a kind of off-beat event space for municipal use. We are also working on establishing a residential development in a renovated downtown building, which would allow a select group of USAO students to live and work right in the heart of the community.
Over the past few years, USAO has undertaken a great many capital projects to beautify and modernize our campus facilities while still carefully maintaining its characteristic architecture—those features which make this institution the only Oklahoma university to have its entire campus designated a National Historic District. For 2022, major projects will include focusing on renovation of the Historic Fieldhouse, better known as the Old Gym, and remodeling both Willard and Addams Halls so they are once again ready to serve as student housing, office space, and provide additional teaching and learning opportunities. Thanks to the extraordinary generosity of our alumni, both the Little Theatre and Amphitheater in Davis Hall will also be fully modernized with cutting-edge technology that will further the performing arts and classroom venues available at USAO.
Beyond building renovation and improvements, a final priority of mine is the further beautification of campus grounds in general. As with the creation of Coming Together Park several years ago, we are looking into ways to incorporate new and exciting pieces of public art into our grounds in as organic a way as possible. Though people far and wide have noted that this is a particularly lovely campus, I have begun to envision the entire area as an extension of our Nesbitt Gallery, a place where education, creativity, innovation, dialogue and inspiration all come together to create the special atmosphere of this special place.
This list may seem unwieldy for an institution as small as USAO, but, if you have paid attention to how we have thrived despite the disruptions of the past two years, it should be obvious that the people who make up USAO—from a freshman sitting in their very first class to the most senior member of our faculty—believe that this university offers something that others simply cannot. This belief drives them to make truly incredible things happen, and, though I have set ambitions goals for 2022, I am absolutely confident that we will accomplish them in even greater ways than we can even conceive of right now.