Ferguson Shares 'Sense of Place' At USAO Spring Commencement
---
April 23, 2010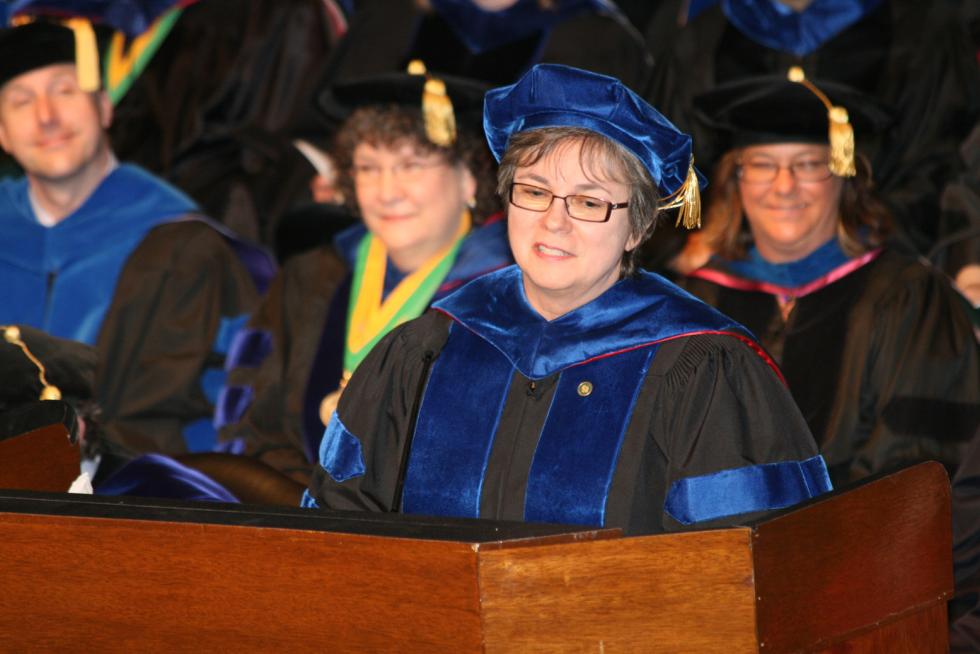 Comparing shared life stories and giving meaningful definition to "place," Dr. Vicki Ferguson encouraged graduates that they are starting on a good foundation with a liberal arts degree during the spring commencement ceremony at the University of Science and Arts.
An education faculty member for most of 28 years, Fergusonaddressed 134 graduating seniors and their families at the ceremony April 23. She serves several roles as professor, director of teacher education and chair of the Division of Education and Speech-Language Pathology.
More than 1,500 people attended Friday night's commencement in two ceremonies at the college – the third time a two-ceremony schedule has been used to alleviate overcrowding in Te Ata Memorial Auditorium.
"When I was approached with the awesome request to speak to you, my first reaction was probably not much different than yours when you came to the realization that you were actually going to graduate from college – my reaction: panic," Ferguson said.
"I began thinking about 'stories:' in particular, your story and my story. We are at different 'places' in our stories, but our stories have many similarities. My story started before yours and, yet when our stories are complete, they may not be much different in length. Since my academic preparation was primarily in mathematics, I picture our stories as parallel truncated number lines that currently coincide at this place.
"Place is a word that communicates many different things. Steven Pinker, a recent campus speaker in this very auditorium, inspired me to consider how words communicate and this word 'place' has special significance tonight.
"Place can be a physical location. Place can signify an event. Place can indicate a time in your life.
One of the most decorated graduates to ever walk the stage, Jacqueline (J.C.) Benda of Union City received the USAO Alumni Distinguished Graduate Award during Friday night's commencement. Benda graduated with a 4.0 GPA in biology/pre-med, while serving a long list of charities and several honor societies. Presenting her the award is Alumni President Judy Ford of Shawnee.
"Although some of you in this spring graduating class reached this place in your life after previous work experiences, for most of you this 'place' is the place in your life that marks your crossing into expectations of adult life, of taking on the role of a productive citizen at a unique time in history," she said.
Ferguson shared how the places in her life compared to the places in the graduates' lives and a liberal arts education.
"It took me a while to be able to recognize the answer to the question – what good is a liberal arts education? Was it a fluke that a kid growing up in Florida became a math major in Georgia, discovered a love of teaching math in Texas, and eventually became a director of teacher education in Oklahoma, or could my liberal arts education somehow have played a part?
"You will surely be quicker than I at answering that liberal arts question. I predict you will discover that you see the world differently than many other people around you. You may realize that you see the underlying question/solution in an important issue while others hone in on superficial aspects, that you see multiple dimensions while others see only the immediate problem.
Webcast of the 6 p.m. Ceremony
Webcast of the 8 p.m. Ceremony
"You may realize that you are not afraid to face new tasks or tackle a job that did not previously exist. You may realize that you have developed strategies for analyzing and solving problems that come your way rather than quitting before a solution is found. You may realize that opening your mind to new ideas, new challenges and novel solutions was an approach to life that you learned while at USAO.
"All of you may realize that this place where you are tonight was, in fact, a really good place to be. So, as your story continues, in the words of the inimitable Dr. Seuss, 'Oh, the places you'll go.'"
Ferguson received her doctoral degree in math education from the University of Oklahoma in 1993, a master's degree in mathematics from the University of Texas in 1973 and a bachelor's degree in mathematics from Agnes Scott College in 1971.
She has been a full-time member of the USAO faculty since 1988. She also was an instructor in the mathematics department at USAO from 1975-80 and an adjunct faculty member in the Division of Mathematics and Division of Education from 1987-88
Local businessman and USAO supporter Lonnie Jourdan received an honorary bachelor of liberal arts degree during the ceremony. Jourdan has been a friend to the university for nearly 20 years, giving most generously to scholarships, but also to capital projects like the Greek Theater and Owens Flag Plaza. His leadership gift to restore the Home of the President in 2007 caused the USAO Board of Regents to rename the historic 1919 structure "The Jourdan House" in his honor.
A standing ovation greets benefactor Lonnie Jourdan during Friday night's commencement ceremonies at USAO. Jourdan received the first-ever Honorary Bachelor of Liberal Arts Degree for his leadership to the USAO Foundation, his dedication to service, and his generosity to students through scholarships. From left are USAO President John Feaver, commencement speaker Dr. Vicki Ferguson and Jourdan.
Presiding over the ceremony was Dr. John Feaver, president of the college. "With your degree and the abilities that the degree represents, I urge you to improve the quality of life of the people in your community. I urge you to improve the lives of those in the many communities you will encounter in your journey."
Shawnee resident Judy Ford, president of the USAO Alumni Association, presented the Alumni Association's Distinguished Graduate Award to Union City native Jacqueline (J.C.) Benda.
Benda graduated with a bachelor of science degree in biology/pre-med with a 4.0 grade point average. She plans to enlist in the Air Force and study medicine at the OU College of Medicine.
She was a member of the Alpha Lambda Delta Honor Society, the Beta Beta Beta Honor Society, the Hypatia Honor Society and was named to Who's Who Among American College Students.
Benda also was a member of the USAO Ambassadors, the Biology and Associated Sciences Club, Colleges Against Cancer, the President's Leadership Council, the Student Activities Board, the Volunteer Action Council and the Women in Technology and Science group. She played a year of varsity basketball at USAO and volunteered for a list of charities.
Benda received the George Austin Award for Campus Leadership, was a George and Donna Nigh Scholar and has participated in several marathons.
In her recommendation, Dr. Jeannette Loutsch said, "She is a mature young woman with strong morals, unbound enthusiasm, unlimited dedication to USAO and a delight to be around." Loutsch is an assistant professor of biology.
Six seniors received outstanding graduate awards from the USAO Faculty Association for academic divisions.
Wetumka English major Kasey Sams received distinction from the Division of Arts and Humanities. Yukon psychology major Cori Marsala-Quintero was named the outstanding graduate for the Division of Business and Social Science. Jessika Saltos, a speech language major from Moore, and Kelly Shewmaker, an elementary education major from Newcastle, were distinguished by the Division of Education and Speech Language Pathology. J.C. Benda, a biology/pre-med major from Union City, and Corey Coles, a biology major from Oklahoma City, were named the outstanding graduates for the Division of Science and Physical Education.
The evening ceremony began with the traditional "Pomp and Circumstance" processional performed by Dr. Stephen Weber, associate professor of music. Graduating music major Colette Schaffer of Lindsay performed "The Prayer" written by Caroline Sager and David Foster.
Weber, Dr. Ken Bohannon, associate professor of music, and Dr. Jan Hanson, professor of music, led graduates and guests in singing "The College Hymn." Dr. Dan Hanson, professor of music, performed the recessional, "You'll Be in My Heart" by Phil Collins.
Copies of the ceremony will be available on DVD for $15 plus tax in the USAO Media and Community Relations office or by phone at 405-574-1318.
Feaver issued 89 bachelor of science degrees, 39 bachelor of arts degrees and six bachelor of fine arts degrees.
Receiving bachelor of fine arts degrees were:
Blanchard --Shannon Rene' Moon
Chickasha --Robert Allen Cole, Helen Elizabeth Shafer, Kristen Claire Williams, Ashley Danielle Young
Oklahoma City --Emily J. McLennan
Receiving bachelor of science degrees were:
Alex-- Jessica J. Davenport
Altus-- Lupita Adali Moreno, Tiffany Mae Scholl
Anadarko-- Tracy Pewo, Shara Lee Sage
Ardmore-- Joshua Kyle Luttrall
Blanchard-- Jessica Danielle Clark, Ashley Dawn Clement, Kayla Raechelle Kerbo, Tara Jean Zindel
Bristow-- Felicia Jo Gourley
Cashion-- Skyler Stephen Foster
Chickasha-- Derek Reed Allen, Buddy Jacob Bedoka, Cacy Jade Bedoka, Alicia Dawn Cave, Juan Antonio Charqueno, Kelly Ann Cosart, Donna Jo Davidson, Frances Ann Dunkin, Laurissa L-D Eliason, Shelby Lea Grubb, Jessie Elizabeth Harris, Natalie Anne Holland, Laura Elizabeth Mitchell, Joshua James Moore, Nathan John Pennypacker, Kaycie Christine Ragsdale, Brooks Wade Robbins, Alvar Rodriguez, Boyd Lynn Salsbury, Lacey C. Shook, Sarah Kathryn Specht, Timithy Don Thomas
Collinsville-- Hillary Danielle Brown
Comanche-- Gina Leann Pollock
Cushing-- Charitie Dione Lewis
Cyril-- Thomas Houston Lau
Del City-- Aiden Lane Ashmore
Duncan-- Tiffany Ann Gann
Elmore City-- Jillian Alexandra Caldwell
Frederick-- Morgan Beth Martin, Brittany Diane Thomas
Hobart-- Ashley Brooke Smith
Jones-- Morgan Elizabeth Lane
Lawton-- John Pleas Houston
Lexington-- Sara Diane Glenn
Lindsay-- Kimberly Gail Williams
Marlow-- Heather Marie Broyles, Ashley Dawn Davis
Moore-- Jessika Dara Saltos
Mt. View-- Lindsey Nichole Bagley
Mustang-- Sydnay Katherine Dick, Ryan Lynn Romasz
Newcastle-- Margaret Anne McUsic, Kelly Gene Shewmaker
Ninnekah-- Starling Brice Rhymes
Norman-- Shireen Michelle Abbaszadeh, Connie Lamar Hamilton, Carrie Elizabeth Smyser, Krystle Dawn Suazo
Oklahoma City-- Valerie Elizabeth Brooks, Corey Jamaal Coles, Heather Richelle Hogan, Mary C. Rice, Miranda Sue Schallert, Roseanne Renae Truelove, Joshua Earl Turnage
Oologah-- Zachariah Lee Bauer
Purcell-- Rebekah Marie Couch, Rebecca Jean Moore
Rush Springs-- Ryan Dawn McKay
Shawnee-- Shea Anthony Hall
Tuttle-- Michelle Nicole Mason, Lindy J. Reynolds, Tiffany Dianne Rivers
Verden-- Jessica Amanda Price
Yukon-- Jacqueline Celeste Benda, Cori Ann Marsala-Quintero, Leah Ja-el Thompson
Out of State
Fayetteville, Arkansas-- Ana Maria Sheeler
Mt. Prospect, Illinois --Kenneth R. Wieda
Summerfield, North Carolina --Madison Lynn Thoma
Wichita Falls, Texas-- Ruben Jeremy Nieto
Out of Country
Langley, Canada BC-- Lucas Stewart Krobath
Puerto Cabello, Venezuela-- Eilyn Yanilca Flores
Rio De Janeiro, Brazil --Luanna Jose'
Botucatu, Brazil-- Juliana Marchis Leite
Valencia, Venezuela-- Ivaney Patricia Marquez
Receiving bachelor of arts degrees were
Altus-- Tiffany Mae Scholl
Amber-- Sachelle Elizabeth Story
Anadarko-- Constance Bread, Maria del Socorro Ramos-Morales
Blackwell-- Christopher Todd Stanford
Broken Arrow-- Kate A. McGee
Cement-- Vannessa Shawnae Pierce
Chickasha-- Michelle Ellen Bauer, Brett Alan Beery, Amy Lanelle Chaney, Sherrie Lanette Evans, Josh Wayne Finch, JJ William Francais, Lara Kathleen Jernigan, Sterling Edward Jones, Dustin Eugene Kennell, Lianna Kay Larabee, Ricardo Marson Rosa Moreira, Dione Shontia Oballa, Jerry Dean Richards, Brooks Wade Robbins, Shannon L. Robertson, Sandra Lynn Wilmoth
Davis-- Candace Nicole Shanholtzer
Edmond-- Jared Daniel Minson
Lindsay-- Micah Dannielle Mize, Colette Petrice Schaffer
Minco-- Rani DeJohn Eisenhour, Kassandra Leigh Prather
Ninnekah-- Chancey Ashford Witt
Oklahoma City-- Melissa Christina Losada, Lisa Danielle Prather
Rush Springs-- Samantha Jo Owen
Tuttle-- Brandon Wayne Blizzard, Abigail Karen Hardesty
Wetumka-- Kasey Mechelle Sams
Yukon-- Cynthia DeNeece Bostic, Amanda Leigh Hyam
Out of State
Mineral Wells, Texas --Ashley Nicole Jones