Fine arts candidates Merge work in senior show
---
August 22, 2014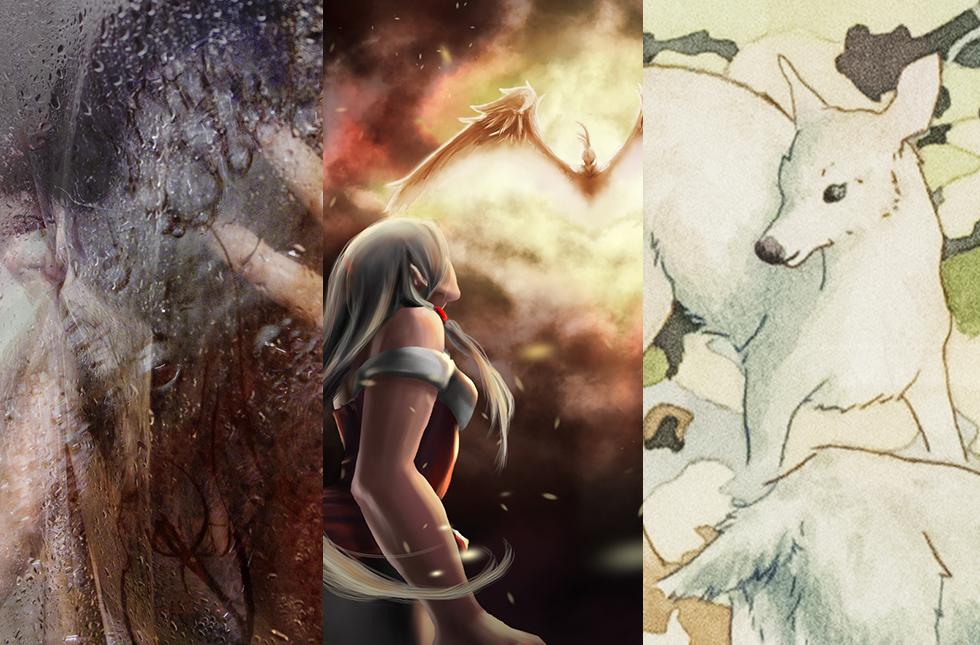 Five graduating art students will exhibit their work in an early fall senior bachelor of fine arts show titled Merge at the University of Science and Arts of Oklahoma.
An opening reception is scheduled to begin at 7 p.m. Sept. 6 in the Third Floor Art Gallery in Davis Hall.
The event is free and open to the public.
The graduating artists participating in the show are Lauren Casillas-Rosenfelt, Joshua Cook, Heather Heck, Michelle Holden and Dominique Midgett.
Lauren Casillas-Rosenfelt
Casillas-Rosenfelt is a long-time resident of Little Axe, attending school there from kindergarten through graduation in 2010.
She said her exposure to art had been a family affair.

"My great-grandpa sculpted wood, and I had a little coloring station there with him," Casillas-Rosenfelt said. "I would draw with crayons. My family told me stories about how my great-grandpa would sit with me and we would draw. I ended up keeping a sketchbook for most of my life."
When Casillas-Rosenfelt started drawing from life in high school, she realized that she had an aptitude to match her passion for art.
Upon a high school counselor's recommendation, Casillas-Rosenfelt looked into USAO's art department. She decided to attend based on the strength of the program, as well as the challenge of the university's unique interdisciplinary studies (IDS) core.
"I thought the IDS classes sounded really awesome because I wanted to challenge myself not only as an artist but as a student," she remembered.
Though Casillas-Rosenfelt's background was in illustration, she was drawn into painting by the allure of color.
Her training at USAO gave her the opportunity to experiment and enjoy different types of painting – whether using oil, acrylic, tempura or watercolor.
Most of her pieces in the show utilize watercolor, mixing media like ink pen or skin glue in to achieve unique effects.
Casillas-Rosenfelt's paintings in Merge are highly illustrative and conceptual, demonstrating an interest in contrasting what lies on the surface of a thing with what is hidden beneath.

She cites an enduring interest in surrealist painters like Salvador Dali and René Magritte as an influence on her conceptual development as an artist and draws from imagery "left over from dreams" for her paintings.
Casillas-Rosenfelt is interested in working with non-profit art organizations and has applied for internships to gain experience in that field.
Joshua Cook
Cook was active in art courses at Bishop-McGuiness High School until graduation in 2010.
He took a tour at USAO after his mother read about the university in the newspaper and he then was determined to make it his artistic home.
"I didn't apply anywhere else," Cook said. "I really liked how small USAO was. I like that I know everyone on campus. I like that I had, on average, 20 people in my classes and that my professors could talk to everyone individually.
Cook's fascination with metal sculpture clicked into place during a trimester while studying jewelry and sculpture.
"My frustration with clay sculpture was in how much it forced me to rely on things I couldn't control," Cook said. "I needed a kiln and then I had to fire it and then paint or glaze it. I was never pleased with how the glazes made my sculptures look."

Cook began originally creating his metal sculptures using discarded aluminum cans, piecing them together using a combination of glues. After building a frame from steel wire, he uses pieces of found or upcycled metal, salvaged from discarded electronic devices, to create works of art.
Conceptually, Cook's sculptures evoke nature without necessarily mirroring it.
"When I first started sculpting, I was on a sea creature kick, just because there is so much weird stuff in the ocean," Cook said. "The forms were weird enough that I felt like no one was going to interrogate me if I didn't get the anatomy down perfectly. It allowed for more asymmetry.
"Many of my peers are fascinated by the human form but it's nothing that has ever inspired me to make art. I just went the opposite way with animals and now, more specially, with insects."
Cook is confident that his process will allow him to continue creating and exhibiting work directly after graduation without having to make and save money to produce his art.
Heather Heck
Heck developed an early interest in photography after a National Geographic photographer visited her middle school. She was able to cultivate that by taking courses with Youth Services of Tulsa during her freshman year of high school.
After graduating from Booker T. Washington High School in 2010, Heck arrived at USAO with years of experience working with photography with an eye towards developing her skills as a graphic designer.
Heck said she benefitted greatly from the art program's broad approach that forced her to focus on disciplines for which she had less affinity.
"The drawing and design classes were so challenging," Heck said. "When you are drawing, you are drawing from life. You don't have the choice to elaborate. It really helped me master those basic aspects before moving on to the thing I loved, which was design and photography."
When Heck got her chance to focus on photography in the classroom, she relished the opportunity to turn her creativity loose.

"When I was taking one of the Digital Photography courses, we had to do an HDR [High-dynamic-Range] assignment, which I did not enjoy but I figured out a way to use it for a series of images I was working on in a completely abstract way," Heck said. "With all the manipulations we worked on, I took them way past functionality so that it felt intentional. It has to be intentional for me."

Heck's work in the show reflects this adventurous spirit. Beginning with already dynamic images of hair and the human form underwater, Heck's digital manipulations leave the suggestion of something recognizable that dissolves into abstraction when more closely observed.
"They are figures but I don't want the piece to be about the figures," Heck said. "My goal was to transform them into a statement about the visual aesthetic – texture, color and the movement."

Heck is pursuing alternative teaching certification as well as applying for gallery/assistant positions that involve using her creative and public relations skills.
Michelle Holden
Like Casillas-Rosenfelt, Holden caught the bug to make art from a family member.
"My mom was an artist," Holden said. "She did pencil drawings. My room today is her old studio. I really admired her work and I watched her all the time."

Holden, who graduated from Amber-Pocasset High School in 2009, self-trained as an artist, drawing inspiration from her mother and from websites like DeviantArt where she was able to post her work and receive feedback from artists all over the world.
She decided to attend USAO for pragmatic reasons.
"It was close to me and affordable. That was so important," Holden said. "It also had a great art program, which was a bonus."
Like many young artists today, Holden was fascinated by the possibilities of digital illustration.
"Illustrations are not just traditional anymore," Holden said. "Digital is faster, easier and portable. That appealed to me."

Despite her unorthodox journey, Holden said that she enjoyed the transition from self-training to more traditional in-class methods as well as being introduced to new disciplines and media.

"Sculpture, for example, is not my thing but it was fun and the focus on form and proportion really matters, even when I'm working on a flat surface," she said.
All of those elements are in play in Holden's lively digital illustrations in the show.
Wearing her anime and video game influences proudly on her artistic sleeve, Holden demonstrates her comfort and skill at producing fantastic works with attention to both the fundamentals and futuristic digital effects.

The 19 illustrations are part of a larger story that Holden has been crafting for the last few years.
She is still exploring options as to what segment of the creative world she wants to work in, whether as storyteller or illustrator, but is confident that her proven drive and self-motivation will provide an outlet for her creativity.
Dominique Midgett
Midgett first connected with art in the eighth grade when a move across country prompted her to find an outlet for her newfound solitude.
Upon returning to Oklahoma, Midgett found her calling as an artist in Jena Kodesh's AP Art course at Enid High School. Midgett graduated from EHS in 2010.
She said she chose USAO because of the class sizes, the campus accommodations and the strength of the art department.
"I really liked that we would get to experience and learn a little bit of everything instead of immediately narrowing down into one field," Midgett said.
Though she worked as an intern to a well-respected oil painting studio in Enid before college, several of Midgett's pieces in Merge reflect her initial love – watercolor.
Her watercolor paintings are lively tableaus of animal life, often focusing on one species per painting.
"When I first started doing paintings like this, I was pushing for distance, depth and space in my paintings," Midgett said.
"I've found that people have a lot of misconceptions about how animals behave in the wild and how they interact with each other. These works started as exercises to gain greater depth in my paintings and evolved into a way to show a diversity of behaviors among the animals that are my subjects."
In addition to her paintings, Midgett is exhibiting several mixed media pieces on wood.
Although she is exploring any options post-graduation that keep her involved with art, Midgett is most interested in book illustration and gallery work.
More information about the Merge show can be obtained by calling 574-1374.