USAO Sees Immediate Success with New Initiatives for First-Year Students
---
February 23, 2023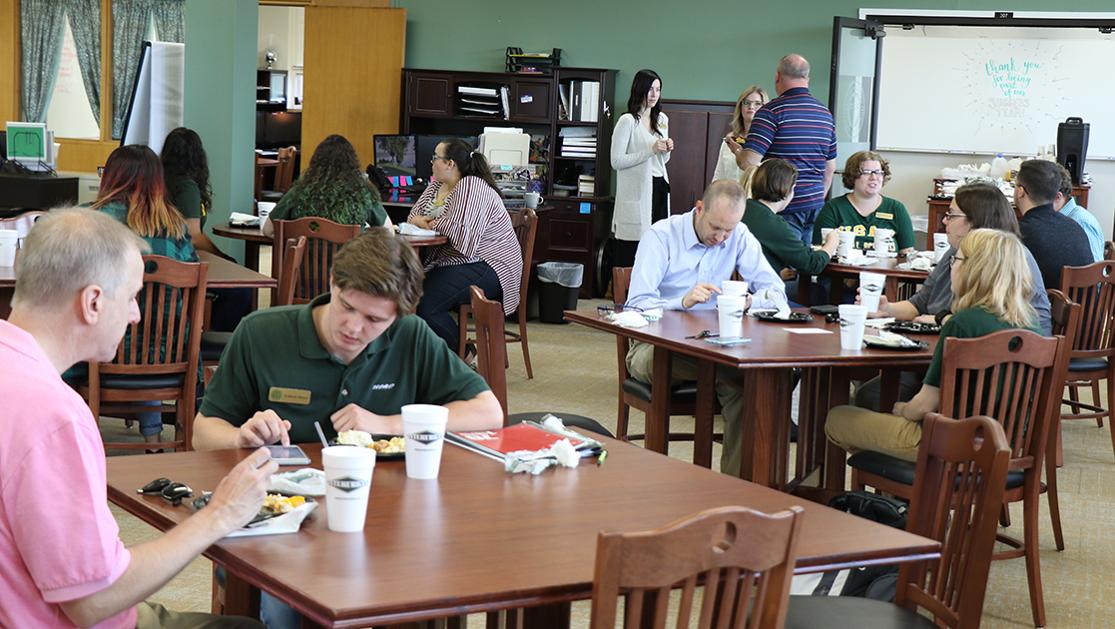 Beginning fall 2022, the University of Science & Arts of Oklahoma launched new initiatives to assist first-time freshmen with their transition to college and help them be successful their first year. This spring, the institution is already seeing the outcomes with a 91 percent persistence rate in first-time freshmen returning for the spring 2023 semester, which is a nine percent increase from the previous year.
A new requirement for all incoming freshmen implemented just last fall, USAO has created a year-long First Year Seminar as part of their renowned interdisciplinary studies curriculum. In addition to general orientation about learning and recreation opportunities on campus, the course focuses on developing critical thinking, oral presentation, organizational and study skills, as well as managing group dynamics and other things crucial to mitigating the stressors that cause students to drop out of college.
This academic year, the university's Student Success Center also began implementing a new, data-driven approach to managing freshman enrollment to better meet the needs of both students and faculty across the institution. The centralized First Year Advisement system provides freshmen of all majors with more equitable and empowering advisement sessions with trained success coaches who offer outreach far beyond simply registering for courses.
"How to increase student success—or what student success exactly even means—has become one of the most debated topics in higher education for the past several years," said President John Feaver. "Our First-Year Advisement initiative, along with several other new programs designed for freshmen, has not only already boosted our completion rates, but our students are graduating as a faster pace. Ensuring that students stay on their degree path saves them both time and money because they are not registering for courses that do not help them complete their chosen program."
Consistent with other efforts on campus to give freshmen a well-structured experience, First Year Advisement helps to determine a particular major's fit with a student's values, skills, strengths and desired career path. Students routinely meet one-on-one with their success coach to discuss important deadlines, academic performance and their path towards graduation. Faculty train their designated success coach on their major's specific needs and set meetings to get to know the new students entering their program.
"Inattentive advisement costs students not only in time and money, but also academic effort and the motivation to persist through to graduation," said Dr. Misty Steele, associate professor of psychology and director of student success. "First Year Advisement gives students a year of closely monitored course scheduling against their degree plan and graduation timeline, and it provides a built-in support network that does not rely solely on the students' initiative. Instead, success coaches ask a variety of questions at strategic points in the semester to try to identify where students are struggling and connect them with resources in a timely manner."
Undergraduates in need of advisement tend to fall into two categories: high-achieving students wanting reaffirmation of their plans and struggling students who are required to seek out such services. But the majority of students do not fall into either category, not necessarily on track, but also not failing. As this category includes many low-income, first-generation and minority students, developing strategies to proactively reach out to them early is essential to increasing degree completion.
Though these initiatives are only in their first year, the initial results are a very promising sign that more students are successfully navigating the transition to college life. For the spring semester, success coaches are continuing regular meetings with freshmen and will create action plans for the coming semester based on their performance so far. At the end of April, coaches will send notes on their advisees to the faculty in charge of that program, allowing them time to prepare to take over the advisement of upperclassmen.
For more information, visit usao.edu.