USAO alumni to host virtual sketch comedy fundraiser as part of Giving Day
---
March 10, 2021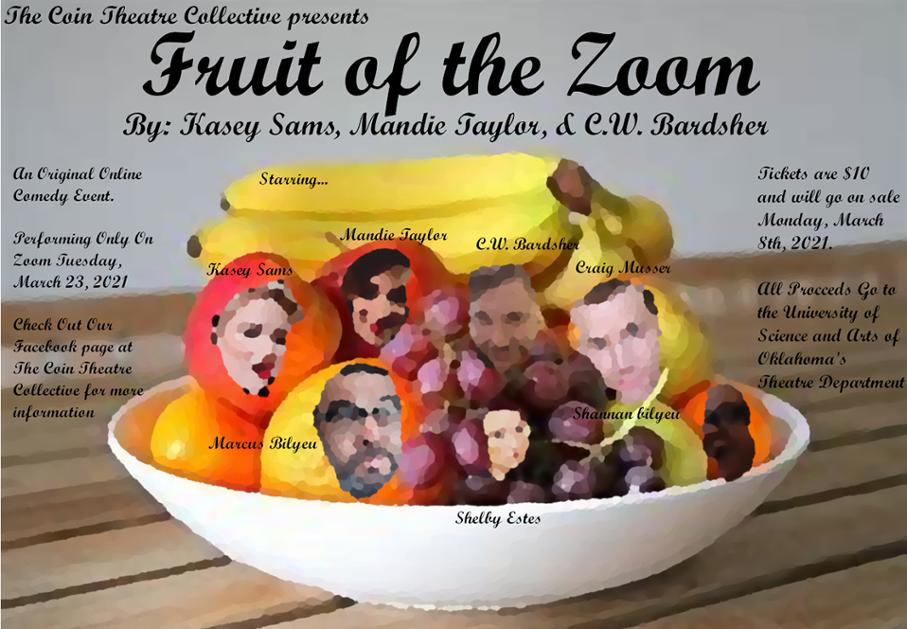 A half dozen alumni of the University of Science and Arts of Oklahoma's theatre arts program—and one friend—will host "Fruit of the Zoom," an original online comedy event as a fundraiser for the department March 23 at 7:30 p.m., as a lead-up to the institutionwide Giving Day at the end of the month.
Produced by the Coin Theatre Collective, a group of skilled performers and comedians based in central Oklahoma, "Fruit of the Zoom" blends sketch comedy and improvisation to explore the new ways technology has allowed us to interact during the pandemic, as well as the things that will never change. Tickets are $10 per login and are available at https://fb.me/e/cv4RrCTZa.
"As an artist, watching people discover innovative and exciting ways to present their art during a pandemic was an inspiration," said CW Bardsher, event organizer and 2009 USAO graduate. "Doing this over the past year, I developed a new respect for USAO, whose interdisciplinary curriculum taught me how to think of a situation differently and to adapt to variables outside my comfort zone. This made creating during an unprecedented time not only palatable, but a delight. When the opportunity to put these new techniques to use for the good of my alma mater presented itself, I ecstatically accepted."
Rooted in seeking new ways to present their art, the Coin Theatre Collective had to shelf a major production as COVID-19 numbers kept rising. To continue performing and recoup lost revenue, they began to write and produce original comedy shows. When the idea was well-received, Bardsher thought the next logical step was doing one for USAO. With the exception of one performer, every single cast and crew member has ties to the university.
"Whether they graduated, attended or even worked at the university, many count USAO as a place where they not only learned many useful skills, but also cultivated relationships that have withstood the test of time," said Bardsher. "I think it speaks volumes to the department and the environment it fosters, that after *muffled noises* years, so many people look forward to reuniting and putting together a performance in honor of the institution."
For more information, visit the Facebook event page at https://fb.me/e/cv4RrCTZa.