"Killers of the Flower Moon" author and National Book Award Finalist to speak at Science & Arts
---
February 21, 2023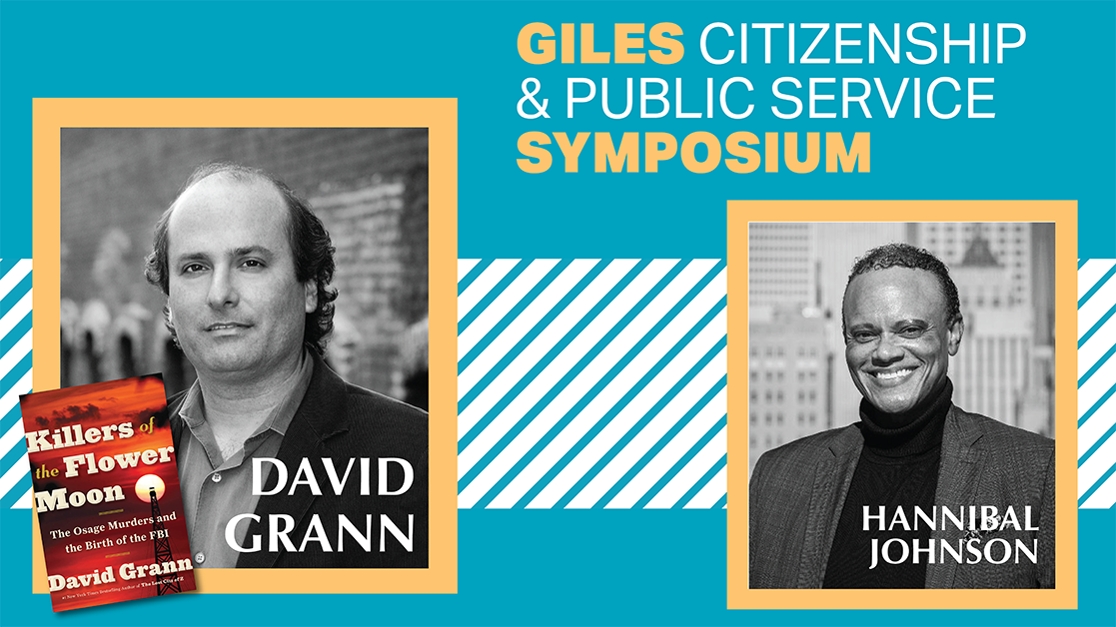 Acclaimed author of "Killers of the Flower Moon" and National Book Award finalist David Grann will keynote the University of Science & Arts of Oklahoma's 2023 Giles Symposium on Citizenship and Public Service alongside lawyer, author, professor and consultant Hannibal B. Johnson March 3 at 6 p.m. in Te Ata Memorial Auditorium.
The event is free, but registration is required at usao.edu/giles.
"Killers of the Flower Moon" unravels one of the most sinister racial injustices in American history: the murders of multiple Osage tribal members whose land held rich oil reserves. The incident launched one of the first major investigations of the early FBI. A major feature film with Martin Scorsese as director, Leonardo DiCaprio as the leading man, and the principal photography shot on location in northeast Oklahoma is expected to premier later this year.
A writer for "New Yorker Magazine," in his talks Grann explores his creative process from his initial inspiration to investigate a story, through his painstaking research, to finally linking these often forgotten histories to their contemporary relevance with his extraordinary skills as a storyteller.
A graduate of Harvard Law, Johnson's work specializes in equity, inclusion, cultural competence, human relations, leadership and non-profit management. He has authored 10 books, taught at major Oklahoma law schools, and serves on several national and state commissions aimed at improving social justice.
Prior to the symposium, attendees are encouraged to visit the Nesbitt Gallery in Davis Hall to view the latest exhibit, featuring original artifacts from the Osage Trials, the Tulsa Race Massacre, and Chickasaw actress and Science & Arts alumna Te Ata Fisher. Thanks to the Osage Nation Museum for their generous donation of materials from the trials for this exhibit.
In conjunction with the symposium, the university's Art Wrecker Studio in downtown Chickasha will hold a juried exhibition featuring works dealing with issues of inclusion and minority representation from Oklahoma, Texas, Kansas and Arkansas artists. Tulsa-based painter, muralist and mixed media artist Aunj Braggs will serve as judge. The opening reception for the exhibition will be held March 4 at 7 p.m. at Art Wrecker Studio. The awards will be announced at the reception.
The Science & Arts Foundation sponsors the Ray, Mary & Nita Giles Symposium for Citizenship and Public Service through endowment funds created by Oklahoma College for Women alumni Mary Martin Giles, her husband, Ray, and their daughter, Nita.
For more information or to for this free event, visit usao.edu/giles.