Goitse to fill USAO Ballroom with fiery Celtic folk
---
February 21, 2019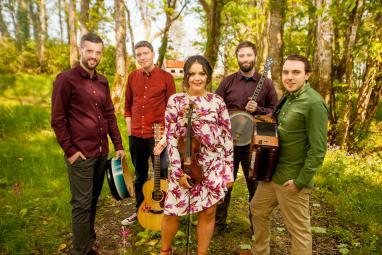 Celebrated Irish group Goitse (GO'-witcha) will conclude the 18th season of the University of Science and Arts of Oklahoma's Davis-Waldorf Performing Arts Series Mar. 7 at 7:30 p.m. in the USAO Ballroom. Seating will be limited to create the relaxed concert atmosphere that the band prefers for their "contagiously energetic Irish music."
General admission tickets are $15 for the public, $10 for students and seniors (60 and over), and can be purchased online at www.usao.edu/dwpas or by calling (405)-574-1213.
Goitse is known for their blend of original compositions and traditional tunes from Ireland. The powerful drive of percussion phenomenon Colm Phelan and guitarist Conal O'Kame set the pace of the music, which is rounded out with the sweet voice and violin of Aine McGeeney, accordionist Tadhg O'Meachair and multi-instrumentalist Alan Reid.
"We're lucky to be able to host this fantastic band, whose international reputation is still growing," said Katie Davis, professor of theatre arts and series coordinator. "Their music is the perfect way to end our season and to start an early St. Patrick's Day celebration in Chickasha."
Goitse was formed at Limerick's Irish World Academy and have become a leader in the new generation of Celtic music. The quintet has released four critically-acclaimed recordings and were named Live Ireland's Traditional Group of the Year, the Chicago Irish-American News' Group of the Year as well as winning Germany's prestigious Freiburger International Leiter award in 2016.
The Davis-Waldorf Performing Arts Series is made possible in-part by support from the Kirkpatrick Foundation, Ad Astra Foundation, Mid-America Arts Alliance, National Endowment for the Arts, Oklahoma Arts Council and USAO Foundation. Its mission is to encourage attendance at high-quality performing arts events as an aspect of a liberal arts education, to provide an affordable entertainment resource for our college family and our community, and to become a leader in local arts education by presenting relevant and culturally diverse programming that broadens the aesthetic of our audiences.