USAO Habitat Area receives $350,000 gift for renovation plan
---
January 14, 2020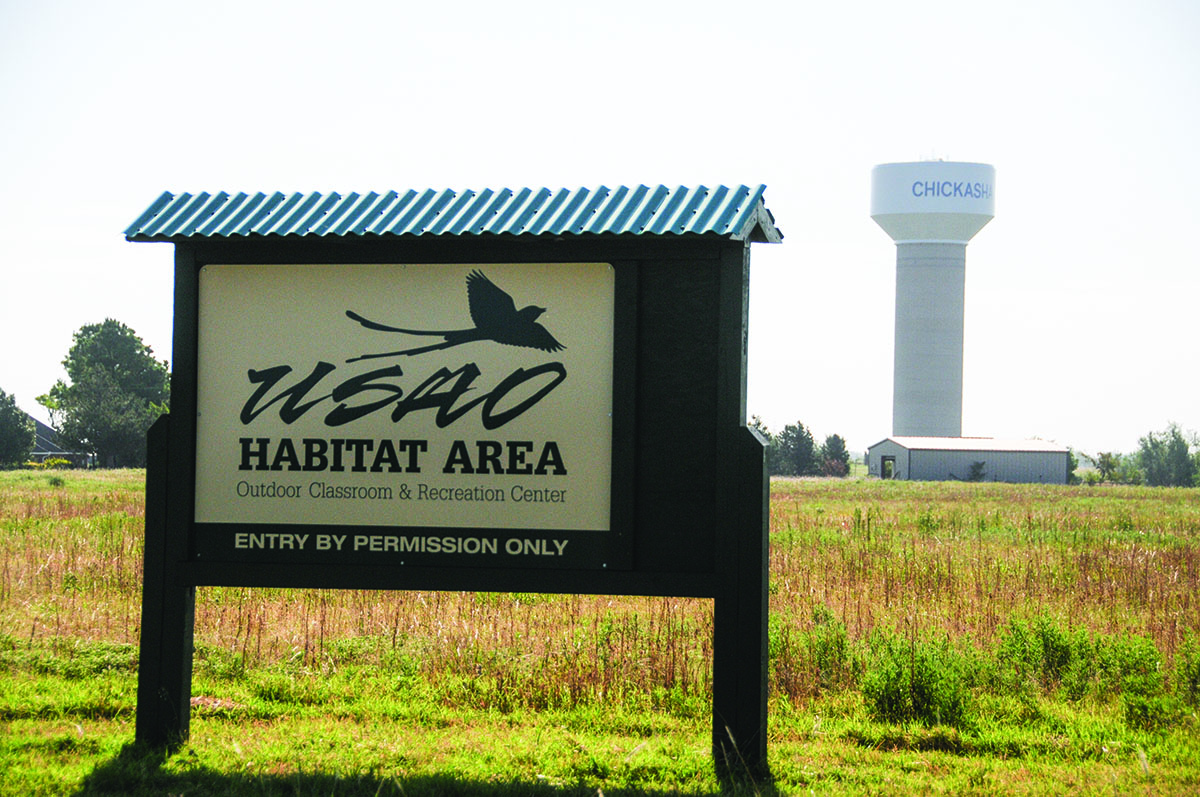 The University of Science and Arts of Oklahoma's Habitat Area encompasses 140 acres in a rural area directly west of the main campus and allows for the hands-on observation of native plants and animals. While it has served as an outdoor classroom for science students and others for a number of years, its facilities were minimal.
Now, thanks to David and Jean McLaughlin, the $350,000 renovation plan for the area is now fully-funded and the construction of the Jean McLaughlin Outdoor Education and Research Center is underway.
"Thanks to the extraordinary generosity of David and Jean McLaughlin, this one single donation will have an impact on the lives of countless students," said Sid Hudson, vice president for university advancement. "This proves that the generosity of the people who believe in USAO can make a difference that will reverberate down the years, ensuring that this special institution will continue to change lives every day."
In collaboration with Oklahoma City-based architecture firm Smith Design Company, USAO faculty worked to determine the best way to create a simple and cost-effective teaching space that would encourage students from every discipline to benefit from exposure to this wild habitat. The Jean McLaughlin Center will consist of a single-story building with attached greenhouse and laboratory spaces.
"Developing a simple and safe gathering space within the Habitat Area would allow faculty to enhance our current and planned courses, expand our research capabilities and provide a much-needed space to host outreach events," said Dr. Rachel Jones, associate professor of biology.
Currently, physics, chemistry, biology, mathematics and environmental science majors have to share five of the six lab spaces in Austin Hall, with the last dedicated to the required interdisciplinary studies lab course. Already at capacity before the addition of environmental science this year, the habitat's new facilities will accommodate numerous ecological courses. It will also allow students to perform work involving soil, plants, animals and other "dirty" work, which is currently limited to one lab in Austin.
Lacking any sort of greenhouse facility beyond three small growth carts, USAO students are unable to conduct original research during the normal semester and have to be very creative with small humidifiers and space heaters to create anything resembling greenhouse conditions. The Jean McLaughlin Center will provide a space for professional research suitable for presentation and publication.
"With space for our students and faculty to complete research, we will be able to engage in and produce work on par with many larger universities," said Jones. "This allows us to attract students interested in performing research as part of their undergraduate experience as well as increasing their attractiveness to both employers and graduate programs."
In addition to the benefits to USAO itself, the Jean McLaughlin Center will also greatly expand the outreach opportunities the university can provide to elementary and secondary school students, as well as community organizations who have shown interest in using the space.
"In the future, we would like to develop a summer research program for high school students interested in attending college for field biology, ecology or environmental science," said Jones. "This would be a two-week program where students get the complete experience of a working field scientist. No other completely immersive programs like this currently exist in Oklahoma."
The new construction at the Habitat Area is one facet of a 25-year masterplan that the USAO Board of Regents has recently approved that is designed to ensure that USAO is able to fulfill its mission as Oklahoma's public liberal arts college well into the future.