Celebrating 25 years of Coach Hampton
---
August 08, 2022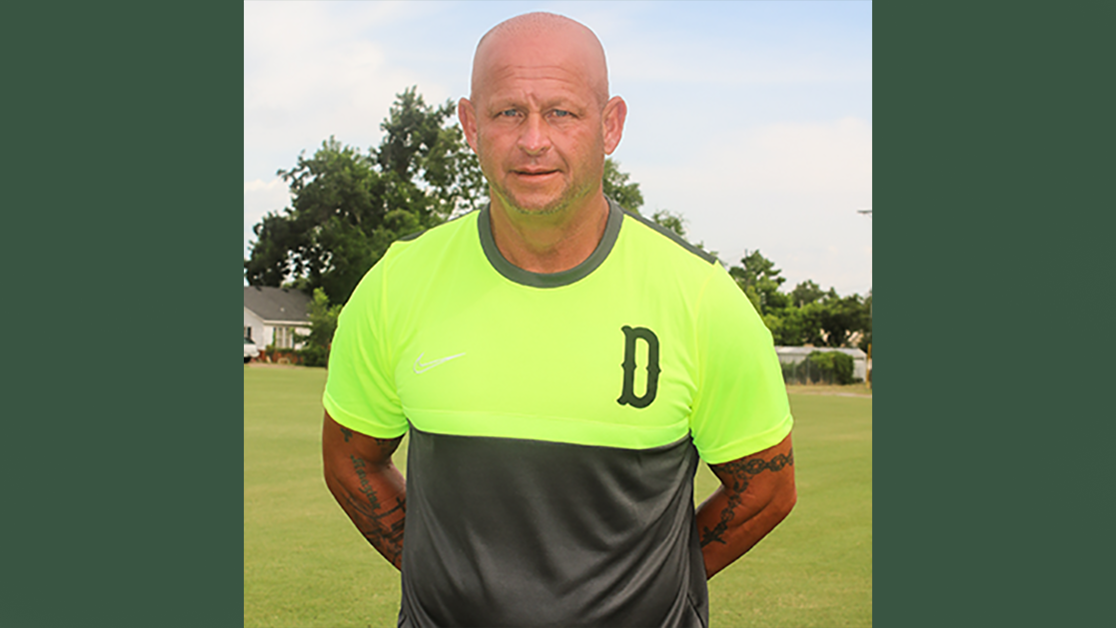 In 1998, the University of Science & Arts of Oklahoma Athletic Department chose to start a new journey. They were bringing college soccer to campus. Though the new addition would bring many obstacles one thing was certain: there was only one man for the job. Twenty-five years later, there's still no one better for Drover Soccer than the legendary Jimmy Hampton.
Hampton began his coaching career at Chickasha High School. In his 10 years at CHS, Hampton won nearly 90 percent of his games, ranking as one of the all-time winningest soccer coaches in Oklahoma prep history.
Since his move to the collegiate level, Hampton has built respected teams that are also nationally competitive, results of a program that is admired by coaches and university administrators across the region. Even his rivals can do nothing but admire the legacy he has built.
"Coach Hampton and his Drovers had an immediate impact on the Sooner Athletic Conference," said Mid-America University Soccer Head Coach Anthony Yousey. "He brought in real talent and was able to immediately put USAO on the map of NAIA men's soccer. His impact on our soccer community will be one that lasts for a very long time."
"Some of the most defining moments of my career have often included Hampton," said John Brown University Women's Soccer Head Coach Kathleen Paulsen. "Whether it's navigating ratings, really hard conversations between the two of us, or the epic wins and losses we've both experienced at the hands of each other. They are memories that I look back with gratefulness and fondness. They have brought richness in coaching and growth that only excellence can bring."
Entering the 2022 seasons, Hampton has won 599 games (men and women), winning better than 64 percent of all the games he has coached. Currently amongst his NAIA peers, he is the eighth winningest active women's coach with a record of 282-163-24, and one of the top 10 winningest active men's coach with 317-124-25 record. Hampton has been selected as the Sooner Athletic Conference or National Soccer Coaches Association American Southwest Region Coach nine different times. Hampton has coached 182 all-conference players, 43 NAIA Scholar Athletes and 39 NAIA All-Americans in his 24 seasons at USAO.
Hampton has had 13 different teams (seven men, six women) that have qualified for the NAIA National Tournament with quarterfinal appearances in 2010 and 2011. His teams have won the Sooner Athletic Conference regular-season championship eight times while winning the SAC tournament championship an amazing 13 times.
"There is a culture attached to being part of Drover Soccer that, unless you've experienced it, you cannot ever truly describe," said former player and now assistant coach Niall Crick. "It's not just about being the best soccer player possible, it's about being the best mother, husband, sister, friend, accountant, truck driver, pet owner and beyond. To never do anything halfway, to be committed and to devote yourself to understand what it truly means to be great at something.
While Hampton has collected outstanding stats through his career, he is most notable for how he obtains those results. His ways are lasting as you speak with players from teams throughout the entire timeline of his career. To compare, we spoke with a member of his very first women's soccer team.
"In 1998 I was given the opportunity to play for Coach Hampton at USAO. By some miracle (aka Coach Jimmy Hampton) we had a winning record and made the post season our very first year," said Michelle Blake. "Hampton knows how to push players to their perceived limits, only to bring out their best. He knows who can handle that tough love and who to be a little gentler with. The things he put up with, I'll forever be in awe and grateful. No coach, guidance counselor, teacher nor professor prepared me better for medical school, residency and fellowship training. His coaching style was genuine tough love. The kind that hits you in your gut, maybe even upsets you at times, though you know in your soul he has your best interest at heart. There is nothing like it."
That all-consuming style has bested the test of time according to one of his most stellar players to wear green and gold.
"He's just kind of infectious," said Emma Rice, two-time conference Player of the Year. "He knows more about soccer than my brain would ever be able to handle. He is passionate and that exudes over everyone that plays for him. He pushed me to be a player that I never thought I could be. Coach Hampton is family."
Hampton's skillset reaches far past the limits of the playing field. Every player you talk to will fondly reminisce on how Hampton shaped them as young men and women outside of the sport of soccer.
"I am so grateful and proud to be a part of this program," said Dusan Rasovic, men's soccer, 2007-2011. "Drover Soccer is so much more than just a sport. It teaches leadership, persistence, accountability and teamwork. Skills that are essential for life after college."
Hampton and his Drovers are primed to kick-off his 25th season at USAO. The Drovers will debut at home Tuesday, Aug. 16, at 6 p.m. and 8 p.m. on the Drover Pitch. Join us Saturday, Sept. 3 for our annual alumni game starting at 11 a.m. We will celebrate the Drover Legend during the varsity games that evening, women will kick-off the evening at 5 p.m. with the men to follow. Exclusive t-shirts and Drover Soccer swag will be available at the gate.
For the soccer program's full schedule, visit usaoathletics.com.