USAO's digital Davis-Waldorf series concludes with a Harmonious Wail
---
March 17, 2021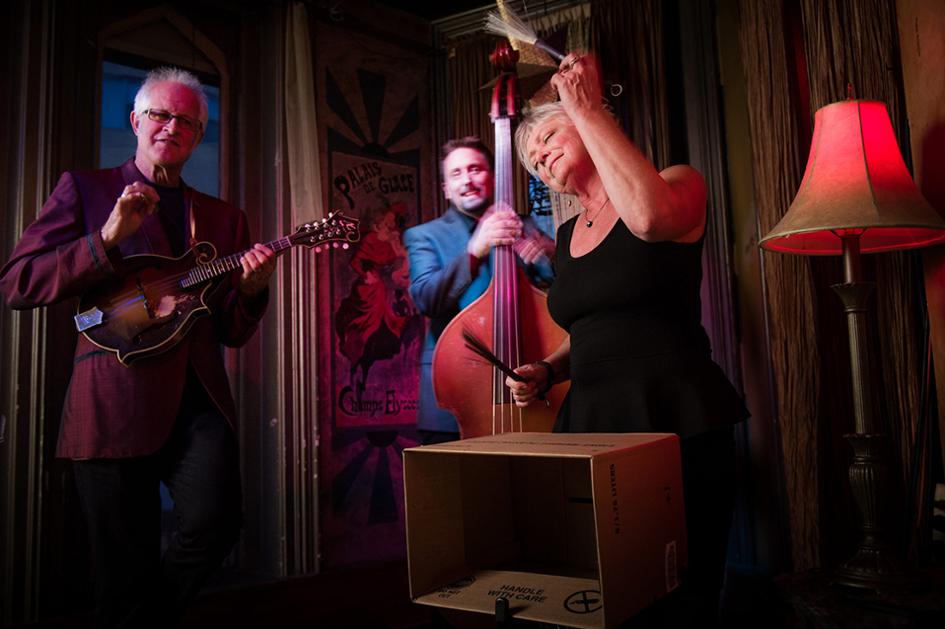 The multi-award-winning trio Harmonious Wail will conclude the University of Science and Arts of Oklahoma's innovative online season of the Davis-Waldorf Performing Arts Series March 25 at 7 p.m. with their fiery fusion of folk music styles.
This short, living room concert will be an exclusive online preview of their upcoming, in-person performance to be featured in the next DWPAS season. Harmonious Wail will introduce audiences to their distinctive combination of genres ranging from the jazz of the Hot Club de France to the deepest blues of the Mississippi Delta to the heartfelt folk scenes across Anytown USA. The event is free of charge, but attendees must register at usao.edu/dwpas by March 24 to receive the access code.
"We are so excited to continue our live, online season with this group. They have continued to perform festivals for online audiences and their work is uplifting and so much fun," said Katie Davis, professor of theatre arts and DWPAS executive director. "We are also glad to share the music from this group in an online workshop/mini-concert for the Virtual Path students of the Chickasha school district. It's been a long year for them, with very little live arts exposure, and we know they will love this group!"
With more than 30 years of history, Harmonious Wail features mandolin virtuoso and vocalist Sims Delaney-Potthoff, master bassist Jeffo Weiss and vocalist extraordinaire Maggie Delaney-Potthoff, who also takes up percussion duties with a cardboard box (and almost any other household object).
The USAO Foundation presents the DWPAS with additional support from the Oklahoma Arts Council, Chickasha Public School Foundation, Mid-America Arts Alliance and community and corporate partners. Its mission is to encourage attendance at high-quality performing arts events as an aspect of a liberal arts education for our students, to provide an affordable entertainment resource for our college family and our community, and to become a leader in local arts education by presenting relevant and culturally diverse programming that broadens the aesthetic of our audiences.