History comes to life June 8 at Oklahoma Civil War Symposium
---
May 23, 2019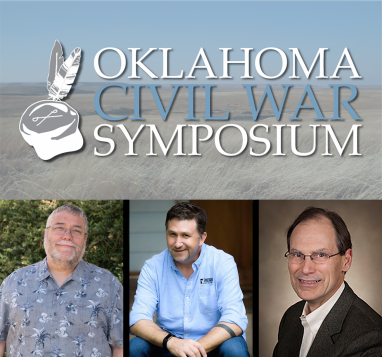 On June 8, the University of Science and Arts of Oklahoma will host three engaging and insightful scholars for the 2019 Oklahoma Civil War Symposium. The event will begin at 2 p.m. in the Davis Hall Little Theater and is free and open to the public.
USAO Professor Dr. Lee Hester will kick off the symposium, with Dr. Chris Mackowski, writing professor at St. Bonaventure University's Jandoli School of Communication, following at 4 p.m. Dr. Geroge C. Rable, professor emeritus at the University of Alabama, will deliver the keynote address at 7 p.m., with a book signing featuring the presenters to follow.
An RSVP-only reception with the speakers, heavy hors d'oeuvres and wine will be held in USAO's Regents Room beginning at 5 p.m. The cost is $20 per person and registration is required by May 31. Reservations for this rare opportunity to mingle with these distinguished historians can be made online at usao.edu/okcivilwar or by calling 405-574-1349.
"As a nation, we are still learning critical lessons from the Civil War," said Dr. James Finck, associate professor of history and symposium coordinator. "Each summer, the Oklahoma Civil War Symposium brings together thoughtful scholars to discuss a broad range of topics, some that are debated as much today as they were more than 150 years ago, and others that have indelibly colored public discourse in American life since the conflict's conclusion."
A past president of the Society of Civil War Historians, Rable earned his Ph.D. from Louisiana State University in 1978. In addition to a distinguished teaching career, Rable has authored seven books examining both the military and social contexts surrounding the war. In 2003, his book "Fredericksburg! Fredericksburg!" won the Gilder Lehrman Lincoln Prize, which honors the best non-fiction historical work on the American Civil War each year, among several other awards. He is currently working on a study of the relationship between President Abraham Lincoln and General George B. McClellan.
Co-founder and editor-in-chief of the blog "Emerging Civil War," Mackowski has published dozens of books and articles that seek to provide fresh perspectives on this defining event in American history. In addition to his professorial position at St. Bonaventure, he also serves as undergraduate chair for the journalism and strategic communication programs and as historian-in-residence at Stevenson Ridge, a historic property on the Spotsylvania battlefield in Virginia. Mackowski earned his Ph.D. in English/creative writing from Binghamton University in New York.
Earning his Ph.D. in philosophy from the University of Oklahoma in 1999, Hester joined the USAO faculty the following year and teaches in courses on tribal government and law, Native American arts and philosophy, contemporary issues on Native American identity and many others. Among his many contributions to his community, Hester has served as president, chairman of the board and cultural committee chair for the Oklahoma Choctaw Tribal Alliance Inc. He received the Presidential Award of Excellence for Environmental Protection Services from President Nixon in 1973.
To honor the 150-year anniversary of the American Civil War, USAO began its summer history symposium in 2012, intending to focus on this conflict through 2017 before moving on to other historical events. But in that year, the university decided that concentrating its efforts on the in-depth examination of this earth-shattering aspect of the American story better serves the people of Oklahoma.