IF YOU BUILD IT: NEW, EXPANDED FACILITIES TO HOUSE USAO BASEBALL, SOFTBALL TEAMS
---
August 01, 2019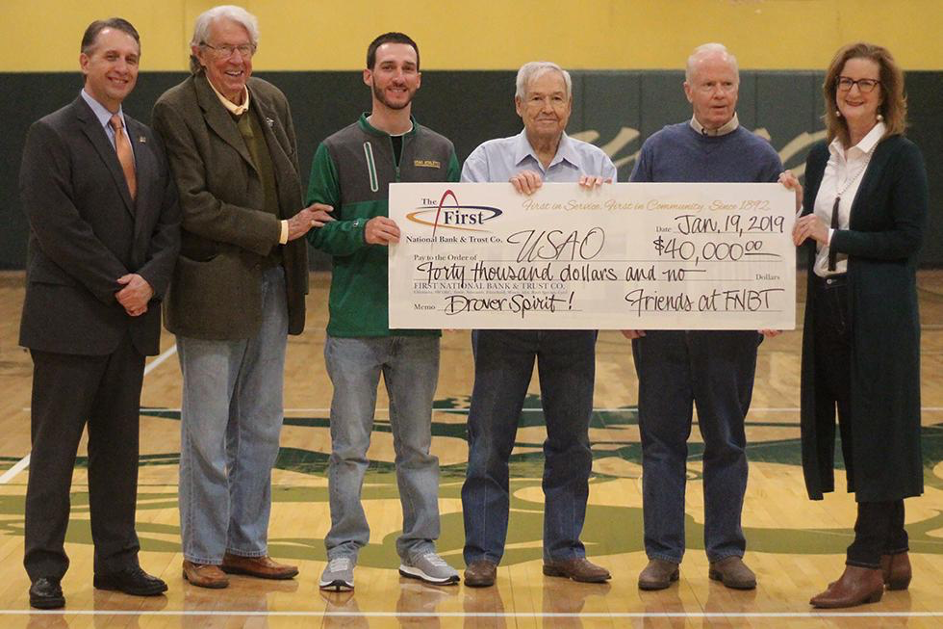 Building on their record-breaking seasons, the baseball and softball programs at the University of Science and Arts of Oklahoma will soon find new homes in greatly expanded facilities at the Bill Smith Ballpark.
The teams, which continually receive support from the community, have received generous financial support from both the First National Bank & Trust of Chickasha and Chickasha Community Foundation. Both organizations donated $40,000 each toward the project
With the help of Smith Design Company in Oklahoma City, USAO designed a pair of two-story athletic facilities that will meet the needs of the baseball and softball teams. The first floor will house new locker rooms, athletic training offices, and modern batting and pitching cages, with the second story dedicated to a large VIP seating area which will double as a study hall and recruiting center. Other features include substantial improvements to accessibility, parking, lighting and safety. The facilities are scheduled to be completed by the start of the 2019-20 season.
Other important donors to USAO's baseball and softball programs include Arvest Bank, Bank of Commerce, Seth Wadley Auto Group, Steve Laforge, Mark Stallbaumer, Chris and Mike Mosley, Interurban Grill and Bad Boys Signs.
"USAO would like to thank all of our donors and supporters for helping us reach our goals and ensuring that we are able to compete at the highest levels," said Softball Head Coach Jadyn Wallis. "Without the generosity of these wonderful people, we wouldn't be where we are today. We are all one family working together to change the lives of our Drover athletes."
Due to the widespread acclaim after the successes of the last two seasons, the NAIA has increasingly viewed USAO as a potential site for regional and national tournaments. Currently, facilities at the Bill Smith Ballpark do not have the amenities necessary to host visiting teams, making this an impossibility.
"To continue our forward momentum, we must ensure the quality of our facilities matches the quality of our teams," said Baseball Head Coach Mike Ross. "These new spaces will allow us to better serve our current and future athletes as well as the community as a whole. Being able to host tournaments will bring USAO a lot more attention and draw in people from all over. Having an all-in-one facility like this will help our teams work together even better than they already do, which is really saying something."
For the last two years, Ross has led Drover Baseball to victories in the Sooner Athletic Conference Tournament Championship and was also named the SAC Coach of the Year. The team placed third in this year's NAIA World Series, the best finish in the program's history. Ross graduated from USAO in 2002, joined the faculty in 2005 and succeeded the legendary L.J. Powell as head coach in 2009. During his tenure, Ross has recruited and mentored three pitchers who were later drafted into Major League Baseball.
A full-time member of the USAO faculty since 2012, Wallis led Drover Softball to victory in the NAIA World Series in 2018, with a third-place finish in 2019. She has also led the team to all three of their appearances in the Sooner Athletic Conference Championship, where they have placed second the last two years. Wallis was named NAIA Coach of the Year in 2018 and received SAC Coach of the Year in 2019. She is a former NCAA Division I athlete and graduate of the University of Oklahoma.
To raise funds to restart the baseball program after an 18-year hiatus, long-time USAO employee Bill Smith donated his personal collection of baseball memorabilia to be auctioned off. His generosity also allowed USAO to begin a softball program and establish the Bill and Pat Smith Scholar-Athlete Award to recognize exceptional students. In 1996, USAO constructed the 500-seat Bill Smith Ballpark in his honor and inducted him into the USAO Athletic Hall of Fame upon his retirement in 2010.
For more information, visit www.usaoathletics.com.