Science & Arts students prepare for final art exhibition before earning their bachelor's degree
---
March 09, 2023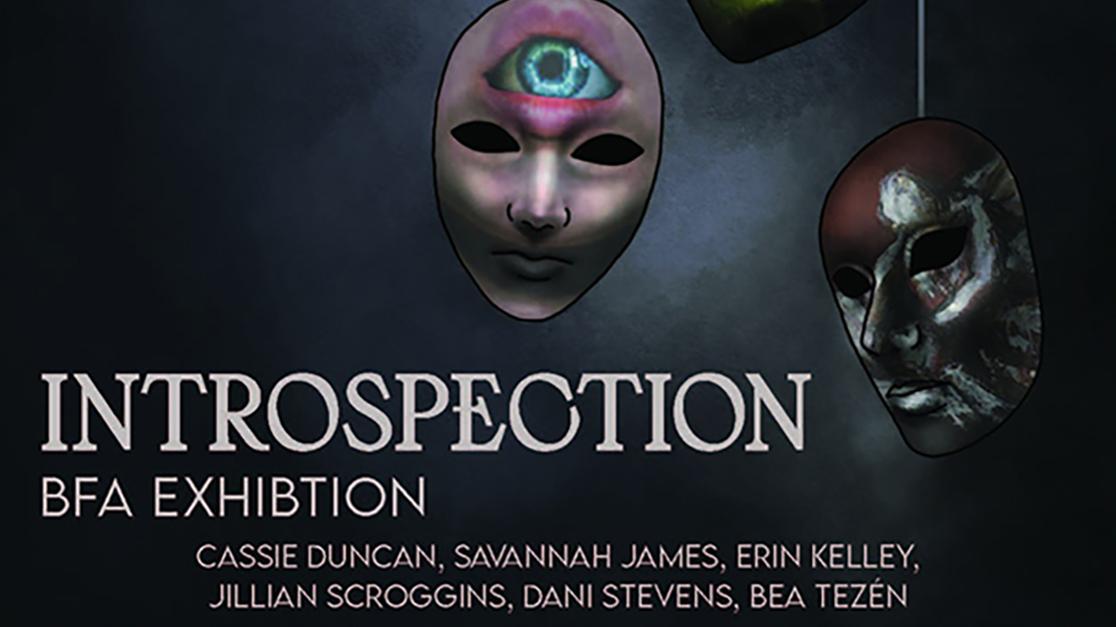 Six students from the University of Science & Arts of Oklahoma are preparing for their final exhibition, "Introspection," before graduation. An opening reception, free and open to the public, will be held in the university's Nesbitt Gallery in Davis Hall March 25 at 6 p.m.
The spring 2023 candidates for a Bachelor of Fine Arts degree include Cassie Duncan of Tecumseh, Savannah James of Chickasha, Erin Kelley of Healdton, Jillian Scroggins of McAlester, Dani Stevens of Manitou and Bea Tezén of Mustang.
"Our BFA program is among the most rigorous programs at Science & Arts," said Jacquelyn Knapp, professor of art and department coordinator. "The artists in 'Collective' have worked diligently, producing work of truly exceptional quality that serves as evidence of their individual creative abilities. Each has successfully investigated thought-provoking ideas through a diverse range of media. Seeing these soon-to-be graduates producing at such a high level makes the entire art department confident that each will see success as they enter the world of working artists."
Influenced to take art seriously during time working as her art teacher's aide in high school, Duncan is completing her BFA with an emphasis in painting. She uses many media but primarily works in oils. Her art serves as an emotional outlet, "often showcasing the darkness of the mind as it battles anxiety and depression." Duncan draws inspiration from Italian painter, Caravaggio, and Polish painter, Zdzisław Beksiński, plus horror-themed movies and video games. After graduation, she plans to seek an internship in art conservation before applying to graduate school to pursue a master's in the same field.
Born in Chickasha but graduating high school in Lindsay, James is skilled in many crafts and artistic media works, though she works predominantly in traditional painting. James' works "invite the viewer to experience the blurred boundaries between the inner and outer worlds of the individual," and emphasizes the human being as "a creature that creates meaning for itself by trying to find where it fits in its environment. She has already had her paintings featured at the Paseo Arts and Creativity Center in Oklahoma City, the Chisholm Trail Arts Council in Duncan among other locations.
Completing a BFA with a graphic design emphasis, Kelley is thankful to the university's art department for helping her fall in love with painting and discover the world of pottery. Her works use digital methods such as photo manipulation "to give complex feelings a more digestible appeal" as well as to explore "the dual nature that nostalgia has in those who both yearn for their past and those who seek to reevaluate it." After graduation, Kelley intends to pursue a career in graphic design and continue with these themes in her personal work.
Scroggins has been actively involved in the art community in southeast Oklahoma since she was a child, with her drawing of an historical site in the area gracing the cover of a local phonebook. Her love of art continued in high school and at Science & Arts, where she is completing her BFA with an illustration emphasis. Drawing inspiration from "cartoons, comics and pop culture as well as the pleasure found in daily life," Scroggins' works feature vividly detailed environments "speckled with rays of laughter and happiness that encourages everyone to embrace their inner child and find joy in each moment."
Born in Manitou and graduating from Frederick public schools, Stevens always dreamed about being a comic artist, but did not feel they had the skills until encouragement from their high school art teacher. Completing a BFA with an emphasis in illustration, Stevens' works focuses on out-of-context narratives, portraying "scenes and landscapes sliced from their proper setting." Mostly working in watercolors and ink, their art creates "a gauzy, illustrational feel." And while there are complete stories behind each piece, Stevens invites "viewers to project their own interpretations and narratives."
Even as a Mustang High School student, Tezén was an arts advocate and active member of the student body. Now, completing her BFA with an emphasis in painting, she has been a part of Science & Arts' student government and president of the Art Club. Her art "highlights the religious, sexual and intergenerational trauma of Hispanic people that often references real-life events." Next semester, she will be attending graduate school for arts administration and management in Maryland. She hopes to open a gallery so other underrepresented groups can share their creative voice.
Regular gallery hours are Monday—Friday from 9 a.m. to 4:30 p.m., and the show will remain on display until April 28.
Science & Arts holds a BFA exhibition each semester as the capstone project for that degree. Students apply to the program during the second semester of their second year as an art major. Upon acceptance, they develop a single concentration after gaining a wide foundation in all forms of artistic media. For three semesters, students develop cohesive concepts through in-depth research while continuing to add to their technical expertise. The final exhibition formally presents the results of their intense study and research into their chosen form.
Also on March 25 at 6 p.m., the art department will hold the opening reception and awards ceremony for their annual Student Spring Show in Davis Hall's 3rd Floor Gallery. This event, juried by departmental faculty, invites any Science & Arts student enrolled in an art course to show their original works in a professional setting with sales opportunities. The show will remain on display until April 27.
For more information, contact Knapp at 405-574-1302 or jknapp@usao.edu.