Grammy-nominated John Fullbright kicks off Listen Local season June 7
---
May 29, 2019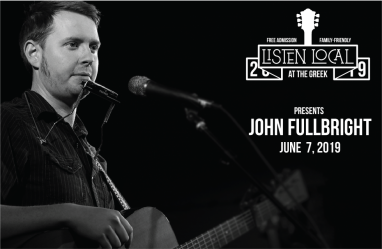 Grammy-nominated singer-songwriter John Fullbright will bring his formidable talents to Chickasha June 7 at 7:30 p.m. to open the University of Science and Arts of Oklahoma Alumni Association's second annual Listen Local at The Greek concert series.
In 2012, Fullbright's first studio album, "From the Ground Up," received the Grammy nomination for Best Americana Album and peaked at No. 10 on the Billboard Top Folk Albums chart. His reputation grew after critics raved about performances at SXSW, the Woody Guthrie Folk Festival, and the Rock and Roll Hall of Fame. He released his sophomore effort, "Songs," in 2014 to favorable reviews.
"John Fullbright embodies Oklahoma in his warmth, humor, kindness and ability to craft powerful stories of common people," said Misti McClellan, director of alumni development. "After the huge success of our first season, we know that he will get us off to an amazing start in 2019. Anyone who appreciates a great story, a great song or simply a great way to spend a Friday should bring their family and friends for an awesome evening under the stars as we celebrate all the local things that make this place so special."
Raised in Okemah, Okla., Fullbright started playing piano at five and began performing in high school. In 2008, he released his debut album, "Live at the Blue Door," and recorded with Mike McClure and the Turnpike Troubadours. In addition to his Grammy nomination, Fullbright received the ASCAP Harold Adamson Lyric Award in 2012 and the Oklahoma Music Hall of Fame's Rising Star Award in 2014. Since 2018, Fullbright has cut back on touring, focusing more on producing and recording other artists.
Listen Local brings the long tradition of live entertainment back to the Greek Theatre, which was first constructed in 1923 as a memorial gift from the graduating class of the Oklahoma College for Women. The theatre served as a rustic performance space for classical drama near a small stream at the southeast corner of campus. After decades in the elements, the original wooden structure had deteriorated badly and, thanks to generous donors, a more robust replica was created in the same area.