Former basketball coach celebrates legacy of President Feaver and long history with Science & Arts
---
January 10, 2023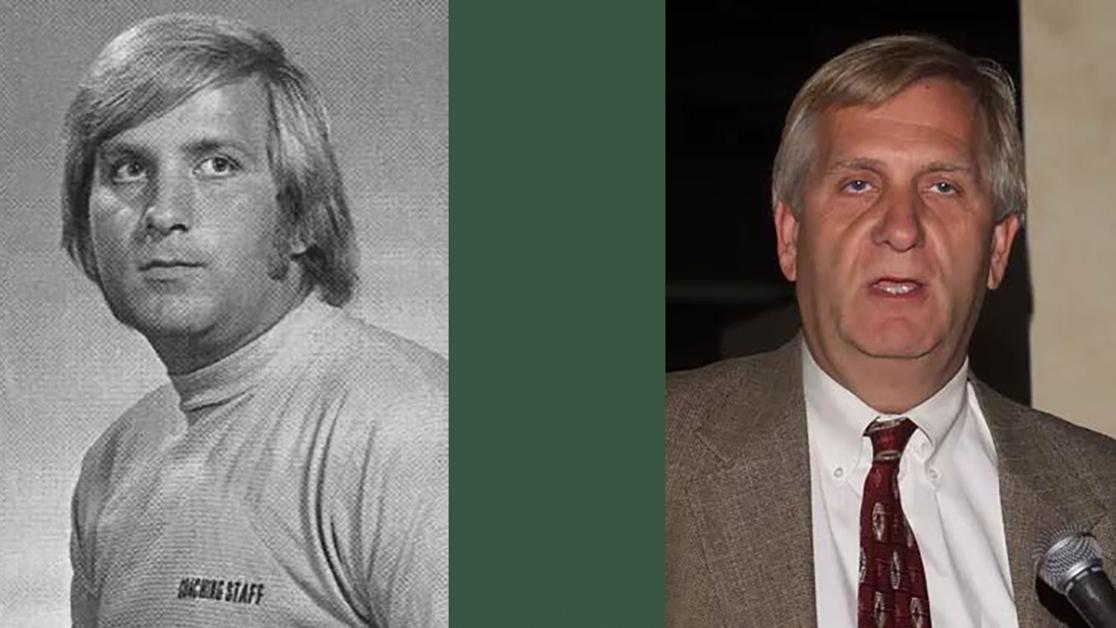 John Hudson's history with the University of Science & Arts of Oklahoma goes back nearly 50 years, to just after he had earned his law degree from the University of Oklahoma. Since then, he has worked directly for the university, been a member of the Board of Regents and is also a long-time donor to the university.
Hudson went to college on a partial basketball scholarship and worked as a student assistant coach during his last year at Oklahoma Baptist University. While attending law school, he found he wanted to get back into basketball and was hired as a full-time assistant coach at his alma mater. While in that role, he started the university's first booster club, which is now known as the Bison Athletic Association, as well as a counseling and tutoring program for student athletes.
After graduating from law school and passing the bar exam in 1973, Hudson was not immediately pleased at his prospects for a career in the field. He met Bruce Carter, president of the Oklahoma College of Liberal Arts, as Science & Arts was then known, as he was establishing the first athletics programs at the university and was offered the head basketball coach position at just 23 years old, among the youngest in the nation at the time. He was also assigned teaching responsibilities in political science and established his own law office in Chickasha.
"At the time the university did not have a gym, so we practiced at the high school after they finished practice every day," said Hudson. "I would teach my political science courses in the morning, then head to my law office and learn how to be a lawyer during the afternoon, then I'd go pick up the team and we would practice until nine or 10 at night."
Though his first coaching year was not very successful, the following season proved transformative for the university. Hudson convinced Dr. Dex Marble, a professor of history, to become his assistant coach due to his background playing the sport in both high school and at Stanford University. He also coached a young Brisco McPherson, who would go on to be a long-serving member of the Science & Arts faculty and a key factor in the success of the athletics program. In 1975, the NAIA named Hudson Coach of the Year for Oklahoma District 9 in recognition of the success of his second season.
That same year, Hudson's law practice had grown sufficient enough for him to leave his position at the university, but just two years later, then Governor David Boren called to ask if he would serve on its governing Board of Regents. His seven-year term under President Roy Troutt included the hiring of a history professor who had been working at OU, Dr. John Feaver, in 1980.
"He would have been a top professor anywhere, and he was already getting that type of recognition at OU," said Hudson. "Hiring him was one of the biggest accomplishments while I was on the Board of Regents. He was the right person at the right time with the right demeanor, and he has always hired the right people to get the job done."
Having watched his development over the next two decades, his inauguration as president in 2000 was the obvious choice in Hudson's eyes. Beyond Feaver's own exceptional skills as both an educator and administrator, Hudson notes that one of his most important qualities is how he deflects praise in order to give credit to the people around him. This has helped Science & Arts build a strong sense of community, which has allowed it to survive turbulence over the years that would have caused other institutions considerably more hardship.
As Feaver prepares to retire from the presidency, his more than four decades with the school has helped Science & Arts truly stand out as Oklahoma's public liberal arts university. From its groundbreaking interdisciplinary education to its historic campus and vibrant student life, much of this success can be traced directly back to President Feaver's leadership and the team he has built.
"The school would not be what it is today without John Feaver. There is no way you cannot appreciate how good he is," said Hudson. "Science & Arts has been fortunate to have had him for so many years."