Drover Alum Since Day One: Alice Niemeyer and Lynda Hannah Holding
---
October 12, 2021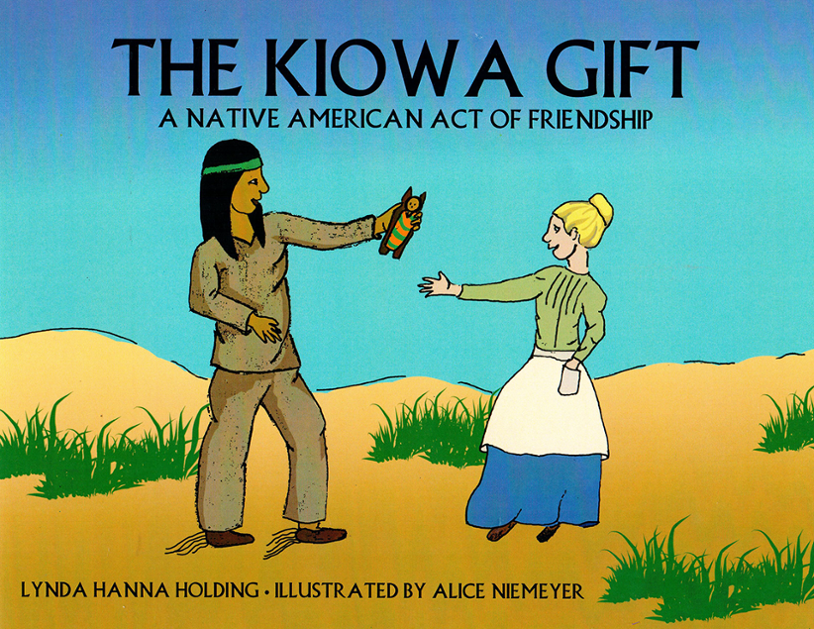 As COVID-19 reached pandemic status and large sections of American society suddenly found themselves staying at home for an extended period, long-time friends and USAO alumni Alice Niemeyer and Lynda Hannah Holding took it as an opportunity to tell the world a story from Niemeyer's pioneer ancestors that teaches an important lesson about diversity and acceptance.
The pair have recently published the tale in a children's book, "The Kiowa Gift: A Native American Act of Friendship," with Holding taking the pen as author and Niemeyer providing the illustrations. Written from the perspective of Niemeyer's great uncle John William Abercrombie, it tells the story of a young boy's experience on the Kansas prairie in the early 1860s. Having come with his parents from Georgia seeking a more prosperous life, John and his family have to deal with the elements and the presence of the Native American tribes, who do not always coexist with the new settlers peacefully. After his father has to leave for several days for more supplies, John and his mother notice a group of Kiowas camping near their homestead. Eventually, one of them presents the mother with an ornately beaded toy cradleboard as a gift for her new baby, who would become Niemeyer's grandfather. After the father returns, the family learns that other settlers have recently come under attack and realize the Kiowas had been camping there to watch over them. Passed down through the generations, the cradleboard is now on display in the newly-opened First Nations Museum in Oklahoma City.
The whole project took Niemeyer and Holding about a year to fully complete. Niemeyer had been wanting to tell this story for quite a while, and, having served as a docent at the National Cowboy and Western Heritage Museum for many years, had gained some new perspectives on her family history within the larger scheme of the American West. They used Ancestry.com to get some more details about Niemeyer's family and also researched the history of the area of Kansas where they settled. Both feel that they have learned a lot in the preparation of "The Kiowa Gift" and had to venture out of their respective comfort zones to make it a reality.
"As a retired elementary school teacher, I thought about my former students and the books they enjoyed reading," said Holding. "We would like to see children enjoying the book and understanding the diversity of the people around us all. Hopefully, children will discuss with the teachers or parents the difference in people around them and learn about living peacefully in a diverse society with a heartfelt acceptance of others."
Part of the pair's willingness to see the disruptions of COVID-19 as an opportunity to do something new and exciting comes from their time at the institution now known as USAO. Holding was among the last graduates from the school's initial incarnation as the Oklahoma College for Women, earning her bachelor's in elementary education in 1965, while Niemeyer received her degree in physical education from the recently renamed and newly co-educational Oklahoma College of Liberal Arts in 1968.
Holding had a family connection to campus, having visited a "very special aunt" who graduated from OCW and falling in love with the size and unique nature of the college. Niemeyer came to the school thanks to a recommendation a high school counselor gave to her mother. Both are quick to provide a long list of activities that made their time as undergraduates special as well as the ways in which their education has shaped their worldviews: dorm life, bonfires, orientation activities, social clubs, dances, lecture series, musical benefits, family-style dinners, leadership skills, political views, evaluating pros and cons, making decisions and meeting people from all over the world.
"We both have felt that OCW taught us to embrace whatever life threw at us with confidence and courage. We have not been afraid to try or engage in new things," said Holding.
After graduation, both Niemeyer and Holding would go on to become educators: the former teaching junior high physical education in Washington state and the latter teaching first and second grades in Jefferson County, Colorado. And they both count this passion, touching the lives of so many young people over the years and helping them to become their best, as the greatest achievement of their lives. Asked what advice they have for someone currently considering USAO, they are concise and unequivocal in their enthusiasm.
"We both say: go for it! Get involved in campus life! Step out of your comfort zone!"