Professors continue the pursuit of knowledge, creativity in uncertain times
---
July 14, 2020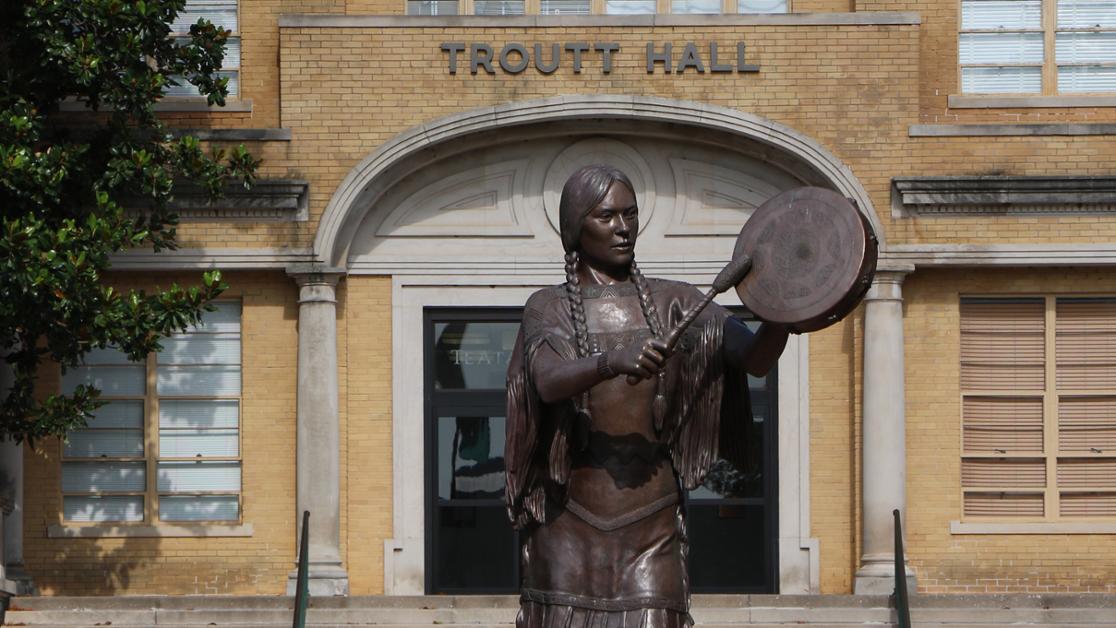 Given that the University of Science and Arts of Oklahoma is Oklahoma's only public liberal arts university, and thus charged with an interdisciplinary mission that teaches students to think outside the box, it is natural that the institution's faculty has used the unprecedented disruption of the past few months to find innovative ways to continue their work.
The sudden necessity of social distancing has hit the arts especially hard as they have relied on an in-person audience for centuries. But USAO professors have wasted no time in finding ways to leverage technology to adapt the arts to this new world of virtual gatherings.
"Learning theatre was completely different for more than 15 majors who enrolled in summer classes," said Katie Davis, professor of theatre arts. "Through Zoom, the students met to have a five-week workshop in stand-up comedy that included meetings with professional comedians, daily writing workshops, and online conversations with the founders of a long-running open-mic show."
Ten students in the class would make their stand-up debut at an open-mic, and the course concluded with a Drovers Standing-Up comedy show on Zoom featuring USAO Alumnus CW Bardsher as the host for an evening of live comedy. Other theatre classes this summer also took advantage of the distance learning format and included live interviews, workshops and discussions with contemporary playwrights Caridad Svich, Karen Malpede and performance artist Holly Hughes.
"Our common reliance on video conference platforms created the opportunity for students to interact with professionals that generally aren't available or affordable as visiting artists," said Davis. "We devoted our summer classes to an exploration of what the contemporary theatre is like right now, in the pandemic, with dark stages. We found an abundance of new work, new ways of reading and writing together, and a network of engaged supporters. We have been planning our projects based on what we are learning from the online theatre world this month. It's been a summer like no other."
Associate Professor of Art Jordan Vinyard has continued displaying her multimedia works that "satirize the human body's exchange with the alchemizing effects of technology" around the world. She recently had four pieces displayed in the exhibition "Concept" at the CICA Museum in South Korea, while next February Michigan's Buckham Gallery will show a new body of work called "Summary of a Few Volts," whose stated goal is to "place the viewer in a fixed dilemma."
Vinyard also recently received a Creative Projects Grants from the Oklahoma Visual Arts Coalition for her piece "Scummy Scummy No Fun Bunny Bunny," a project that "ultilizes a cast rabbit in an artificial womb, video monitors, and cameras to make associations with hierarchies intrinsic to media and technological replication."
Moving from the eyes to the ears, Dr. Stephen Weber, chair of the division of arts and humanities and professor of music, has been busy writing and releasing new work at an astonishing pace. Concordia Publishing House in St. Louis recently published one of his compositions in a volume of music and he has received a contract from another publisher for a piano composition due later this summer.
Weber has also continued his prodigious output of independently-released material, with an album of piano improvisations coming out just before spring break and his "quasi-pseudo-neo-minimal-ambient-contemporary-classical-instrumental-orchestral-cinematic" album "Realms" dropping just a few weeks ago. Both albums are streaming on Spotify and over many other services.
Turning to purely academic work, an original paper by Dr. Chris Garneau, assistant professor of sociology, was recently recognized as "Article of the Year" in the academic journal "Sociology of Religion." Published in the journal in 2019, Garneau co-authored the piece, "Sectarian Religion and Political Tolerance," with Dr. Phil Schwadel, Happold professor and undergraduate chair of sociology at the University of Nebraska.
Garneau and Schwadel have spent the past few years examining how political tolerance has increased among Americans through a number of publications. While prior research has examined the role of generational differences and class distinctions in predicting political tolerance, this most recent paper examines the role of religion in predicting tolerance. Being recognized as "Article of the Year" highlights it as one of the most interesting and innovative works the journal published in that timeframe.
Dr. Ben Wetherbee, assistant professor of interdisciplinary studies and English and coordinator of writing, also had an original academic work honored recently. His essay "The Other Toulmin Model: Concepts, Topoi, Evolution" is included in the new volume "Reinventing Rhetoric Scholarship: Fifty Years of the Rhetoric Society of America" which is available both in print or as a free, open-access e-book.
Wetherbee's article examines how rhetoricians and other communications instructors have used the argumentative model of the analytic philosopher Stephen Edelston Toulmin "a bit myopically." Toulmin's work covered an expansive range of subjects, and Wetherbee notes that contemporary rhetorical theory would benefit from examining the philosopher's work more broadly.
Finally, Dr. Jeannette Loutsch, professor of biology, recently helped the American Association of University Women conduct a virtual convention that featured a wide variety of hour-long lunchtime lectures. The final day of the convention featured award-winning journalist and writer Elaine Weiss and an international panel of physicians sharing perspectives on women's issues across the globe.
Loutsch serves as the STEM co-chair for the Oklahoma state AAUW Board of Directors and is running for vice president of programming for the 2020-2022 term. The AAUW is a non-profit organization that advances equity for women and girls through advocacy, education and research.
These are just a handful of things that the distinguished faculty at USAO has achieved in recent months, but they are preparing for even greater things when the fall semester begins!