Lauren Carroll named USAO Alumni Association's Distinguished Graduate spring 2019
---
May 07, 2019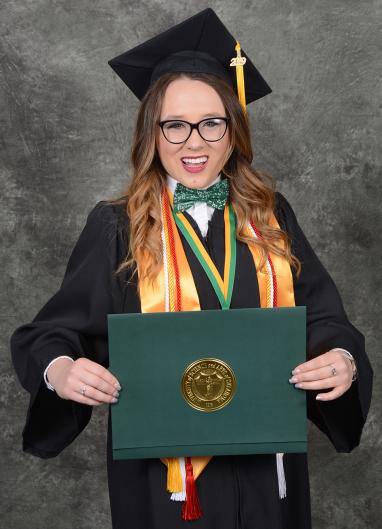 University of Science and Arts of Oklahoma graduate, Lauren Carroll, received the USAO Alumni Association Distinguished Graduate Award during the spring commencement ceremony.
Hailing from Oklahoma City, Carroll's story provides a perfect example of how USAO's interdisciplinary program enriches its students' lives far beyond the usual college experience.
A physics major, Carroll became interested in a career as a conservator due to the intersection between science and art. Thanks to the unique experiences and opportunities available at USAO, she and her advisor customized a plan allowing her to earn a physics degree while also taking the courses necessary for her desired profession, even though they encompass several seemingly unrelated disciplines.
"I have worked with Lauren extensively and I am always pleased with the time and effort she devotes to her studies," said Dr. J.C. Sanders, chair of the division of science and physical education and associate professor of physics. "She had to add on a significant number of art and anthropology courses to gain the necessary knowledge for her career goals. Her hard work and interdisciplinary education are a profound example of what makes USAO a special place."
Last summer, Carroll represented USAO as a Smithsonian Minority Intern at the Museum Conservation Institute in Washington D.C., which provides undergraduate and graduate students with opportunities to learn more about the Smithsonian as well as their chosen academic fields through direct experience in research or museum-related projects under the mentorship of the Institution's professional staff. Her mentor during a 10-week program was so impressed with Carroll's work that she offered to write a letter of recommendation for her applications to graduate schools.
A member of the Hypatia Honor Society, Alpha Lambda Delta, an officer in the Student Government Association as well as a participant in USAO's mentored research program, Carroll proved herself a committed leader on and off campus time and again.
Since 1981, the USAO Alumni Association has honored a very select group of graduates with the prestigious Distinguished Graduate Award. A committee of alumni and faculty determine the award recipients at the end of each fall and spring semester.