Emeritus USAO professors Mike and Jeanne Mather embody institution's community spirit
---
April 14, 2021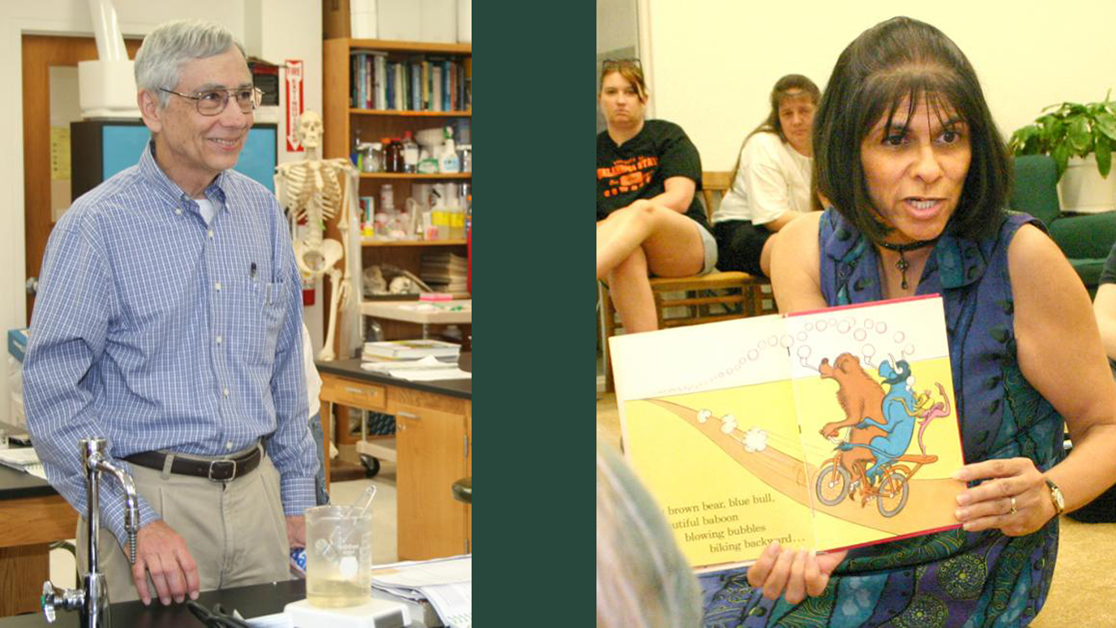 Two emeritus professors at the University of Science and Arts of Oklahoma have shown time and time again throughout their distinguished careers that they care as much about giving back to the institution as they do about teaching young minds in its distinctive, interdisciplinary curriculum.
During their long tenures at USAO, Dr. Mike Mather, professor of biology, and his wife Dr. Jeanne Mather, professor of education, have stood out many times for their exceptional generosity to the school. Most recently, they have made a significant donation to endow "retention" scholarships, which will be available to students who have completed at least one academic year at USAO and have decided that Oklahoma's only public liberal arts university is the place for them.
The idea behind the new scholarships is to help talented USAO students "make it to the finish line" when other sources of funding may have dried up.
"The Mathers have been helping USAO for so many years and in so many ways that it is truly remarkable," said JP Audas, director of development. "They have given their time, talent and treasure in equal measure, and always for the right reasons. While they have left their mark directly on the many students who have passed through their respective classrooms, they have continuously sought out other ways to make a difference in students' lives and the lives of everyone in the USAO family."
Aside from the new scholarship, the Mathers have long been known as extremely generous members of the USAO faculty in a wide range of ways. They have previously donated a tractor for use at USAO's Habitat Facility, helped build the children's and young adult literature sections of Nash Library, hosted students for meals and other activities, and volunteered at all sorts of projects around campus and the Chickasha community.
"The importance of giving is not in the amount, but in the feelings behind the giving," said Dr. Jeanne Mather. "Everyone can find some way to give, whether it is donating food items to the USAO food pantry, buying raffle tickets to support a student activity, attending performances and sporting events, or even just proudly wearing USAO shirts, especially on vacation. USAO is a special place. Everyone—alumni, faculty, staff and students should do their part to support it in any way they can!"
Mike Mather came to USAO directly after graduate school in 1976. He first considered his teaching position as a stepping stone, but quickly found that his love for the job became his life's passion and remained a faculty member for 34 years before retiring in 2010. Twice serving as president of the USAO Faculty Association, he received the Regents Award for Scholarly Activity two times and the Regents Award for Superior Teaching four times. He continues to be an important contributor to USAO's zoological collections as well as the university's Habitat Facility.
Jeanne Mather joined the USAO faculty in 1990, earning many accolades for her leadership in multicultural education and service learning including the Multicultural Citizen of the Year award and recognition for Outstanding Human Rights Achievement by the Oklahoma Universal Human Rights Alliance in 2015. She co-founded the "Books for Tots" program, which has distributed over 100,000 new books to needy children since 1998, as well as the multicultural, interdisciplinary newsletter "Classroom Spice," which is still published through USAO. Having previously won the Regents Award for Scholarly Activity, she received the Regents Award for Superior Teaching in 2016 and retired the following year.
For more information, visit usao.edu/giving.