McCasland Foundation awards $250,000 grant to USAO for historic renovations
---
September 27, 2019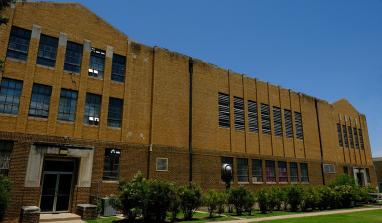 The University of Science and Arts of Oklahoma's century-old gymnasium will soon see massive renovations thanks in part to a $250,000 grant from the McCasland Foundation, a private philanthropic organization based in Duncan, Okla.
Collaborating with Oklahoma City-based architecture firm Smith Design Company, the university will begin restoration and renovation of the gymnasium, also known as the historic fieldhouse. The McCasland Foundation's grant, awarded over a three-year period, will help fund the initial stages, focusing on exterior structures to protect against further deterioration. Further plans include the complete renovation of the building's utilities, new classrooms, coaching offices and athletic facilities.
"The McCasland Foundation's extraordinary generosity is known across our state for good reason," said USAO President John Feaver. "We are deeply honored that they would make such a gift to our university, and we will make sure that their investment will continue to benefit our community for generations to come. Keeping with USAO's holistic mission, students need the ability to explore physical disciplines in up-to-date facilities so they can develop their bodies as well as their minds."
One of the original parts of the Oklahoma College for Women campus, the gymnasium currently faces significant safety, plumbing and waterproofing issues that make large parts of it unusable. With physical education being the second-largest major on campus and several of the school's athletic teams competing in national championships, the extensive renovations will allow all the sports programs to continue their recent successes. Additionally, USAO's core curriculum requires physical activity credits, so the restored facility will improve the quality and availability of health programs for all students.
T.H. McCasland, founder of Mack Energy Co., established the McCasland Foundation in 1950 as a way of reciprocating the opportunities and generosity he received from his community. Focusing its efforts in southwest Oklahoma, the foundation's main areas of interest are education, particularly special projects for public schools and universities, as well as cultural and community-based organizations.