USAO' Minerva Awards highlight wide range of student achievement
---
April 18, 2022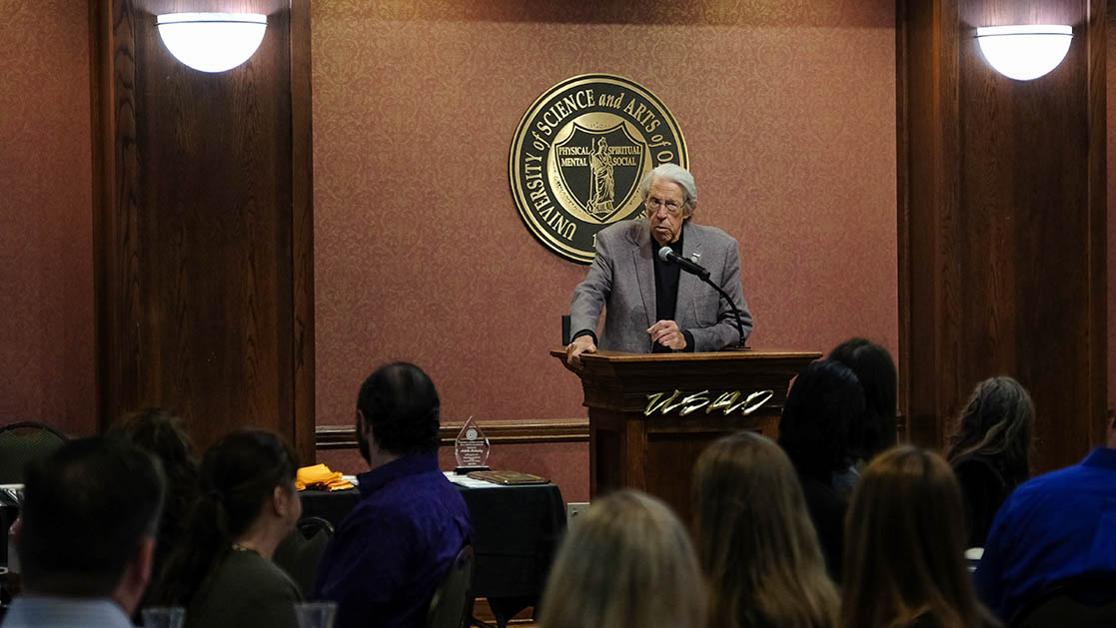 The University of Science & Arts of Oklahoma recently honored students for their achievements and service during the Minerva Awards ceremony.
"These students show their exceptional dedication to the USAO mission both inside and outside of the classroom and that deserves the highest praise," said Nancy Hughes, associate vice president for student success and human resources. "Named after Minerva, the ancient Roman goddess of wisdom and science and a symbol of this university, these awards recognize those students who are most steadfast in their commitment not only to their academic achievements, but also in their service as leaders within our campus community."
The Minerva Awards publicly recognize outstanding students at USAO. Students are honored for excellence in academics, leadership, community service, campus involvement, diversity and many other areas. In addition to individual awards, the ceremony recognizes honor society members and seniors graduating with honors.
---
The USAO Leadership Academy is a three-tiered program that enhances students' leadership skills with various workshops, projects and networking opportunities. In addition to being a great resume builder, graduates from the program will have a plethora of leadership experiences that will help them excel through life after college.
Gold Leadership Academy
Shah'Ty Carolina
Joshua Edwards
Chelsea Fuston
Halli Humphrey
Aliyah Payne
Shawntavia Rogers
---
Leadership Awards honor outstanding students who have shown leadership qualities during their time at USAO. A Leadership Award recipient has demonstrated the willingness and ability to involve others and hold leadership roles on campus.
Freshman Leadership Award
Mariah Carnagie
Trinity Albao-Cozad
Harry Cracknell
Hannah Dudleson
Gary Jackson
Yaiza Larrauri
MaKenna Locke
Emily Loughridge
Mary-Grace McNutt
Sophomore Leadership Award
Sidney Dewey
Chelsea Fuston
Michael Hixson
Halli Humphrey
Chandler Leamon-Webb
Isabellah Willoughby
Junior Leadership Award
Daniel Buster
Abigail Davis
Rachel Dennis
MacKenzie Freeman
Skyler Garneau
Kalep Glandon
Zoey Hughes
Maria Lara
Hope Marquardt
Alexandra Medcalf
Allison Murray
Kati Robbins
Senior Leadership Award
Savannah Ashford
Cassidy Bowles
Emily Cerny
Lacey Dutton
Fernando J. Gonzalez-Castillo
Francisco Hernandez-Esteban
Wendell Hixson
Mackenzie Holub
Madison Homer
Joel Lane
Audrey Liddiard
Arlette Meléndez
Crystal Munsey
Bret O'zee
Aliyah Payne
Aubrey Ruttman
Parker Stoddard
Cassidy Sturgeon
Alyssa Unsell
Sidney Wilson
Summer-Skye Wilson
---
Commitment to Diversity Award honors a USAO student who has exhibited awareness and appreciation for diversity and inclusion in their activities and performance in and outside the classroom setting.
Commitment to Diversity Award
Alyssa Unsell
---
Drover Pride Award recognizes individuals who have demonstrated extraordinary support for the campus community, embodying the Drover spirit through participation and achievement.
Drover Pride Award
Daniel Buster
Chelsea Fuston
---
George Austin Award for Campus Leadership is given to a Junior or Senior who has been on the forefront of campus life, including taking leadership roles in activities such as serving as an officer in student groups, organizing service projects, leading programs, and helping build the leadership skills of other students at USAO.
George Austin Award for Campus Leadership
Madison Homer
Arlette Meléndez
---
The Gladys Anderson Emerson Award for Undergraduate Research is named for an OCW graduate who established herself as one of this country's leading nutrition authorities. While her most notable achievement in science may have been to isolate Vitamin E, she is better known at her alma mater as a global ambassador for the liberal arts. The Gladys Anderson Emerson Award honors a student who has best distinguished him/herself in the field of academic research as an undergraduate.
Gladys Emerson Award for Undergraduate Research
Breena Lijewski
Ethan Korn
---
Few Oklahomans have garnered as much attention around the world as Native American storyteller Te Ata, recognized for a lifetime of achievement in the Arts by governors, presidents, kings and her alma mater, the Oklahoma College for Women. The Te Ata Creative Expression award honors a USAO student who has best distinguished him/herself in the arts. This student must have produced substantial creative work in the area of music, art, drama, or creative writing. Preference is given to students who have publicly performed, exhibited, or published their work.
Te Ata Creative Expression Award
Samantha Barker
Joseph Flores
---
This award, funded by the Swineford family, is named for Derald Swineford, who was an integral part of the university's art department across four decades and two name-changes. The Swineford Art Award is the highest award bestowed on a junior or senior art major.
Derald Swineford Art Award
Joseph Flores
To see a photo album from the event, please visit: https://www.flickr.com/photos/usaodrovers/albums/72177720298213802