Artists from around the state welcome at the Montmartre 2019 Chalk Art Festival
---
March 04, 2019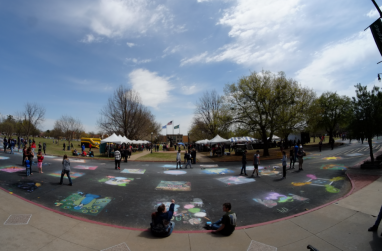 Artists of all ages and skill levels are invited to flex their creative muscles during the University of Science and Arts of Oklahoma's 2019 Montmartre Chalk Art Festival April 4. USAO art alumni will serve as judges with the winners announced in the early afternoon.
Registration information:
Registration: April 4, 7:30 – 9:30 a.m.
Location: east side of Davis Hall.
Fees: $10 per 6-foot by 6-foot square, cash-only.
Rules: limit of four artists per square; water-based temporary chalk only; no tempura powder, oil-based media or permanent fixatives of any kind; work must be suitable for all ages.
Awards:
Judging will begin at noon.
Awards presentation tentatively set for 1:30 p.m.
Contestants will be grouped into four age categories: elementary (grades 6 and below), junior high (grades 7-9), high school (grades 10-12) and college/adult.
Awards include Judges' Choice in each category as well as Best in Show.
"Our beloved Montmartre festival is an opportunity for everyone—students, friends in the community and anyone else who loves creating—to showcase their artistic abilities," said Jacquelyn Knapp, professor of art and co-director of Montmartre. "Even if you're not a competitive person, Montmartre is still a great way to meet other artists and art lovers, get a little dirty and enjoy a wonderful spring day on our beautiful campus."
Named for the Paris arts district that holds similar events, the Montmartre Festival serves a secondary role as a recruiting event for the USAO Art Department and for the university as a whole. "The mix of artistic and academic events along with great live music really makes an impression on students thinking about where to go for college," said Knapp.
On the first Thursday of April each year, the university holds its largest annual event. The Spring Triad is comprised of the Montmartre Festival, USAO Scholastic Meet and Droverstock Music Festival. Students from regional high schools compete in a wide variety of subjects in the scholastic meet, with awards given to the highest scorers at individual and school levels. Droverstock brings in bands from around the country and from many different genres to supply the soundtrack for the day's events.
For complete rules and entry forms, visit usao.edu/events/montmartre-2019.
For more information, contact co-directors of Montmarte Jacquelyn Knapp at 405-574-1302 or jknapp@usao.edu, or Jordan Vinyard at 405-574-1301 or jvineyard@usao.edu.