Music alumni will be welcomed back for celebration of singing
---
March 04, 2019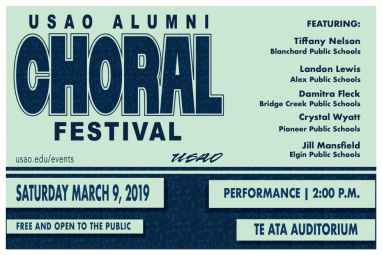 The University of Science and Arts will welcome several vocal music education alumni and their choirs back to campus on March 9 for the inaugural Music Alumni Choral Festival. A concert will be held in Te Ata Memorial Auditorium at 2 p.m. The event is free and open to the public.
The concert will feature more than 125 students from fifth to 12th grade from the Pioneer, Alex, Blanchard and Bridge Creek public schools. Jacob Narverud's "Sisi Ni Moja" and Cristy Cary Miller's "Red River Dances" will be presented by all of the singers in a combined, festival choir.
Crystal Wyatt, a 1996 graduate, teaches general music and honor choir at Pioneer Elementary School, in addition to serving as the academic team and quiz bowl coach. She is also the minister of music at First Christian Church in Chickasha and teaches music at ArtScope, a summer arts program through the Chickasha Area Arts Council held at USAO.
Landon Lewis, a 1999 graduate, has taught music for more than 20 years in the Comanche and Alex school districts. He is certified to teach both vocal and instrumental music and is an accomplished trombonist and vocalist. He received his master's degree from the University of Central Oklahoma in 2008. Currently, he leads the Alex choral programs and serves as the drumline director.
Tiffany Nelson, a 1992 graduate, is the junior high and high school vocal music teacher in Blanchard. Her students regularly compete in national and state competitions, some having been named to Oklahoma Choral Directors Association regional honor choirs, the Oklahoma Music Educators Association all-state choir and the National Association for Music Education all-national choral honor ensemble.
Damitra Fleck, a 2000 graduate, has been a vocal music instructor for 18 years. Fleck is currently the choir director for the Bridge Creek school system. She has taught students from kindergarten to college and holds master's degrees in both music education and educational administration. She has recently renewed her National Board Music Teacher Certification.
Jill Mansfield, a 1993 graduate, will serve as accompanist for the festival. Mansfield is the choral director at Elgin High School. She is an accomplished keyboardist, singer and flautist. She also serves as the choir director at Epworth Methodist Church in Chickasha.