USAO' Neill-Wint Center for Neurodiversity graduates first students
---
June 08, 2022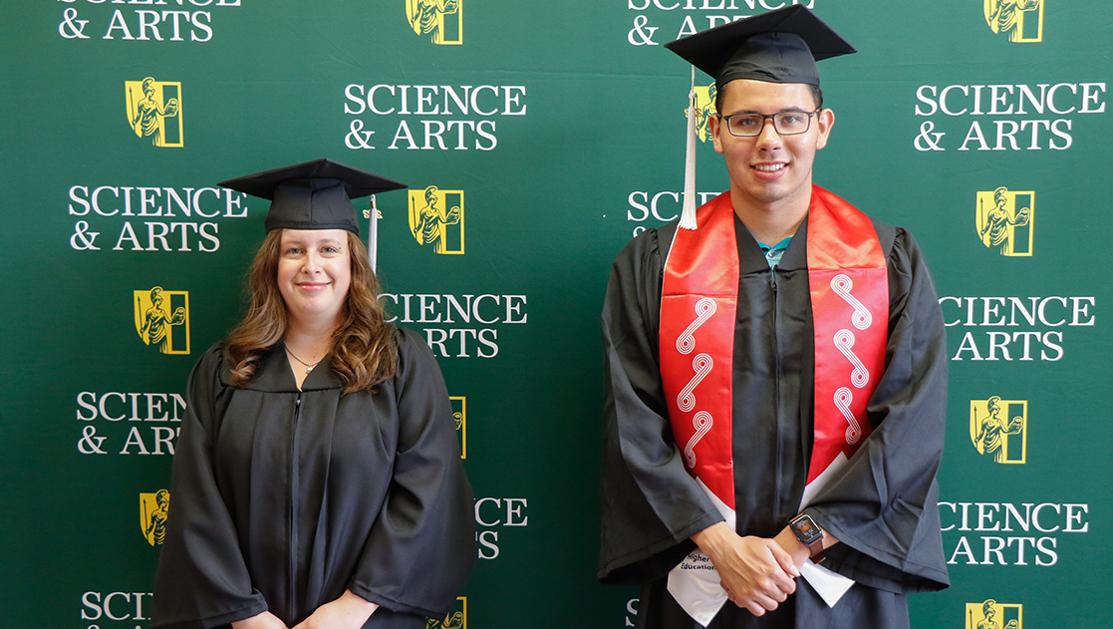 The University of Science & Arts of Oklahoma's distinguished Neill-Wint Center for Neurodiversity, a comprehensive support program established in 2017 that allows students with autism spectrum disorder to pursue a bachelor's degree, has recently celebrated its first three graduates during the university's commencement ceremony.
A fall 2021 graduate, Logan Bates of Tulsa earned a Bachelor of Arts in history and achieved an overall 3.23 GPA.
"Logan was an outstanding student who had a great time learning at this university," said Dr. Kevin Crow, professor of history. "He always brought a great deal of enthusiasm to class, and, like other students associated with the Neill-Wint Center, he was a pleasure to have in class and often made connections between events in history in interesting ways that the other students would miss."
One of two graduates for spring 2022, Alec Byrd of Okmulgee earned his Bachelor of Arts in art and achieved an overall 3.4 GPA.
"Alec has been in a number of my classes and is one of the most tremendously hardworking people I have ever had the pleasure of knowing," said Jordan Vinyard, assistant professor of art and Art Wrecker Studios director. "This last year, I wanted to give him the opportunity to be a group leader for a collaborative project. I will never forget how he carried himself in that role. He was so generous with his time and considerations. He made sure to be timely, delegated tasks appropriately, but also he accomplished the thing that makes great leaders so rare and valuable–he served his team. He was there for them every step of the way and stepped in wherever he saw it necessary."
The second spring graduate, Ryleigh McDonald earned her Bachelor of Arts in English and achieved an overall 3.13 GPA. She also served as a member of the Student Government Association.
"Ryleigh is a kind, smart and intellectually curious student who is positively vital to a liberal arts education," said Dr. Ben Wetherbee, assistant professor of interdisciplinary studies and English. "Working alongside the Neill-Wint staff to navigate Ryleigh's degree path was also a delight. We were able to work through her requirements at a pace that worked for Ryleigh and played to her interests. She was able to branch out and take a few courses she found personally compelling, and, in my Rhetoric of Science seminar, she wrote some very meaningful work about rhetoric and autism that was both very scholarly and rooted in a place of powerful personal commitment. These are the sort of interdisciplinary, but individually meaningful, experiences I hope people seek when they come to USAO."
Founded thanks to the generosity of private donors, including namesakes Phillip Wint and his wife Katie, whose maiden name is Neill, the Inasmuch Foundation and Sarkeys Foundation, the Neill-Wint Center for Neurodiversity uses a collaborative model that promotes the development of self-advocacy and independent living skills to encourage strong academic as well as social progress. Students must meet USAO general admissions requirements and also apply to the program. Accepted students are partnered with specially-trained faculty advisors as well as peer social coaches who help with prioritization, time management, tutoring and in many other areas.
"Though the importance of this program has been clear to us from its inception, it is still incredibly rewarding to see it starting to pay real dividends in the form of these highly capable graduates," said Cathy Perri, special assistant to the president and Neill-Wint Center director. "All of our students embody values such as creativity, curiosity and critical thinking, which are absolutely fundamental to this university's mission, and it has been wonderful to watch Alec, Logan and Ryleigh thrive in this atmosphere and achieve everything we knew they were capable of!"
For more information, contact Perri at 405-574-1293 or cperri@usao.edu.