McPherson to Retire from USAO After More Than 40 Years of Service
---
July 16, 2021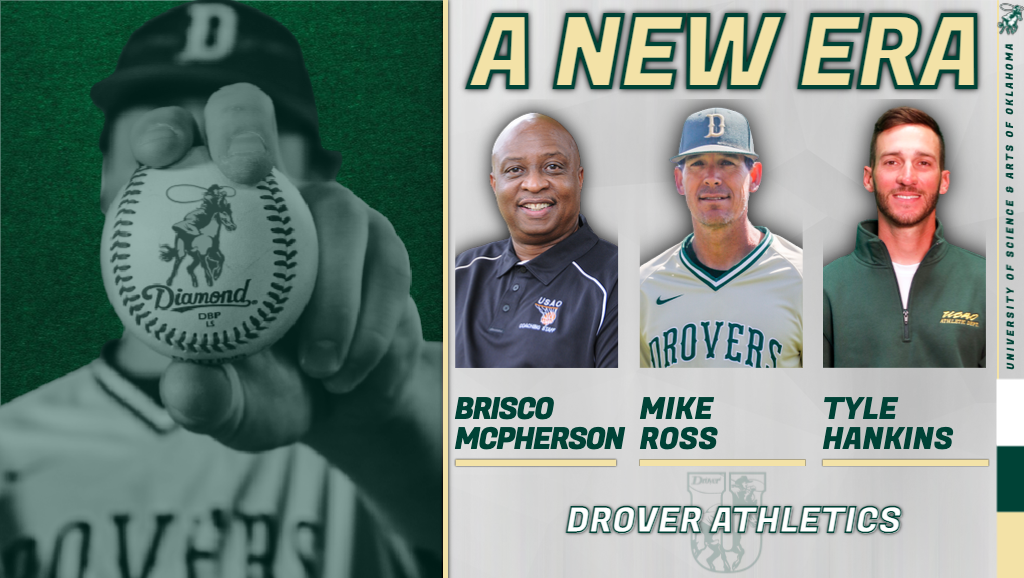 After more than 40 years of association and service to the University of Science & Arts of Oklahoma, and building a winning culture in the athletic department, Brisco McPherson will be retiring as athletic director. He will continue serving as athletic director emeritus until July 1, 2022.
Mike Ross, current head baseball coach, has been named the university's new athletic director, while Tyle Hankins, assistant baseball coach, will be the new head coach for Drover baseball.
"I'm so blessed to have been at this university for over 40 years. Not a day went by that I didn't enjoy going to work. I thoroughly enjoyed my association with everyone at the university, and I'm so thankful for the opportunity and experience," McPherson said. "However, there comes a time when you feel like a change is needed, and Mike Ross is the perfect person to take over. He is going to continue to do tremendous things for the university and help take our athletics to the next level."
McPherson began his time at the university in 1973 as a player for the first Drovers men's basketball team. As a player, McPherson shined, and is one of only 16 players in program history to eclipse the 1,000-point milestone scoring 1,107.
In 1980, he was hired as the assistant men's basketball coach and equipment room manager. Upon earning his master's degree in 1985, he was appointed to the faulty with teaching responsibilities. He was appointed head men's basketball coach in 1991. McPherson was named athletic director in 2002 and served as both athletic director and men's basketball coach until the 2012-2013 season. Retiring as men's basketball coach, he has since continued to serve as athletic director.
In 22 seasons, McPherson coached the Drovers to 309 wins and six NAIA National Tournament appearances, including back-to-back trips to the championship game. Under his leadership, the Drovers claimed four conference titles as well as the university's first NAIA National Title in 2002.
McPherson won four conference Coach of the Year awards, and holds school records for the best regular season (29-3) and most wins in a season (29), both set in the 2000-01 season.
In November 2012, McPherson was inducted into the USAO Athletic Hall of Fame for his long history with, and outstanding leadership of, the Drovers. That same day, the basketball arena in the fieldhouse was renamed "Brisco McPherson Court." In celebration of the USAO Alumni Association's 100th anniversary in 2017, McPherson was the 100th person to be inducted in the association's Hall of Fame.
In 2014, McPherson became the fourth member of the NAIA to be inducted into the John McLendon Minority Athletics Administrators Hall of Fame, which seeks to recognize individuals who have dedicated their lives and shown a steadfast commitment to enhancing the athletics administration profession.
"Brisco's time serving this university so closely mirrors my own that his retirement is something that both brings me a great deal of sadness at the wisdom and experience that the university is losing, but also heartens me immensely, knowing that we have been so fortunate to have a man of Brisco's caliber as part of our staff and faculty for so long," said President John Feaver. "His records as both a coach and as a player are a testament to the kind of devotion he puts into everything he does, and, for so long now, that passion has been dedicated to the countless students he has taught and mentored. While we will all miss Brisco's constant presence, his tenure has forever changed this institution and will serve as a model for future generations of scholar athletes."
Assuming the role of athletic director is Ross, the winningest baseball coach in the program's illustrious history. Ross will hang his cap after 18 seasons with the Drovers baseball team; as head coach for 13 seasons after five seasons as assistant coach.
As head coach, Ross put together a 460-197 (.700) career win-loss record, and was named the Sooner Athletic Conference Coach of the Year five times. He led the program to four SAC regular-season championships, four SAC Tournament championships and six NAIA Baseball National Championship – Opening Round appearances.
In 2019, Ross led the Drovers to the national semi-final game where they closed the season as the No. 3 team in the NAIA. In the 2020 NAIA Coaches' Preseason Top 25 Poll, the Drovers were ranked as the No. 2 team in the country, and they received their first No. 1 vote in program history.
"This is an excellent opportunity and I am so excited and thankful. I consider Brisco a mentor, and to maintain the excellence and success of the athletic department will be very difficult," said Ross. "He has given so much to this university and community, and I look forward to working and learning from him as we continue to improve and grow athletics at the university."
A native of nearby Union City, Ross played at Redlands Community College and later at Graceland College in Iowa where he served as the team's captain both his junior and senior year. He set the school record for saves in both 1998 and again in 1999 while earning all-conference honors.
He earned his bachelor's degree in history from USAO in 2002 and his master's of sports science in sports coaching from the United State Sports Academy in 2009.
Though Ross is moving offices, he will still continue to mentor Hankins as he steps into his first season as head coach. Hankins joined the Drovers in 2019 as assistant coach, and has been vital to one of the most successful stretches in program history. He has helped lead the Drovers to back-to-back SAC regular-season titles, as well as back-to-back SAC Tournament championships.
"I think this is a great opportunity for Tyle," said Ross. "He loves this university and he's going to continue to build on our past successes. He's been great for us the last few years, and I look forward to seeing him take this program to the next level."
In addition to his work at USAO, Hankins has been coaching in some of the most competitive college summer leagues in the nation. Currently, he is coaching for the Cotuit Kettleers, of the prestigious Cape Cod Baseball League. In the summer of 2020, Hankins coached for the wildly popular Savannah Bananas in Georgia, and in 2019 he coached for the Florence Redwolves in South Carolina.
Hankins graduated from East Central University with a bachelor's in history and a master's in sports administration. He played three years for the Tigers and was named to the Great American Conference All-Academic team as a senior.
For more information, visit www.usaoathletics.com.