OU College of Nursing Partners With USAO, Murray State to Increase Oklahoma's Nursing Workforce
---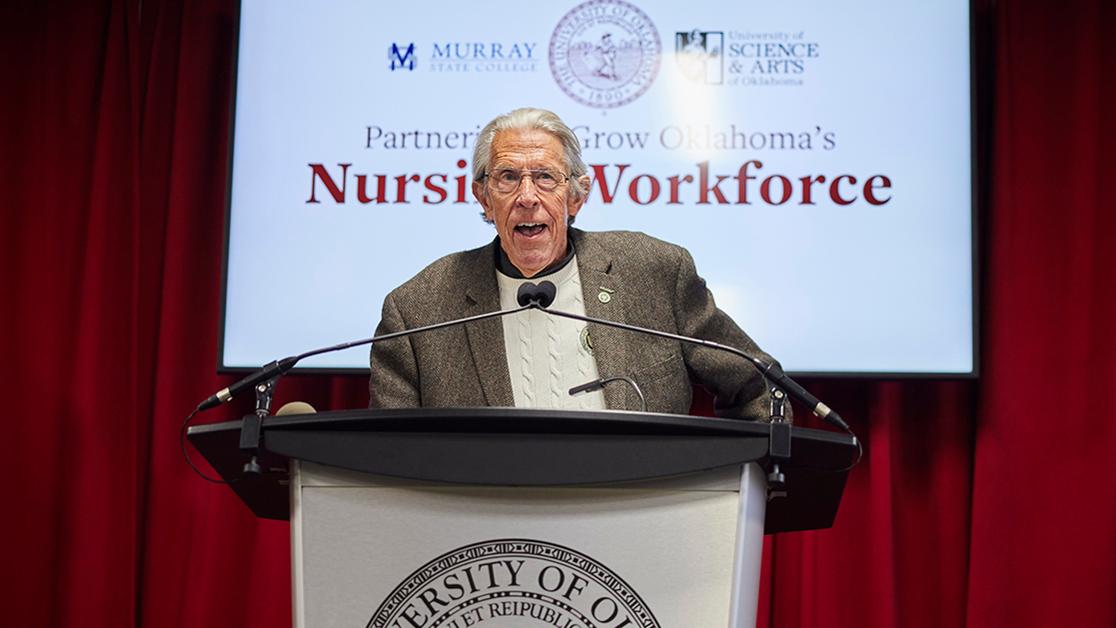 The Fran and Earl Ziegler College of Nursing at the University of Oklahoma has announced a partnership with the University of Science & Arts of Oklahoma and Murray State College. This new collaboration is an important step toward building a qualified, educated nursing workforce to address the critical nursing shortage in Oklahoma.
Beginning this fall, Murray State and USAO will each offer a guaranteed admission opportunity to six qualified undergraduate students majoring in nursing to pursue their Bachelor of Science in Nursing degree at the OU College of Nursing's educational sites at Cameron University in Lawton and Duncan Regional Hospital. Guaranteed admission students must remain in good academic standing while completing prerequisite nursing courses and meet all other OU College of Nursing admission requirements to be granted full admission.
In addition, this agreement will allow students who earn their associate degree in nursing from Murray State and who ultimately want to earn a BSN the option of pursuing OU's RN to BSN program – a degree completion program that is offered 100% online. This positions OU as the preferred collaborator to advance nursing education at Murray State College in Ardmore.
These new partnerships will contribute to strengthening the nursing workforce, primarily benefiting rural Oklahoma, as students typically begin their careers close to where they received their degree.
"Enhancing our state's health is one of our most important responsibilities at the University of Oklahoma," said OU President Joseph Harroz Jr. "Through this strategic collaboration with USAO and Murray State, our institutions are aligning our resources and our unique strengths to address our state's critical nursing shortage – ultimately yielding life-changing outcomes for countless Oklahomans."
OU's Fran and Earl Ziegler College of Nursing, the largest nursing program in Oklahoma, is a nationally recognized college offering bachelor's, master's and doctoral degree programs to prepare professional nurses. In the past two years, the College of Nursing has implemented a number of programs to help address the nursing shortage, including working with its health care partner, OU Health, in developing a degree accelerator program. Additionally, last year OU announced it would accept all qualified applicants for its BSN program – a pledge that continues for fall 2023.
In 2021, the university announced it would offer its BSN degree at two additional locations, partnering with Norman Regional Hospital and Duncan Regional Hospital. The expansion adds to the college's existing locations that offer the traditional BSN – the OU Health Sciences Center in Oklahoma City, the OU-Tulsa Schusterman Center and Cameron University in Lawton.
With campuses in Tishomingo and Ardmore, Murray State College offers associate degrees in science, arts and applied science, including a 70-credit-hour nursing program. At the completion of the nursing program, students graduate with an Associate of Applied Science degree.
"This partnership provides Murray State nursing graduates guaranteed access, both online and in-person, to a career ladder with greater professional opportunities and earning potential," said Dr. Tim Faltyn, president of Murray State College. "Our RNs will have the ability to pursue bachelor's, master's and doctoral nursing degrees with the University of Oklahoma from anywhere they live and work in southern Oklahoma starting today. This is the first step in the creation of the Southern Oklahoma Center for Nursing Education at our Ardmore campus. What we are doing here today will improve the quality of care for all of southern Oklahoma."
The University of Science & Arts of Oklahoma in Chickasha is Oklahoma's only public liberal arts college. The university provides undergraduate liberal arts and sciences education, including a pre-nursing degree.
"We are extremely pleased to partner with the University of Oklahoma to combine the interdisciplinary college experience we provide at USAO with the superlative health care resources of OU's Fran and Earl Ziegler College of Nursing," said Dr. John H. Feaver, USAO president. "This partnership will allow students to receive the benefits of our broad-based liberal arts curriculum alongside the rigorous clinical education and training a career as a professional registered nurse requires. It is imperative that these critical frontline workers have the liberal arts foundation, technical and interpersonal skills to care for the whole human being, and we are confident that innovative, collaborative programs such as this will provide our future nurses with the competence, compassion and critical knowledge necessary to meet the complex and individual needs of all our fellow Oklahomans."
"Academic-practice partnerships are key to workforce innovation in nursing" said Julie Hoff, dean of OU's Fran and Earl Ziegler College of Nursing. "These partnerships help us collaboratively steward rather than compete for limited clinical and faculty resources to impact health care access and quality across the state."
The OU College of Nursing offers full-time, part-time and online education through its Oklahoma City, Lawton, Tulsa, Duncan and Norman locations. Additionally, College of Nursing faculty conduct research and support a wide range of local, regional and international health-related community outreach programs to improve health and advance health equity. The college's baccalaureate degree program in nursing, master's degree program in nursing, Doctor of Nursing Practice program and post-graduate APRN certificate programs are accredited by the Commission on Collegiate Nursing Education.