USAO' Neill-Wint Center for Neurodiversity celebrates four graduates
---
May 10, 2023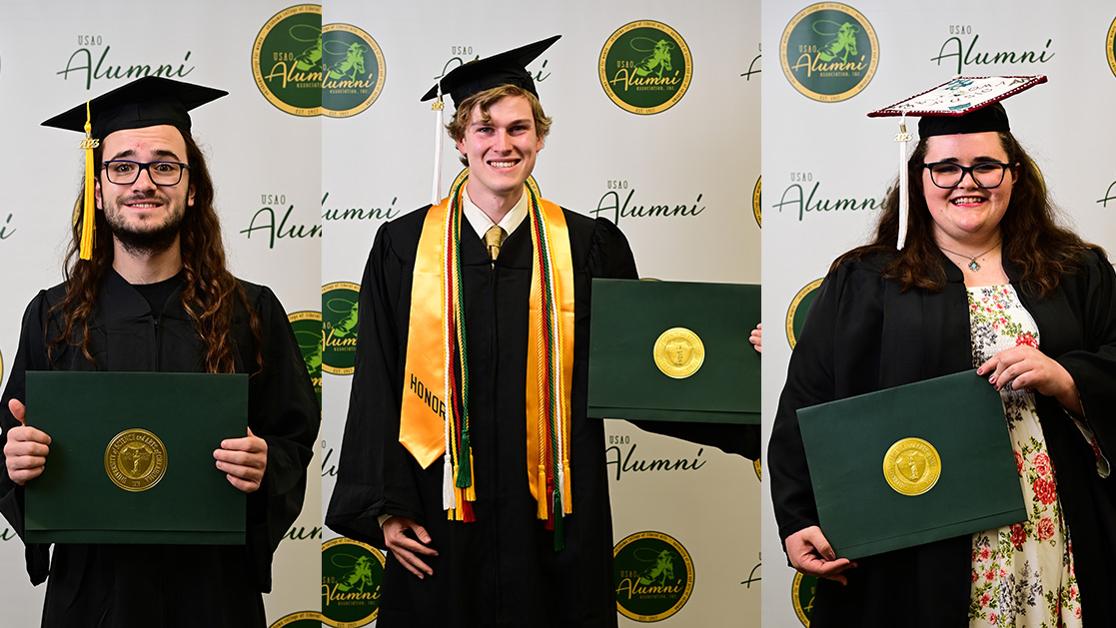 The University of Science & Arts of Oklahoma's distinguished Neill-Wint Center for Neurodiversity, a comprehensive support program established in 2017 that allows students with autism spectrum disorder to pursue a bachelor's degree, recently celebrated four new graduates during the university's 2023 commencement ceremony.
Thomas Gage Burke of Edmond earned a Bachelor of Science in mathematics.
"Gage majored in mathematics, but he also became a part of our theatre family," said Katie Davis, professor of theatre arts. "His interest in acting grew when he was cast in the student-directed Festival of One-Act Plays. He then became a theatre minor and truly appreciated the unique curriculum at USAO that allowed him to combine courses from diverse programs to meet his goals. He thrived in the inclusive atmosphere of the program and took every opportunity to participate in the co-curricular social activities of our department. His drive to push himself outside of his academic comfort zone and genuine love of creation made him a respected and successful performer."
Graduating summa cum laude, Jensen Link of Duncan earned a Bachelor of Arts in history and achieved an overall 4.0 GPA. Link is the first student in the program to graduate with honors.
"Jensen is an intellectual risk-taker and open-minded thinker of the first order," said Dr. Zach Simpson, professor of religion and philosophy and Ableson chair of religious reconciliation. "He is willing to push himself to listen to different views and to critically analyze them to see what is right and true. He is also a first-rate human being – kind, humble and giving towards others. Those who know Jensen have been touched by his curiosity, gentle spirit and self-effacing humor."
Caitlyn Mainord of Purcell earned her Bachelor of Arts in multidisciplinary studies.
"Caitlyn is such a beacon of light!" said Dr. Rachel Jones, dean of the school of science and physical education, associate professor of environmental science and biology. "She is determined to do her best and it shows in the quality of work she produces. She is so enthusiastic when it comes to learning anything that can help her reach her goal of managing a farm or ranch. She already helps to run her family ranch and has put her education to work for her before she even graduates. In addition to being successful in academics, Caitlyn is famous amongst both faculty and fellow students for her unyielding kindness. She is one of the most caring and considerate people I know."
A fall 2022 graduate, Cole J.B. Placencia of Poteau earned his Bachelor of Arts in art.
"Everyone in the art department is so proud of Cole and his many accomplishments while he was studying at USAO," said Jacquelyn Knapp, professor of art and department coordinator. "He was the very first art major we had who was part of the Neill-Wint Center, and his talents have shown how successful and creative these students can be when the right kind of support is available."
Founded thanks to the generosity of private donors, including namesakes Phillip Wint and his wife Katie, whose maiden name is Neill, Mr. and Mrs. Pickens of Oklahoma City, the Inasmuch Foundation and Sarkeys Foundation, the Neill-Wint Center for Neurodiversity uses a collaborative model that promotes the development of self-advocacy and independent living skills to encourage strong academic as well as social progress. Students must meet USAO' general admissions requirements and also apply to the program. Accepted students are partnered with specially trained advisors, peer mentors who help with prioritization, time management, and social integration.
"Every young person who has gone through this program and completed their bachelor's degree at USAO stands as a testament to how successful students on the autism spectrum can be with the right kind of support," said Cathy Perri, Neill-Wint Center director and special assistant to the president . "Students in the Neill-Wint Center embody qualities like creativity, curiosity and critical thinking, which are absolutely fundamental to this university's mission, and it has been tremendously fulfilling to watch Gage, Jensen, Caitlyn and Cole thrive in this atmosphere and accomplish their academic goals while achieving a combined 3.4 GPA."
For more information, contact Perri at 405-574-1293 or cperri@usao.edu.