Deaf activist and Dancing with the Stars winner to appear at USAO
---
September 11, 2019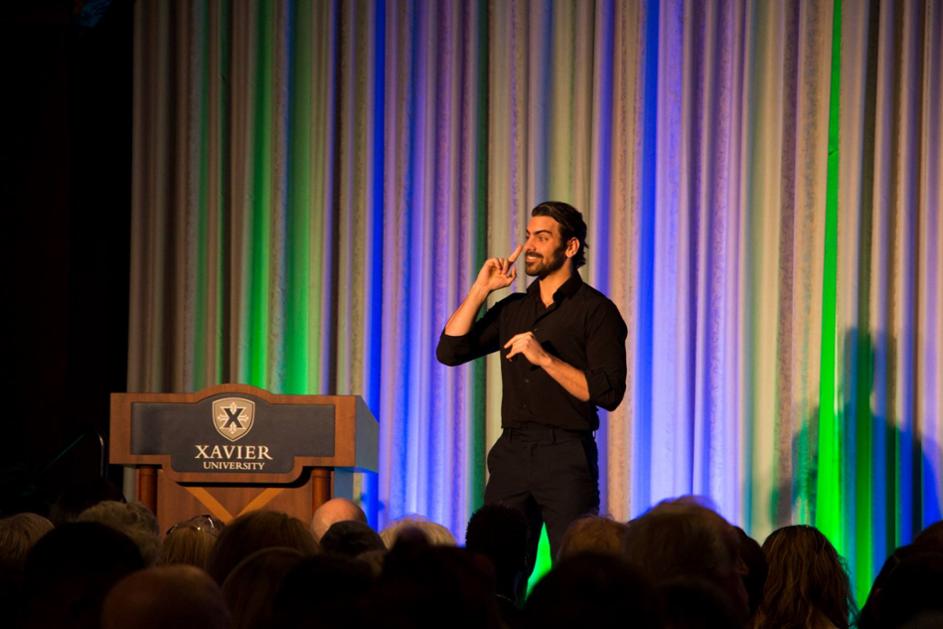 Nyle DiMarco, deaf rights advocate, 2015 winner of America's Next Top Model and 2016 winner of Dancing with the Stars will keynote the 12th annual Ray, Mary & Nita Giles Symposium for Citizenship and Public Service Oct. 8 at 7 p.m. in the University of Science and Arts of Oklahoma Ballroom, located in the Student Center.
The symposium is free and open to the public. An RSVP-only reception with DiMarco, heavy hors d'oeuvres and wine will be held at 5:30 p.m. Attendees will have the opportunity to have their photo taken with DiMarco and will have reserved seating at the symposium. Cost to attend is $25 per person and registration is required by Oct. 1. Reservations for this opportunity to mingle with this distinguished speaker can be made online at usao.edu/giles or by calling 405-574-1349.
Not seeing his deafness as a disability, DiMarco uses his media profile to bring awareness to deaf culture. He serves as a spokesperson for the Language Equality and Acquisition for Deaf Kids program as well as a signer and creative collaborator on The ASL App, which teaches users American Sign Language. In 2016, he founded the Nyle DiMarco Foundation to provide access to resources for deaf children and their families.
"America's Next Top Model" scouted DiMarco through social media in 2015, not knowing he was deaf. He became the series' first deaf contestant and only the second male to win. In 2016, "Dancing with the Stars" announced that DiMarco would compete in the series. Only the second deaf participant on the show, DiMarco and partner, professional dancer Peta Murgatroyd, ended up winning the competition. DEAF LIFE Magazine named him "Deaf Person of the Year" in 2017.
"Nyle DiMarco is an extraordinary example of what it means to be a well-rounded individual," said Dr. Rachel Jones, associate professor of biology and symposium committee chair. "Using his public profile for good, DiMarco now focuses his time on educating audiences about deaf issues. He asks them to recognize that deafness does not automatically limit a person from achieving success. Recognized as a phenomenal public educator, his ability to succeed in all of his pursuits is an example of what liberal arts universities hope to achieve in their programs. he is a wonderful role model for our students at USAO."
Born in Maryland in 1989, DiMarco attended the Maryland School for the Deaf, a residential pre-K through 12th grade institution, before earning a degree in mathematics from Gallaudet University, a private college for the deaf and hard-of-hearing in Washington, D.C. His career began in 2013 when he landed a leading role in the American Sign Language Films production "In the Can." Over the following two years, he had a recurring role in the Freeform network's "Switched at Birth" series.
For more information, please call (405) 574-1349 or visit www.usao.edu/giles.