Oklahoma Blood Institute thanks USAO for bolstering state's reserves
---
February 10, 2022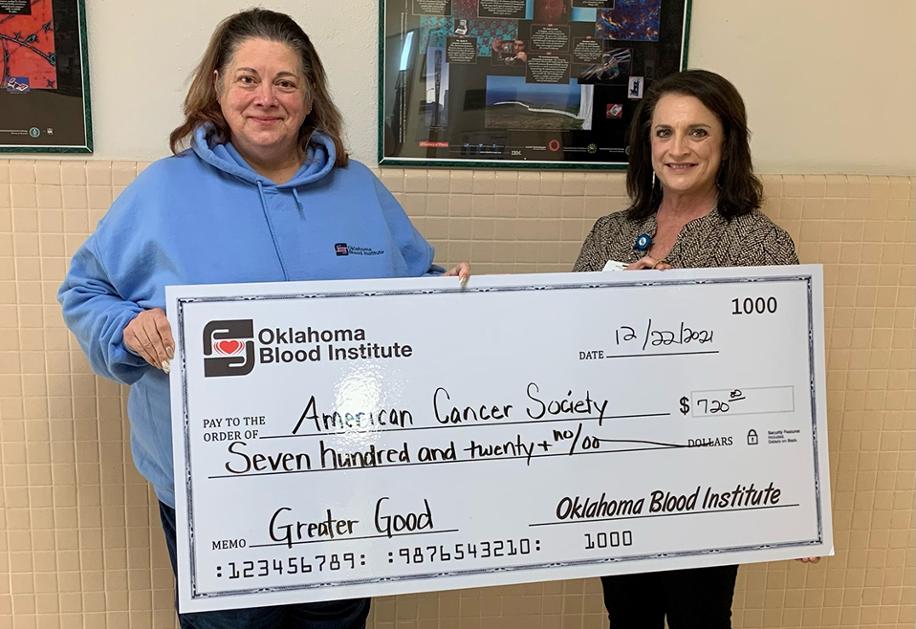 The Oklahoma Blood Institute recently presented the University of Science & Arts of Oklahoma with a $720 donation in thanks for collecting over 40 units of blood during a blood drive the school held in fall 2021.
"I am always pleased to see the level of support that people in our community show whenever we host a blood drive on campus," said Dr. Jeannette Loutsch, professor of biology and blood drive coordinator. "The need for blood donors is so critical for a well-functioning health system even in the best of times, and, given the ongoing pandemic, it is even more crucial now. I am so thankful that the Oklahoma Blood Institute has recognized the efforts we put forth on campus."
Each semester, USAO holds at least one blood drive on campus to do their part in shoring up reserves of this precious resource. Studies show that every two seconds, a patient needs blood, yet less than 10 percent of eligible donors ever give. A single donation can save the lives of up to three people, so every participant in a blood drive is literally giving the gift of life.
The sixth-largest non-profit blood collector in the United States, the Oklahoma Blood Institute receives more than 250,000 gifts of blood each year for transfusion and associated clinical services. It employs nearly 700 Oklahomans and works with 1,000 volunteers, 2,600 blood drive coordinators and 125,000 donors across the state each year.
For more information, contact Loutsch at jloutsch@usao.edu or 405-574-1325.