Noted scholars to discuss how old conflicts continue to influence contemporary society
---
May 30, 2019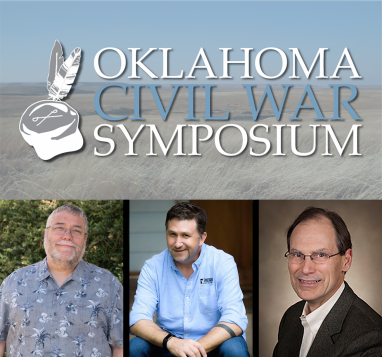 Three dynamic and insightful historians will converge on the University of Science and Arts of Oklahoma June 8 for the 2019 Oklahoma Civil War Symposium. This free festival begins at 2 p.m. in the Davis Hall Little Theater.
Beginning with USAO's own Dr. Lee Hester, the symposium will continue with St. Bonaventure University's Dr. Chris Mackowski, at 4 p.m. and conclude with Dr. Geroge C. Rable, professor emeritus at the University of Alabama, at 7 p.m. A book signing featuring the presenters will follow.
"Each of our speakers this year bring a unique perspective on the Civil War as well as impeccable academic credentials and an engaging, conversational tone," said Dr. James Finck, associate professor of history and symposium coordinator. "A good number of contentious issues debated today were also critical topics more than 150 years ago. This continuing discourse indelibly shapes American culture."
Among several other awards, Rable's 2003 book "Fredericksburg! Fredericksburg!" received the Gilder Lehrman Lincoln Prize, which honors the best non-fiction work on the Civil War each year. Currently, he is studying the contentious relationship between President Lincoln and General George B. McClellan.
Mackowski's blog, "Emerging Civil War," provides fresh perspectives on this conflict and its continued relevance to America's political and cultural situation. In addition to teaching and writing, he also serves as historian-in-residence at Stevenson Ridge, a portion of the Spotsylvania battlefield in Virginia.
A tireless advocate for the Native American community, Hester has served as president, chairman of the board and cultural committee chair for the Oklahoma Choctaw Tribal Alliance Inc. and received the Presidential Award of Excellence for Environmental Protection Services from Richard Nixon in 1973.
Initiated in 2012, USAO originally intended for its summer symposium to cover this conflict through 2017 before proceeding to other historical events. But in that year, the university decided to remain focused on the in-depth examination of this earth-shattering part of the American story.