USAO names Outstanding Graduates for 2023
---
May 10, 2023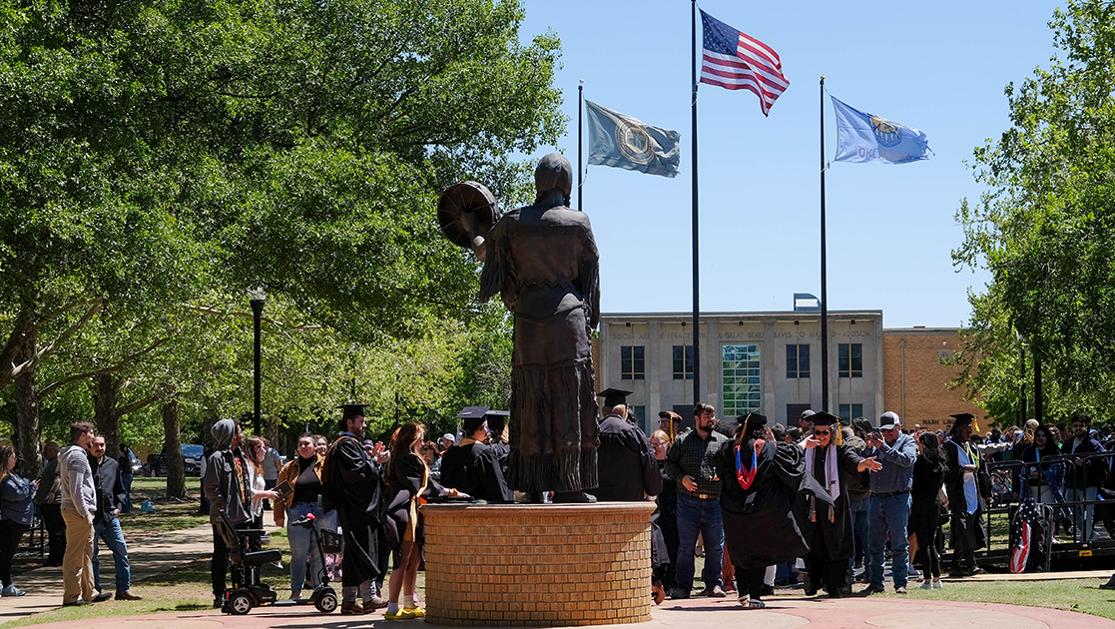 The University of Science & Arts of Oklahoma's five schools handed out their Outstanding Graduate Awards for the 2023 academic year.
Lacey Dutton was the recipient for the School of Arts and Humanities; Macoy Ramsey received the award for the School of Education and Speech-Language Pathology; Alexandra "Delaney" Medcalf was the recipient for the School of Science and Physical Education; Robert Spurlin and Rachel Dennis jointly received the award for the School of Social Sciences and Business; while Spurlin and Rhiannon Quillin were the joint recipients for the School of Humanities and Interdisciplinary Studies.
A native of Guthrie, Dutton graduated with a Bachelor of Fine Arts in art. She is currently working in the USAO Print Shop as well as pursuing opportunities as an independent artist.
"When I speak of Lacey Dutton, I speak of one of our most successful students and artist. She is an amazing human, an incredible artist, and a compassionate leader," said Jacquelyn Knapp, professor of art and department coordinator. "Lacey's tenure at USAO has impacted me personally as well as so many students, staff and faculty, setting a gold standard for work ethic, caring for others and dedication to her goals. I am very proud of her achievements and can't wait to see what lays ahead."
A native of Marlow, Ramsey graduated with a Bachelor of Science in speech-language pathology. He will begin his master's in the subject at Northwestern State University this fall.
"Macoy is truly a one-of-a-kind student!" said Amber Goodwin, instructor of speech-language pathology. "Not only is he very intelligent, but he is also empathetic and has a great sense of humor. He brings joy into the room. These qualities will help him to become an outstanding speech-language pathologist. His future is incredibly bright."
A native of Springer, Medcalf graduated with a Bachelor of Science in biology. This fall, she will begin a dual Ph.D/M.D. program at Johns Hopkins University.
"It's hard to be brief in describing Delaney. She is a perfect example of the type of person that so perfectly embodies the benefits and need for interdisciplinary and liberal arts education," said Dr. Rachel Jones, dean of the school of science and physical education, associate professor of environmental science and biology. "Delaney is not only pursuing an M.D. to become a physician, she is pursuing the dual program so she can continue her research into the effects of the microbiome in human health. There are only a few programs in the country that do this and the field is itself only beginning to be recognized by the medical profession. Delaney will be a pioneer in her field, and I have no doubt she will join the ranks of our Hall of Fame Alumni alongside Gladys Anderson Emerson."
A native of Lamont, Spurlin graduated with a Bachelor of Arts in English and history.
"Robert Spurlin demonstrates an unwavering zeal and passion for reading and analyzing literature from multiple perspectives," Dr. John Bruce, professor of language and literature. "Additionally, Robert is a pragmatic and thorough writer, and his motivational intensity is virtually unmatched. All of these powers will serve him well regardless of which path he chooses to follow."
A native of Lindsay, Dennis graduated with a Bachelor of Science in psychology and a Bachelor of Arts in sociology. She will be pursuing a juris doctorate at the Oklahoma City University School of Law this fall.
"Over three short years, it has been an absolute honor to be a part of Rachel's extraordinary academic journey at USAO," said Dr. Misty Steele, assistant professor of psychology and director of student success. "Her level of accomplishment was only possible with a strict determination and very intentional planning and study efforts from her first day on campus. I have absolutely no doubt that Rachel will be very successful in her career. I can easily visualize a reality in which she could one day be sworn in as a Supreme Court justice, if she were to decide on that path."
A native of Chickasha, Quillin graduated with a Bachelor of Arts in multidisciplinary studies. She will begin a master's program in literature at the University of Kansas this fall.
"Rhiannon is one of the most dedicated and original undergraduate researchers I've ever read. She has developed a deeply sophisticated and novel understanding of how literature intersects with issues in philosophy and ethics, which is why her work is so rewarding," Dr. Ben Wetherbee, assistant professor of interdisciplinary studies, director of undergraduate mentored research and writing coordinator. "She's also a powerful presence on campus as a writing tutor, former president of the literature club and many other efforts. We are a better school because of people like her."
Each academic year, the faculty of each of USAO' five schools picks one or two students who exemplify both the educational objectives of that particular field of study as well as the mission of the university as a whole. These criteria include a cumulative GPA over 3.5, interpersonal skills, involvement in campus and community activities, motivation and character.