USAO names Outstanding Graduates for spring 2021
---
June 9, 2021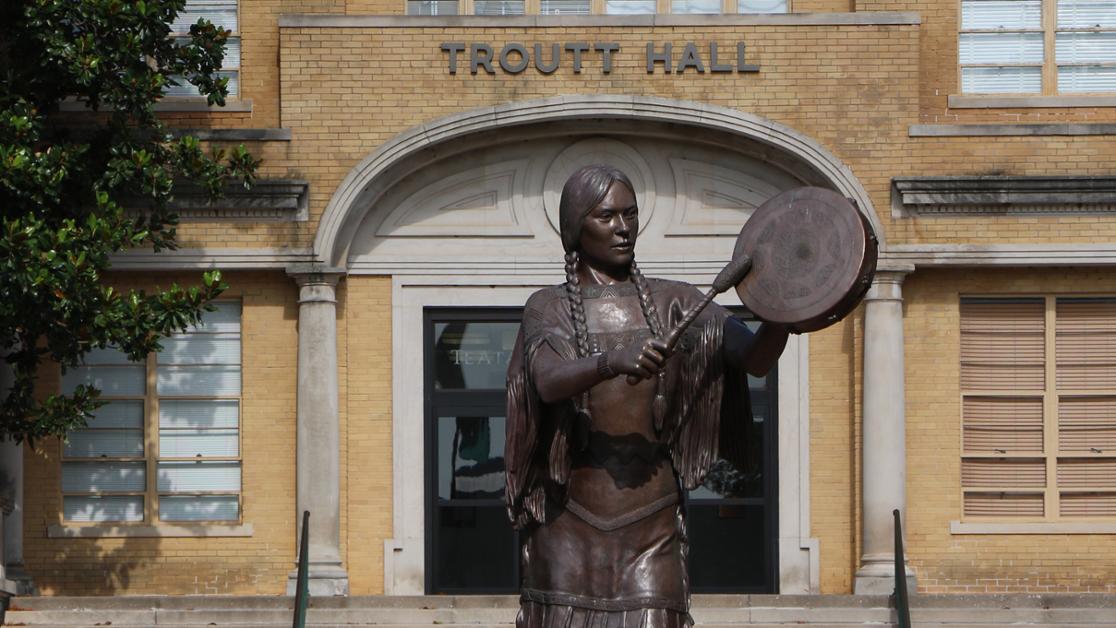 The University of Science and Arts of Oklahoma's academic divisions handed out their Outstanding Graduate Awards for the spring 2021 term during the institution's recent in-person, outdoor commencement ceremony, marking a return to normalcy after the pandemic.
Genevieve Gordon, Oklahoma City, was the recipient for the division of arts and humanities. William Baird and Kaylee Jones, both of Tulsa, jointly received the award for the division of science and physical education. Genevieve Gordon, Allie Morris, Oklahoma City, and Korbyn Peebles, Norman, jointly received the award for the division of social sciences and business. Maddison Cook, Ninnkah, received the award for the division of education and speech-language pathology.
Gordon graduated summa cum laude with a Bachelor of Fine Arts in English and sociology. She was the only student accepted into Penn State's graduate program in rhetoric and composition for fall 2021.
"Genevieve has repeatedly distinguished herself as a model liberal arts student," said Dr. Ben Wetherbee, assistant professor of interdisciplinary studies and English. "When engaging the material—especially difficult theoretical texts—she is an intellectual sponge who soaks up and inventively reapplies conceptual vocabulary across disciplinary boundaries."
Baird graduated cum laude with a Bachelor of Science in natural science and a Bachelor of Arts in theatre arts. He has applied for graduate study in scenography at some of the nation's top programs.
"Will came to college with unusual goals: he hoped to become a high school physics teacher who could also coordinate theatre productions," said Katie Davis, professor of theatre arts. "He was involved in our department: designing, performing, serving as technical director and stage manager. We can't wait until he gets his first Tony and tells the world about the liberal arts college where he started his career!"
Jones graduated summa cum laude with a Bachelor of Science in biology. She has accepted a position in the Class of 2023 physician assistant program at Northeastern State University.
Ms. McIntosh was an amazing student that explored many diverse courses at USAO, making her a remarkable candidate for her future goals," said Dr. Jeannette Loutsch, professor of biology. "Her commitment to service as a tutor and mentor is highly commendable, and she was a delight to have as a student. Her future is bright and I truly believe she will be an asset to Oklahoma!"
Morris graduated summa cum laude with a Bachelor of Arts in history. She will be starting a master's program in history this fall at the University of Arkansas.
"Over my 10 years here and among many amazing students I have had the pleasure to work with, there are a few that stand out among my favorite, and Allie is one of these," said Dr. James Finck, associate professor of history. "Not only is she a gifted student who excelled in class, she was a pleasure to get to know and teach. We will miss her at USAO, but I am excited to see what she will do next."
Peebles graduated summa cum laude with a Bachelor of Arts in history. He plans to take a year off before applying to graduate programs in 2022.
"Not only was Korbyn one of the most intellectual students I have ever had, but he was also a pleasure to teach," said Finck. "I was grateful that he took all four of my reading classes, because I knew I would have a student always prepared for discussions, who understood the difficult concepts, and who always had an opinion to share. I know he will on to do great things in the future."
Cook graduated magna cum laude with a Bachelor of Science in early childhood education. She will soon enter the teaching profession, having accepted a position at Minco Elementary School.
"It is nearly impossible to convey to others how much of a gift Maddison is to the field of teaching," said Dr. Shaylee Chester, instructor of early childhood education and director of the Child Development Center. "She radiates a level of care and drive that is completely unparalleled. She has been a true joy to work with the entire time I have known her."
During the fall and spring commencement ceremonies, the faculty of each of USAO' four divisions picks students who exemplify both the educational objectives of that particular field of study as well as the mission of the university as a whole. These criteria include a cumulative GPA over 3.5, interpersonal skills, involvement in campus and community activities, motivation and character.