Pursuit of knowledge, culture carry USAO students around the world
---
August 13, 2019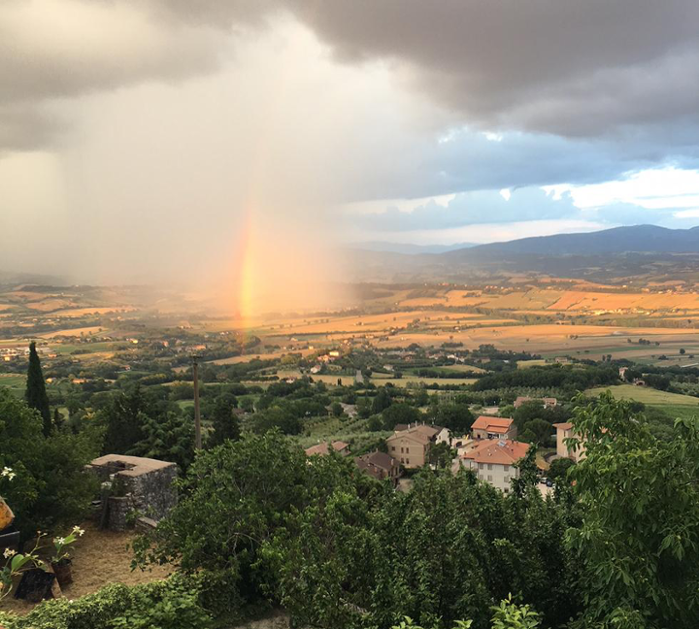 While the University of Science and Arts of Oklahoma prides itself on offering superior academics and a wealth of cultural opportunities on its campus, it also provides a wide variety of study abroad opportunities to allow students to continue their education and earn college credit in a completely different cultural setting.
Part of the Neill-Wint Center for Neurodiversity, USAO's support program for students on the autism spectrum, freshman Halle Nolen studied drawing and painting at the International Center for the Arts (ICA) in Monte Castello di Vibio in central Italy. The first student from the center to participate in a study abroad program, the experience affected Nolen greatly, helping her advance her artistic technique, challenging her to work in unfamiliar genres and giving her a greater appreciation for Italian culture.
"Before going to ICA, I had never painted a landscape or drawn a figure on a large scale," said Nolen. "It was a whole new learning experience for me. Not only did I do art, I also went to some exciting places—Assisi, Rome, Perugia, Florence and Todi. I would definitely encourage someone to study or travel abroad at least once. Take all the opportunities you get and make your own adventures. Live your life to the fullest, make new friendships, and try things you may not like. In the end it'll be a good memory."
The International Center for the Arts gathers respected artists and thinkers in the world to lead all-inclusive programs offering cultural immersion tours, easy access to urban centers and a safe locale.
Music major Madelyn Estes also travelled to Italy this summer, but as a student with Opera in Concert. After a competitive audition in February, she set up a GoFundMe page and organized a benefit concert at USAO, which helped her successfully raise the funds for the program's tuition. Estes spent three weeks at the University of Urbino, with her mornings spent studying the Italian language, and afternoons dedicated to honing her vocal skills through both ensemble and individual lessons.
"I earned six college credits in Italian through the University of Urbino," said Estes. "The typical day consisted of us waking up around 7:30 a.m., breakfast at 8 a.m., and then catching the bus to the piazza. We walked to class at the university, which went from 9 a.m. – 1 p.m. Our ensemble class began at two and ended at 2:45. Individual lessons began in 30- and 45-minute periods through the day until six. The rest of the afternoon was ours until eight, where we would have dinner at the hotel."
Based in Dallas, Opera in Concert provides performance opportunities for professional singers and scholarships for students to study their craft in the birthplace of opera.
Each year starting in May, USAO offers study abroad opportunities open to all USAO students, alumni, faculty and staff, as well as interested students from other higher education institutions in the state. Regular trips include cultural excursions to Spain, Italy, England and other western European countries; an art and theatre tour of New York City hosted by the art department; and a camping and canoe expedition. In 2020, USAO will host a 10-day trip to Belize for the first time.