Ashwini Ramaswamy to Close Out Davis-Waldorf Series with Multimedia Performance March 23
---
February 23, 2023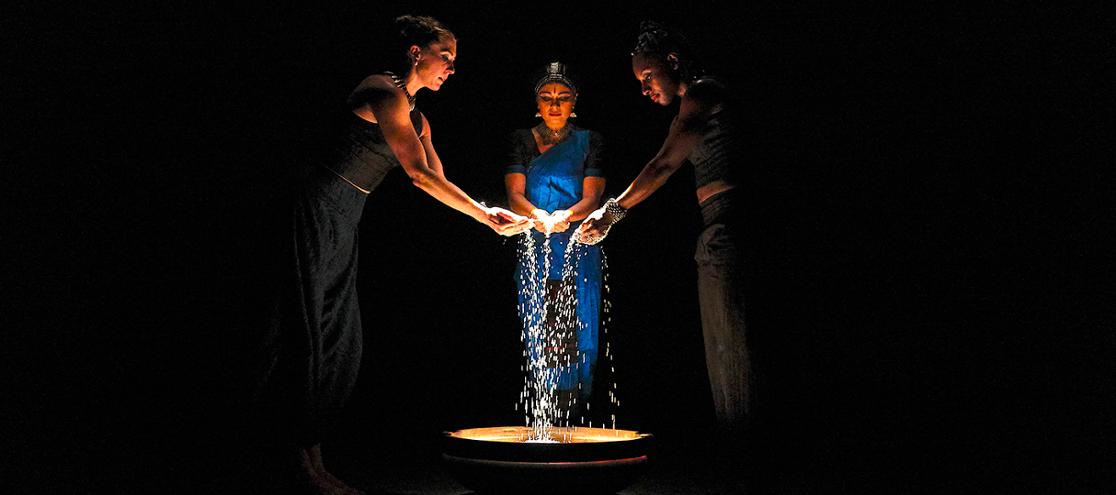 The 22nd season of the University of Science & Arts of Oklahoma's acclaimed Davis-Waldorf Performing Arts Series will draw to a close March 23 with Ashwini Ramaswamy's multimedia event "Let the Crows Come" at 7:30 p.m. in Te Ata Memorial Auditorium.
Tickets are $20 and are available at usao.edu/dwpas. Tickets for K-12 students are free of charge, thanks to support from the Chickasha Public School Foundation.
A performance for three dancers and music, "Let the Crows Come" deconstructs and recontextualizes the classical Indian dance form Bharantanatyam to recall a story with a shared origin remembered differently from person to person. Evoking mythography and ancestry, the piece uses the metaphor of crows as messengers for the living and guides for the departed.
"These artists present a dance show that is like listening to three different musicians cover the same song. They start with an idea, a story, and then each choreographer responds to the prompt with an original work," said Katie Davis, professor of theatre arts and DWPAS executive director. "The three pieces that make up this extraordinary show will be unlike what anyone has seen on our campus before. Students will have the chance to train with these dancers, and the public will have a night of amazing storytelling that combines tradition, music, costume and beautiful movement. Bring the person who loves dance; they will thank you!"
Having spent over 30 years studying Bharantanatyam from her award-winning mother and sister and their guru, Ramaswamy has toured extensively as a member of the Ragamala Dance Company throughout the U.S., U.K., Russia, Taiwan, Indonesia, Japan and India. Ramaswamy will be joined by Alanna Morris-Van Tassel (Contemporary/Afro-Caribbean technique), and Berit Ahlgren (Gaga technique) to complete the choreography trio for the evening's event.
The mission of the Davis-Waldorf Performing Arts Series is to regularly present professional performing arts events, to facilitate student attendance at these shows as an important part of a liberal arts education, to provide affordable entertainment for our college family and our community, and to lead local arts education by creating access to high-quality, relevant, culturally diverse programming that broadens the aesthetic of each audience member.
The USAO Foundation presents the Davis-Waldorf Performing Arts Series with additional support from the Oklahoma Arts Council, Chickasha Public Schools Foundation, the Culture and Recreation Committee of the University of Science & Arts of Oklahoma, and sponsors and donors from our community.
For more information and to purchase tickets, visit usao.edu/dwpas or call (405) 574-1213.