University of Science & Arts of Oklahoma launches statewide awareness, rebranding campaign
---
May 11, 2021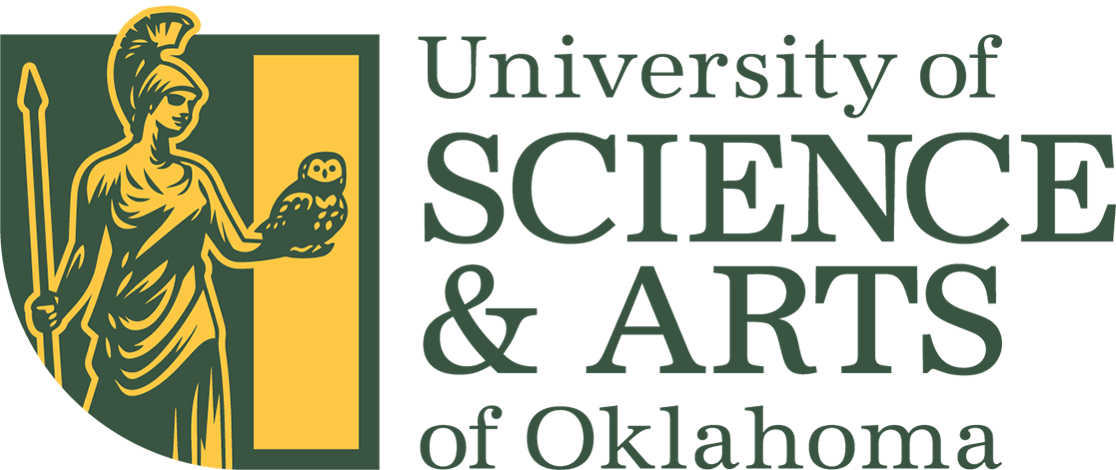 As the only public liberal arts university in the state of Oklahoma, the University of Science & Arts of Oklahoma recently embarked on its first statewide awareness campaign to educate the general public about the school's distinctive mission, as well as launching a new, more modern logo for the institution.
Entitled "A Tradition of Different," the campaign showcases how the university has done things differently than any other institution of higher education in the area, going all the way back to its founding in 1908. From its beginnings as one of only seven institutions in the country created as a four-year university for women, USAO has distinguished itself through its educational quality, faculty, tight-knit campus culture as well as its exceptional value.
"The ideas that drive a liberal arts education remain as vitally important to the world we live in today as they were when this institution was founded over a century ago," said President John Feaver. "Our mission is not to teach students how to memorize facts, but how to think critically about the facts they encounter and to develop in them both the confidence and the flexibility to continually adapt to our ever-evolving, increasingly globalized society. I can think of no better time than the present to share our story with a wider audience, so that young people considering college for the first time, as well as everyone else in our state, understands what makes our university such a special place."
Beyond the rebranding, the USAO campus has seen a flurry of activity over the last few years, with a number of major construction projects undertaken, including the complete remodeling of the stage rigging in Te Ata Memorial Auditorium, new facilities for baseball and softball, and new research and lab facilities at the university's Habitat Area among others. The institution also recently partnered with the tech firm CBTS to overhaul the school's IT infrastructure, greatly improving accessibility and making the sudden shift to online learning due to the COVID-19 pandemic nearly seamless.
USAO has strengthened its commitment to diversity and inclusion with the inauguration of two special programs: the Neill-Wint Center for Neurodiversity and the Dr. Ada Lois Sipuel Fisher Center for Social Justice and Racial Healing. The Neill-Wint Center provides students with autism spectrum disorder with the extra social and academic support they need to navigate college successfully, and it has seen rapid growth since first opening in the fall of 2017. The Fisher Center is an interdisciplinary academic program that allows students to research the fundamental issues and complexities of what constitutes community through the lens of their own major and to work with community mentors to develop service-learning programs that employ their education as a mechanism of social transformation.
"A liberal arts education is designed to develop individuals with the skills which provide them an opportunity to grow personally, as well as professionally after they graduate," said Feaver. "Thirty percent of students here are minority, 40 percent are Pell grant recipients, half of them are first-generation college students, and if they want this kind of education, there's simply no place else for them to go in Oklahoma."
In addition to dozens of traditional degree options, USAO stands out as the only university in Oklahoma to offer a bachelor's degree in deaf education and works closely with the Oklahoma School for the Deaf in Sulphur to provide college students with real-world teaching experience. Early childhood education majors get similar experience in the university's acclaimed Child Development Center, a preschool program for three- and four-year-olds in the area. The John A. Morris Speech and Language Clinic allows senior speech-language pathology majors to work directly with clients who have a variety of communication disorders under the close supervision of certified professionals.
Like the most prestigious private liberal arts colleges, USAO offers small class sizes, award-winning faculty and a campus culture that foster inclusivity, close student-faculty engagement and expansive opportunities to conduct original research while still an undergraduate. Students take part in the vibrant residential experience of the school's historic campus with the opportunity to attend world-class performing arts events, symposia featuring renowned scholars and other cultural leaders, and 13 NAIA sports through the Drover Athletics program.
"USAO has a mission of providing a special kind of curriculum to a special student body," said Feaver. "It has been created to forge a dialogue between the sciences on the one hand and arts on the other, and it is the only school in the state where this dialogue is required of every student that comes here. This means that people who hire our graduates are hiring individuals who can contribute to both the strategic and the technical sides of the business, moving it forward in innovative ways. They are critical thinkers who are adept at identifying problems and finding creative ways to solve them."
For more information, visit www.usao.edu.