University of Science & Arts of Oklahoma, Redlands Community College Announce Collaborative Partnership
---
September 16, 2022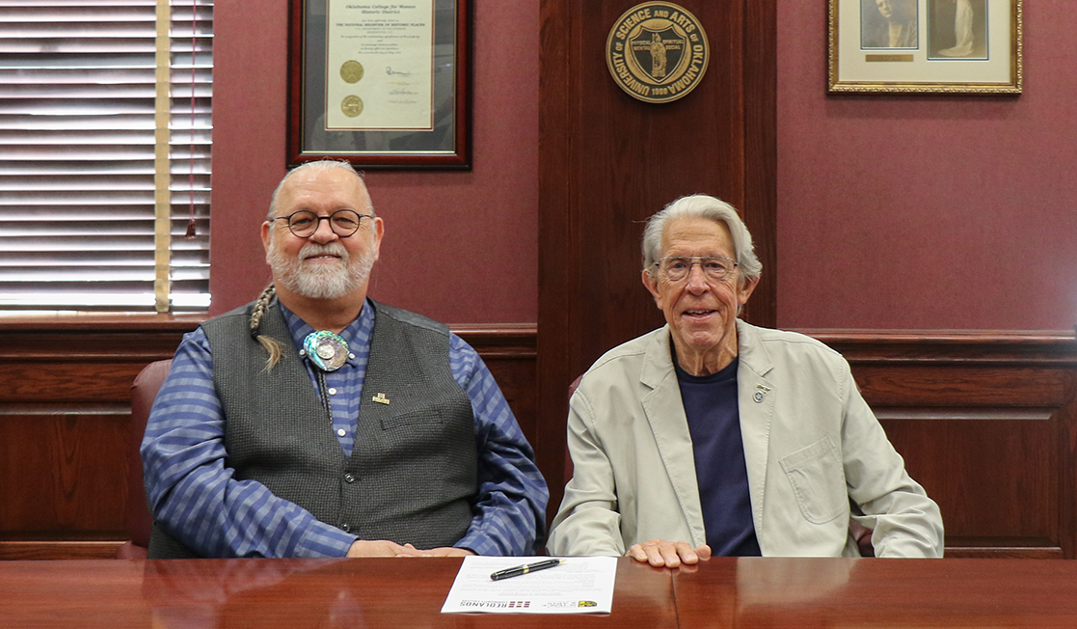 In a first for the state of Oklahoma and possibly the entire nation, the University of Science & Arts of Oklahoma, a four-year public liberal arts university, and Redlands Community College in El Reno are forming a shared collaboration as a way to increase administrative efficiencies in both schools, create enhanced opportunities for students to further their education, and ensure students graduate ready to meet today's workforce needs.
"This sort of innovative collaboration between institutions with quite different missions, but with shared programs, I hope will prove useful as an operational model for higher education in today's post-pandemic world," said USAO President John Feaver. "Joining forces in this way not only allows both of our institutions to operate more efficiently, but it expands the opportunities available to all students enormously."
Redlands President Jack Bryant added, "Though a partnership like this may seem extremely novel, we hope that it will encourage other institutions in the state and nation to look for more creative ways to meet the multifaceted needs of both the contemporary workplace and modern-day college students. Our two institutions have very different missions, yet both provide crucial services to our respective communities, so this grassroots effort advances the quality and reach of Oklahoma higher education."
In the first phase of this multi-stage project, USAO and Redlands will begin by sharing some operational resources between the two institutions. Specifically, the institutions will share the positions of vice president for academic affairs, associate vice president of enrollment management, network security specialist, and director of printing services.
"The state system of higher education focuses on identifying opportunities to collaborate that serve our students and advance our state," said Chancellor Allison D. Garrett. "This partnership between Redlands Community College and the University of Science & Arts of Oklahoma is an excellent example of shared services to maximize administrative efficiencies and expand student recruitment and retention efforts."
USAO' Vice President for Academic Affairs, Dr. Donna Miles, will now serve in that position for Redlands as well. Annie Pearson, recently named Dean of Academics at Redlands, along with the academic deans at USAO will now report to Miles.
"Dr. Miles is a strong, experienced academic leader, and we are confident that the shared academic experiences of the deans, department heads and faculty of both institutions will better serve our students and allow us to expand programs and course offerings on both campuses," said Bryant.
Sheppard McConnell, currently associate vice president for entering student services and first-year retention at USAO, will now serve as associate vice president for enrollment management for both institutions. In this role, he will focus on recruiting students whose interests match the opportunities available at both institutions and retaining those students until they complete their chosen program of study. He will also work closely with transfer students to ensure a seamless shift to their new learning environment. Dr. Jennifer Alt will become executive director of student services and grants at Redlands. With her background in student services, Alt will be able to lead the Redlands' team in implementing McConnell's plan for recruitment, retention and transfer services.
Adeel Siddiqui, director of network services at USAO, will assume the title network security specialist. He will oversee the network security for both institutions, monitoring for potential threats and addressing vulnerabilities as they are discovered.
Stanley Verser, director of printing services and mail room operations at Redlands, will also serve as director of printing services at USAO.
"Moving Oklahoma forward takes all of us working together," said State Regents' chair Michael C. Turpen. "We celebrate the visionary partnership between these two institutions, and the shared operational resources and enhanced services for students that will result from implementation of this creative, thoughtful collaboration."