State Regents recognize partnership between Chickasaw Nation Industries, USAO
---
March 14, 2022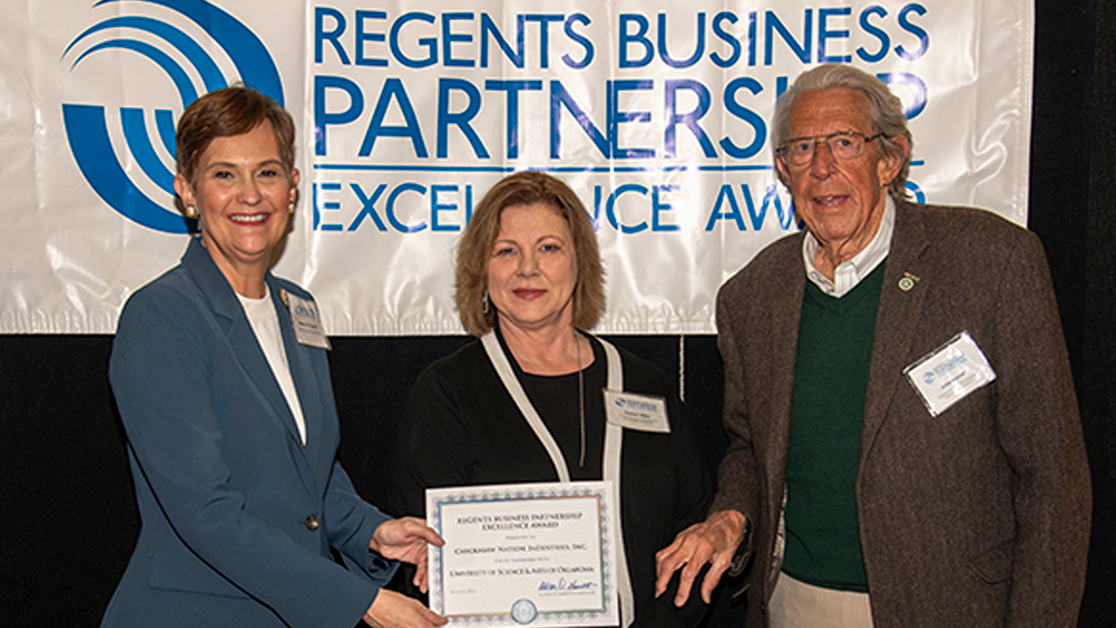 The Oklahoma State Regents for Higher Education recognized a collaboration between Chickasaw Nation Industries and the University of Science & Arts of Oklahoma at their annual Regents Business Partnership Excellence Awards ceremony March 9.
CNI was initially contracted to upgrade the electrical infrastructure on the USAO campus, but because of the rich history of both organizations, a partnership was forged that went beyond a simple upgrade. Being on a historic campus is a challenge, and CNI had to dig through university archives to find original building schematics to ensure that the systems were brought up to code without affecting daily business operations and also maintaining the historical integrity of the structures.
"The University of Science & Arts of Oklahoma is proud to work with Chickasaw Nation Industries to ensure this institution continues to fulfill its historical mission while also enhancing the safety and reliability of our campus," said President John Feaver. "Partnerships like these between higher education and the private sector are essential to continuing to build the vibrant, interactive community that we strive for. I look forward to continuing our affiliation with CNI for years to come."
Chickasaw Nation Industries, Inc. is a federally chartered corporation wholly owned by the Chickasaw Nation. Headquartered in Norman, CNI serves as a holding company with multiple subsidiaries that operate as Limited Liability Companies (LLCs) engaged in several lines of business for both the federal government and commercial enterprises. A portion of their profits is used to support Chickasaw citizens through a multitude of programs and services such as education, health care, nutrition services, housing programs, legal services, elder and child care, and community support programs.
The Regents Business Partnership Excellence Award is designed to highlight successful partnerships and to further the higher learning environment through State Regents' Economic Development Grants. Institutions involved in these partnerships receive a matching grant that can be applied to paid internships for students, faculty externships with the partnering business, the tuition of an employee of the business or equipment and supply purchases that further the partnership.