Regents recognize partnership between Festival of Light and USAO with excellence award
---
March 08, 2019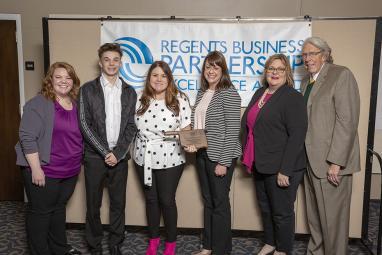 The Oklahoma State Regents for Higher Education recognized a collaboration between the Festival of Light and business students at the University of Science and Arts of Oklahoma at their annual Regents Business Partnership Excellence Awards ceremony on Mar. 12.
Last fall, USAO students enrolled in principles of marketing class worked with the board for directors for the Festival of Light to create a marketing plan for the organization, pitching unique ideas on new events, programs and services to expand on the festival's current success. And far from being another class project or checkmark on a resume, this partnership gave students firsthand experience in the nonprofit sector, illustrating the importance of such organizations in Oklahoma communities.
"It's hard to describe how happy I am to see my students' hard work honored with this award," said Christa Copeland, instructor of business. "Since we're a small university in a small town, everyone at USAO has direct experience with how fundamental partnerships between public institutions and the private sector are to a vibrant community. While we're known for our exceptional academics, USAO puts a heavy emphasis on using your education to better the situation of everyone around you."
For 26 years, the Chickasha Festival of Light has been transforming Shannon Springs Park into a magnificent 43-acre holiday light display. A completely volunteer-run nonprofit organization, the festival started as a small group of local citizens with a dream of sparking community spirit. Now a nationally recognized event, the Festival of Light transcends the borders of Grady county, drawing thousands of visitors from across the country each year.
The Regents Business Partnership Excellence Award is designed to highlight successful partnerships and to further the higher learning environment through State Regents' Economic Development Grants. Institutions involved in these partnerships receive a matching grant that can be applied to paid internships for students, faculty externships with the partnering business, the tuition of an employee of the business or equipment and supply purchases that further the partnership.
For more information, contact Copeland at 405-574-1265 or ccopeland@usao.edu.