Fall Theatre Production showcases updated take on classic comedy
---
November 05, 2019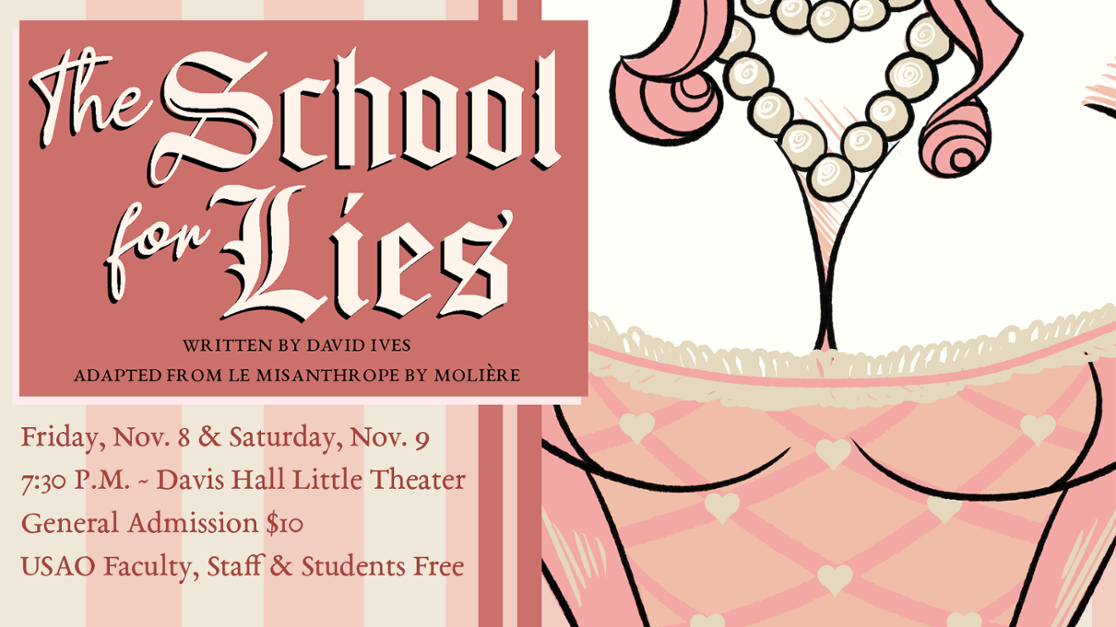 The University of Science and Arts of Oklahoma's Theatre Arts Program will present Tony Award-nominee David Ives' "The School for Lies" on Nov. 8 and 9 at 7:30 p.m. in the Davis Hall Little Theater.
General admission tickets are $10. They will be available at the door on the night of each performance or can be reserved by calling (405) 574-1310.
Premiering Off-Broadway in 2011, Ives based "The School for Lies" on Moliere's "The Misanthrope," a popular satire that premiered in 1666. Ives admits in his notes for the show that he prefers Shakespeare to the French playwright, and his adaptation replaces some of the original show elements with classical conventions stolen from the Elizabethan stage.
"Moliere's audience was tolerant of long speeches and long plays," said Katie Davis, professor of theatre arts and program coordinator. "We love this adaptation because it condenses all of the social commentary into one fast-moving act. Ives adapts the poetry of the French original into rhymed couplets in iambic pentameter. Our students still get to learn techniques for classical acting, but we have a story to tell that will be understandable and relevant to our audiences. In particular, we are having fun mocking society's habits, phoniness, legal threats and other "first world problems." Like the original, our show is funny, raunchy, disrespectful and has lots of references to pop culture."
The USAO Theatre Arts program involves students from all major fields of study in productions that support classroom curriculum and enhance the entertainment and cultural opportunities on campus. "The School for Lies" features performances by economics, history, science and theatre majors.
Born in Chicago in 1950, playwright David Ives graduated from the Yale School of Drama with a Master of Fine Arts degree in 1984. Known for his one-act comedies, he has also written a number of full-length plays, a narrative in verse inspired by Dante's "Divine Comedy" and adapted dozens of musicals for New York City's "Encores!" series.