USAO's digital Davis-Waldorf series will jazz up Shakespeare Feb. 18
---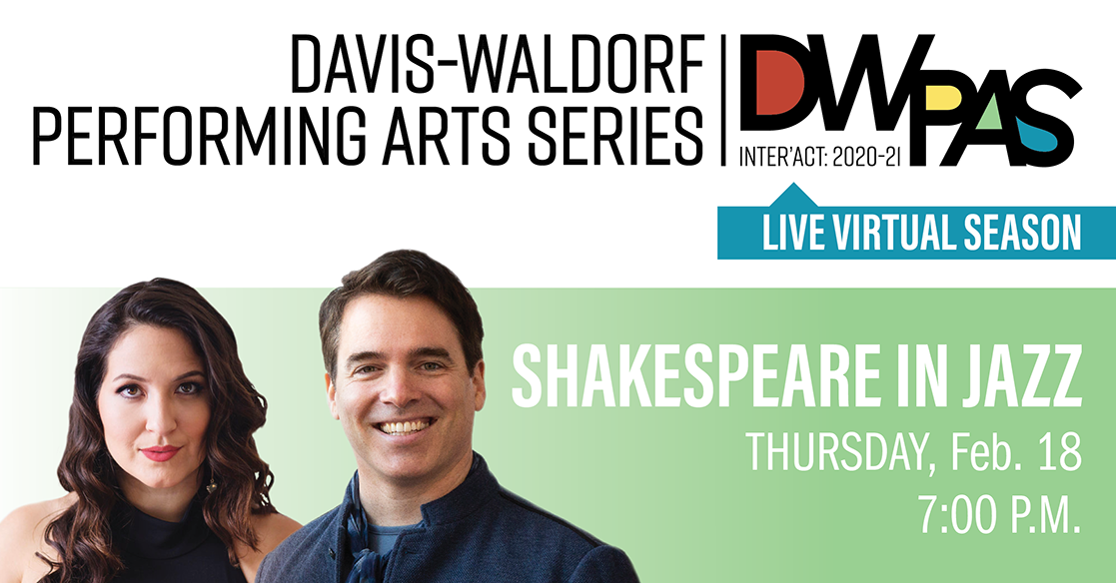 Award-winning composer and pianist Daniel Kelly, alongside powerhouse vocalist Nicole Zuraitis, will continue the University of Science and Arts of Oklahoma's innovative online season of the Davis-Waldorf Performing Arts Series Feb. 18 at 7 p.m. with their brilliant reinterpretations of texts from Shakespeare's most beloved plays.
Shakespeare in Jazz combines Kelly's original jazz songs with famous monologues from Shakespeare, interpreted through Zuraitis' dazzling vocal performance. Attendees will not only get to enjoy a live concert, they will have a chance to engage with the artists in real-time to collaborate on new work. The event is free of charge, but attendees must subscribe to the online series at usao.edu/dwpas by 2 p.m. on the day of the event to receive the access code.
At noon the following day, Kelly will hold a digital workshop where he will instruct the audience in collaborative composition in a professional development experience that any musician, actor or teacher will appreciate.
"Daniel Kelly is not only an amazing artist, but he is also a kind and generous partner in the DWPAS," said Katie Davis, professor of theatre arts and DWPAS executive director. "He has been willing to work creatively with us to design events for this online residency that specifically match the needs of our campus and community. On the day before the online performance, he will work with USAO students in a workshop about collaboration between writers, composers, musicians and actors. Then, on Thursday, his online concert will be fun, live entertainment for everyone. On Friday, his "lunch hour workshop" is a perfect professional development opportunity for any teacher or artist who is interested in learning more about the process of teaching and learning through interdisciplinary approaches."
A prolific composer and tireless musical explorer, Kelly continually seeks out new avenues for his creativity, looking for the meeting place of music, literature, visual art and journalism, and captivating audiences across the country.
Based out of New York, Zuraitis is a Grammy-nominated vocalist, pianist and songwriter who has collaborated with artists across the world. Pursuing a career that spans jazz, pop and classical, Zuraitis has released a number of albums and taught workshops at noted music schools.
The USAO Foundation presents the DWPAS with additional support from the Oklahoma Arts Council, Chickasha Public School Foundation, Mid-America Arts Alliance and community and corporate partners. Its mission is to encourage attendance at high-quality performing arts events as an aspect of a liberal arts education for our students, to provide an affordable entertainment resource for our college family and our community, and to become a leader in local arts education by presenting relevant and culturally diverse programming that broadens the aesthetic of our audiences.
For more information or to register, visit usao.edu/dwpas or call (405) 574-1213.