USAO's 2019 Homecoming lets alumni know they are "Simply the Best"
---
October 08, 2019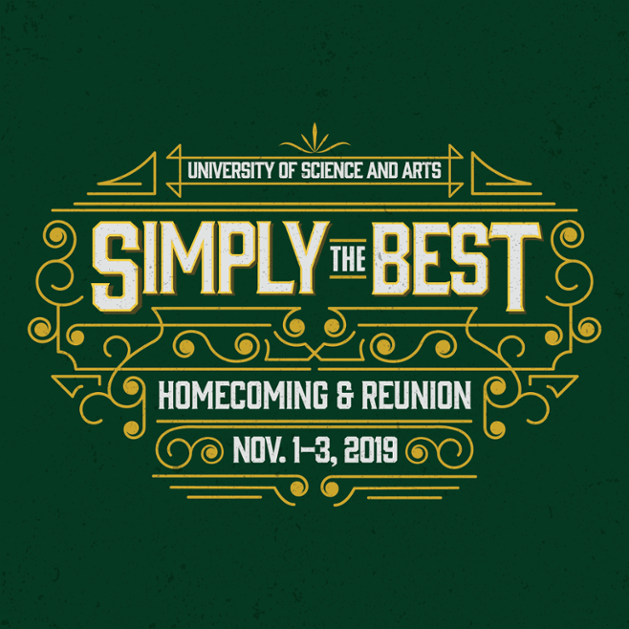 The University of Science and Arts of Oklahoma Alumni Association invites alumni, students and the public to return to campus to celebrate their alma mater with a weekend full of fun activities, great food and old friends Nov. 1–3 during their 2019 Homecoming.
This year's theme, "Simply the Best," celebrates the university's long and illustrious history and the outstanding work that so many of its alumni have pursued in many different fields. From its beginnings as a groundbreaking institution of higher education for women to its current incarnation as the state's only public liberal arts university, USAO has established its reputation as one of the most distinctive schools west of the Mississippi River.
The 2019 inductees into the Alumni Hall of Fame are board-certified family medicine physician Dr. Jason A. McElyea and Jacquelyn Knapp, professor of art and art department coordinator at USAO.
The 2019 Young Alumni Award goes to Dr. Natalie Ingraham, assistant professor of sociology at California State University—East Bay.
Registration begins at 4 p.m. Friday Nov. 1 in the Alumni Office on the first-floor of Troutt Hall. Events later that evening include a preview of the university's new baseball and softball facilities, the annual scholarship reception and a trivia night at Canadian River Brewing Co. in downtown Chickasha.
Saturday's events begin with Alumni Association's annual meeting, followed by the annual Hall of Fame Awards Brunch, with an alumni golf scramble, a VIP lecture series with emeritus professors, athletic events and other options for the afternoon.
Sunday will begin with the memorial service and dove release and Homecoming will conclude with alumni baseball and softball games starting at noon.
For more information or to register, visit usao.edu/homecoming or call (405) 574-1320.
The institution now known as USAO has always held a unique place within Oklahoma's higher education system. Founded in 1908 as the Oklahoma College for Women, it was the first college created by Oklahoma's first Legislature. In 1965, the Legislature reorganized the institution as the Oklahoma College of Liberal Arts, a coeducational college of distinction. While retaining its mission, the name changed once again in 1975, this time to its current form: University of Science and Arts of Oklahoma.