Student Spotlight: Ariana Richardson
---
October 13, 2020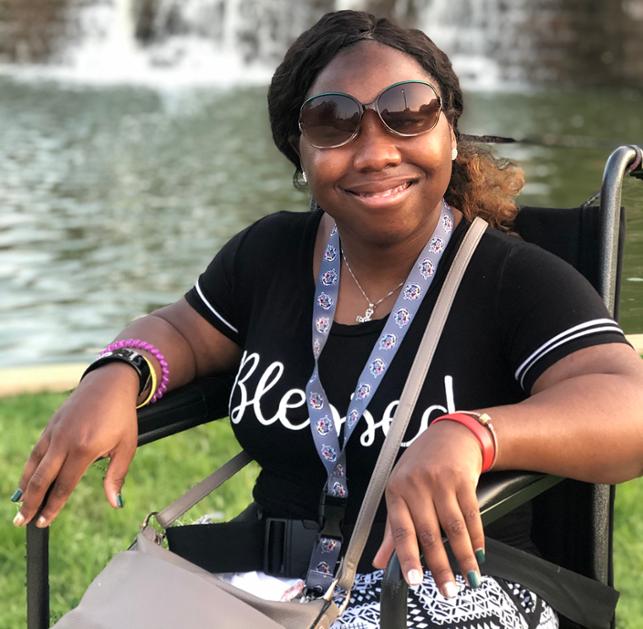 A fresh face on campus, Ariana Richardson came to the University of Science and Arts of Oklahoma from Enid, Okla. Being fully blind and navigating campus using a wheelchair, she brings a different perspective to the institution.
Richardson began losing her vision at the tender age of four due to retinopathy caused by a premature birth. By age seven, she had lost the ability to see completely. However, she doesn't let this lack of vision slow her down at all. Getting involved on campus with Chi-Alpha (an international, interdenominational Christian fellowship organization), she has found her home away from home.
"Even though I'm in a wheelchair and I'm blind, it doesn't define who I am as a person," said Richardson.
Richardson loves to sing and play the ukulele, as well as hang out and go shopping with her friends like any other college student. She also loves listening to all the different voices and languages being spoken around her while in the cafeteria.
While adjusting to a new environment, Richardson is also learning how to navigate online classes and lectures due to the ongoing COVID-19 pandemic. She uses a Braillenote Touch device to take notes for her classes and utilizes a screen reader to read required texts out loud.
Back home in Enid, Richardson has a team of friends and family cheering on her successes. Ms. Kathy, Ms. Pat and Ms. Debbie have helped shape Richardson into the confident young woman she is today.
"I'm so blessed to have all of them, along with my little sister and best friend, Salena." says Richardson.
To Richardson, her white cane is not a sign of weakness but rather a symbol of strength and hope. Richardson offers this piece of advice to anyone struggling with adverse circumstances: "Be yourself and don't let your disabilities define you—remember who you are and remember it's okay to be unique."