STUDENT SPOTLIGHT—EMMA WILSON
---
December 10, 2019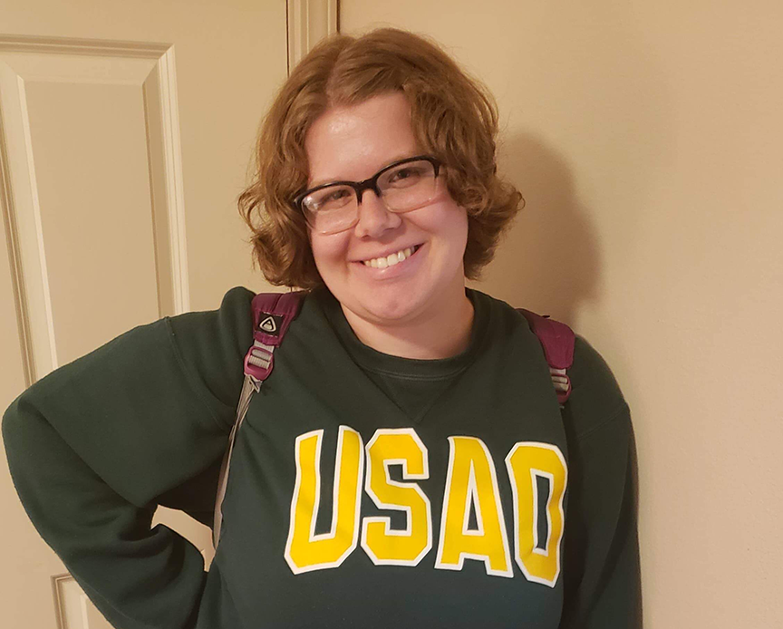 Before Emma Wilson decided on USAO for college, she didn't even know what sociology was. Now, as a senior, she finds it has changed the trajectory of her life entirely.
"I came for the art and deaf education programs and stayed for the sociology," Wilson said, laughing.
Emma's experience with USAO's Interdisciplinary core curriculum did what this required program does best—it exposed her to new fields of study and novel ways of approaching life's biggest questions.
It was the touchstone first-year course—the Individual in Contemporary Society (ICS)—that got Emma engrossed in the social sciences. She sees this experience as the pivotal point where she knew she had to change her major to sociology. Not only was she fascinated by the subject matter, which explored the role of the individual through sociology, psychology and philosophy, but she also connected immediately with the excitement and approachability of the professors.
"It was Dr. Garneau's enthusiasm," said Wilson, "that made me even more confident in my decision to switch to sociology."
Since then, with Associate Professor of Sociology Dr. Chris Garneau as her advisor, Wilson has excelled in her sociology courses and presented research at the Oklahoma Sociological Association conference in both 2017 and 2019. Additionally, she puts her knowledge to good use as a Social Coach for the Neil-Wint Center for Neurodiversity, where she helps students on the autism spectrum adjust to campus life and the rigors of USAO's academics. As a social scientist, this process is particularly interesting to her.
"I have learned a lot about social rules and how challenging it can be for people who do not thoroughly understand these rules," said Wilson.
To take her passion for understanding and improving society even further, Emma plans to move to Michigan after graduation to pursue a master's degree in social work. Thanks to the interdisciplinary education she gained at USAO and the opportunities she had to put her studies into practice, she will leave prepared to help communities wherever she goes.