Student Spotlight: Hannah Freeman
---
November 08, 2019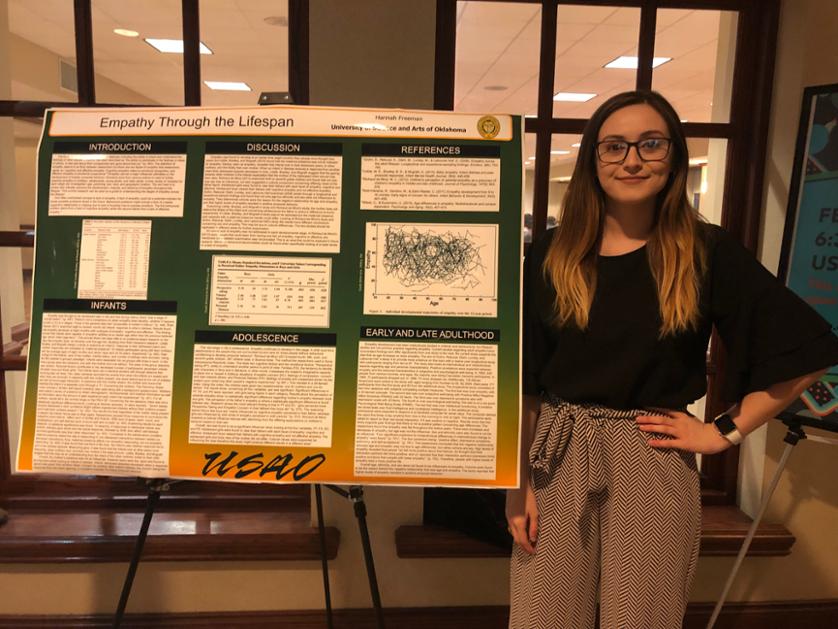 One of the many benefits of going to a small university like USAO is the ability that any one student has to step up, take on responsibilities, and enact change on campus. Few students understand this like senior psychology major Hannah Freeman.
Originally from Wagoner, a small town near Tulsa, she first learned about USAO at a college fair during high school. When she took a tour, the campus enchanted her.
"I fell in love with the small size of the school and its beautiful, historic aesthetics," said Freeman.
Coming from a small town, a small campus made Freeman's transition out of high school feel natural and comfortable. But she quickly discovered the changes it would bring out in her personality.
"I was very shy when I got here, but I was quickly broken of that!" Freeman said, laughing.
Since her freshman year, Freeman has been an active part of the President's Leadership Council, a four-year scholarship with extensive extracurricular requirements. This has pushed her to take on more leadership positions across campus, something she'd never envisioned herself doing before arriving at USAO. She also took a part-time job in the Admissions Office, giving tours of the campus and building her confidence.
2019 has been a big year for Freeman: she has served as the president of Psychology Club, worked as a Peer Academic Leader in the Student Success Center, maintained her PLC scholarship and began a research endorsement project in psychology.
In spring, along with her close friend Kylea, Freeman decided to step up her leadership efforts on campus yet again. They noticed that USAO once had a chapter of Psi Chi, an international psychology honor society, that had not been renewed for years.
"I thought it would be a great thing to have on campus," said Freeman. "So I thought: how can we get it back?"
With the help of her mentor and advisor, Assistant Professor of Psychology and Title III Director Dr. Misty Steele, Freman jumped through many hoops, eventually reinstating the USAO chapter of Psi Chi. She now serves as its vice president.
This fall, another opportunity arose for her to take charge. As she started planning for her life after graduation, she realized that students lack important information about the process of looking for and applying to graduate school programs. This led Hannah and Kylea to collaborate with the Student Success Center to hold USAO's inaugural graduate fair in October.
"It's something I wish I could have attended years ago when I was still unsure about grad school, so I worked and made it happen," said Freeman.
After weeks of constant planning and work, the graduate fair was a huge success. Over 100 students attended to speak with representatives from 15 different universities spanning Oklahoma, Arkansas and Texas.
"I think USAO is really good at letting people accomplish what they want," said Freeman. "We have the space and opportunities for students to advocate for themselves and make things happen. I am also getting to work on a research endorsement with Dr. Steele right now—most places don't let you do that until you're a grad student!"
With her final semester at USAO approaching, Freeman is staying busy planning for her next adventure. She hopes to attend graduate school in counseling and psychometry at either Oklahoma State University, University of Arkansas, or East Central University. Next spring, she plans present her psychology research at multiple academic conferences.
The nature of USAO allows ambitious students like Hannah to identify a problem or a need that is not being met and turn it into an opportunity to gain essential leadership experience. With so many projects under her belt, Hannah will leave USAO well-prepared to navigate the professional world!