Student Spotlight: Harrison I. Stone
---
December 07, 2021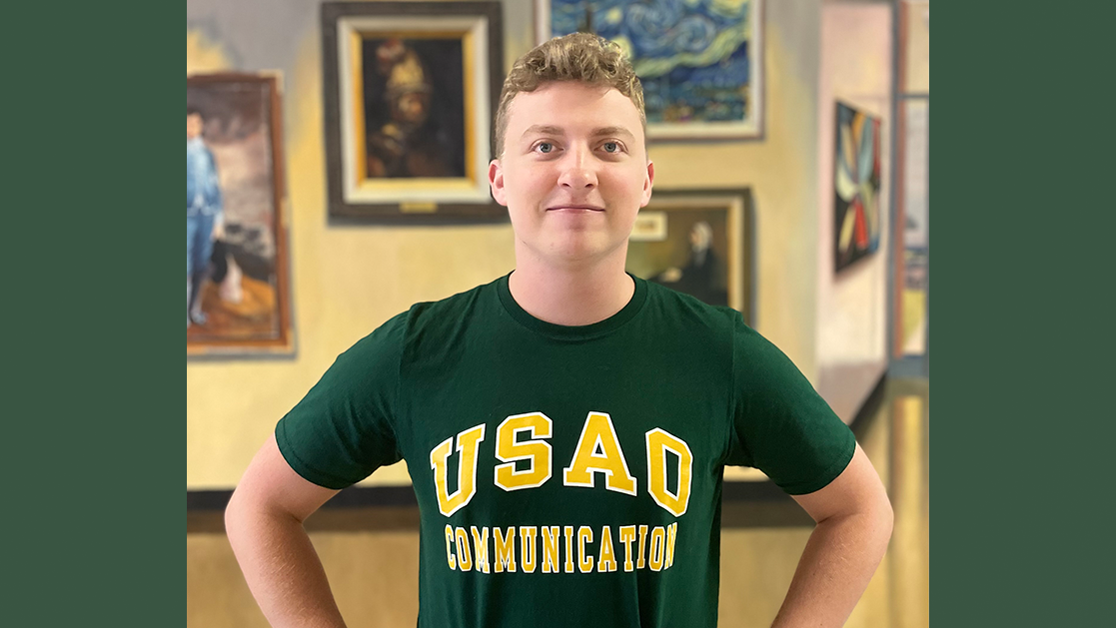 Senior communications major Harrison I. Stone has attended four universities but counts the University of Science & Arts of Oklahoma as his favorite thanks to the college's distinctive culture and the close sense of community between students, staff and faculty. He credits Dr. J.C. Casey, professor of communications, with helping him capitalize on his love of this interdisciplinary field of study, which examines the ways that humans can effectively transmit meaning to each other.
"It is a shame that this is my senior year and I couldn't share more years with Dr. Casey. She and many of my other professors at USAO have made learning fun and understandable," said Stone. "Communications is something I have always had a great interest in. Growing up, I loved watching commercials and thinking about how I would present them to make them better. Having a passion for media and messaging is why I chose communications."
Coming to USAO in spring 2020, Stone not only had to adjust to a new school, but soon, a completely new way of learning as the COVID-19 pandemic forced a shift to virtual classes. While it was not easy, this experience helped him mature immensely and refined both his professionalism and his attitude towards academics. Thanks to USAO' exceptionally supportive environment, Stone still benefitted from the university's rigorous and innovative classes despite the distance, gaining more than just knowledge of his subjects.
"Whether writing papers or speeches, we have a different outlook about the final product. It isn't about grades, rather it's about applying what we've learned to think about a multitude of subjects," he said. "This in-depth thinking will doubtless make me a valuable asset in whatever job I land after graduation."
Stone also serves as a student worker for USAO' Communications and Marketing Office, allowing him to get real-world practice doing public relations in a professional setting as well as meeting many more people around campus than he otherwise would have. The more he has talked with his peers, the more he has learned about just how many different clubs are available on campus, and this experience has inspired him to get more involved himself.
"All the support and flat-out fun to be had from these groups is something I am missing out on," said Stone. "I have yet to join a group or club, but I hang out with enough people to see how vital they are to keeping us sane in our studies. My family tells me that I am a workaholic and need to take more breaks. Taking a few hours out of my week to have some fellowship and unwind from work is something everyone ought to try."
Even beyond the stellar academics and diverse student organizations, Stone finds that the entire atmosphere at USAO is geared towards helping students succeed, with plentiful resources available and an already low tuition rate. Having tried a number of other universities before coming to USAO, he particularly appreciated that USAO has specific financial aid options for transfer students.
"This university is a top-tier choice for any student," he said. "This is a smaller school, but that holds a strength: this is a close-knit society that has your back. I know that if I start struggling, I always have friends close by. The transfer scholarship was a huge benefit to me personally and made the transition to this school easy. That is just one of many examples of how this school is supremely student-focused."