USAO recognizes outstanding academic achievement by students
---
May 9, 2022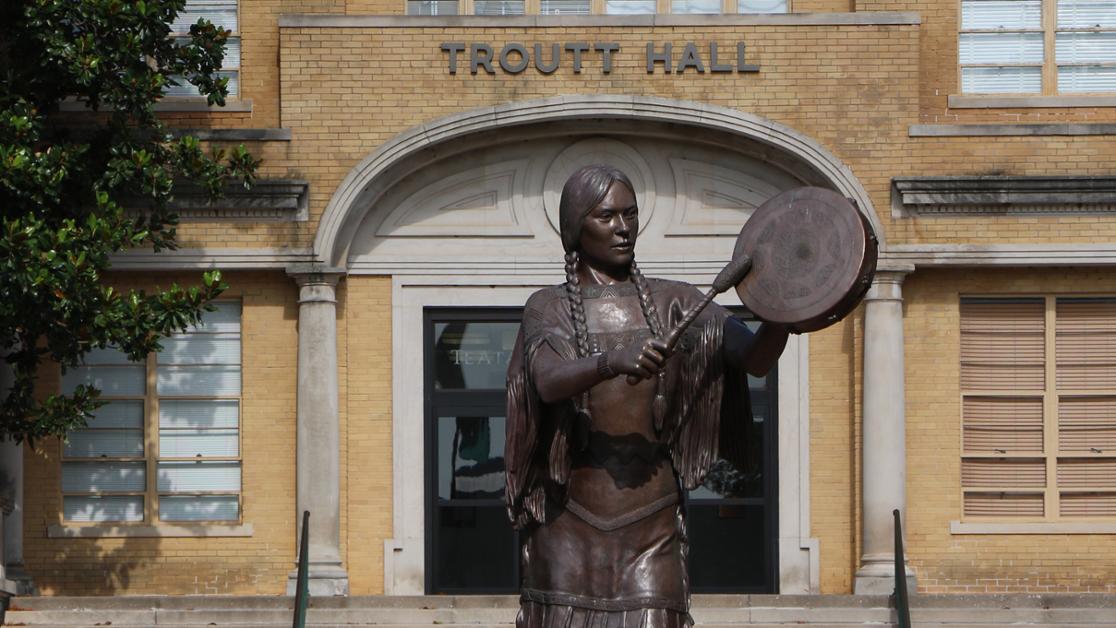 Nearly 280 students at the University of Science & Arts of Oklahoma were recently named to the university's two honor rolls for the spring 2022 trimester.
University records show 190 students were named to the USAO Honor Roll and 89 students to the Regents Honor Roll.
The USAO Honor Roll recognizes students whose GPA is 3.5 or higher for 12 or more hours of class work. The Regents Honor Roll recognizes those who have been named to the USAO Honor Roll for three or more consecutive trimesters. The honor rolls were created to recognize and encourage academic excellence.
To learn more about educational opportunities at USAO, visit www.usao.edu.
Regents Honor Roll
Alex – Nathan Bauman
Ardmore – Brittany Olvera
Bethany – Daniel Roach
Bethel – Joseph Mitchell
Bixby – Nicholas Harwood
Blanchard – Mia Cole, Conner King
Bridge Creek – Holly Dunivan, Amanda Hibdon
Broken Arrow – Jaclyn Almeida, Cassidy Bowles
Cement – Colton Pennel
Chickasha – Madison Austin, Zoe Blue, Cambrie Price, Ashlin Tryczak
Claremore – Bethany Goulet
Collinsville – Darci Chester
Coweta – Cassidy Sturgeon
Coyle – Cree Yellow Owl Sumner
Cyril – Kali Thompson
Del City – Lauren Cookson
Dibble – Hunter Hamby, Elizabeth Harrison
Edmond – Mackenzie Holub, Robert Spurlin
El Reno – Ashley Johnson
Fletcher – Jordan Bloomfield
Hamilton – Lena Blanton
Healdton – Erin Kelley
Jay – Sydney Matheson
Jones – Joel Lane
Lawton – Keiarie Henry
Lindsay – Savannah James
Lone Grove – Alexandra Medcalf
Lone Wolf – Alexys Thompson
Mangum – Chandler Leamon-Webb
Marlow – Tyler Lavey, Macoy Ramsey
Moore – Madison Homer, Katelin Robbins
Newcastle – Emily Cerny, Taylor Elliott, Kaicee Hobbs
Newkirk – Coltyn Harrill
Oklahoma City – Abigail Davis, Gabrielle Guyse, Wendell Hixson, Eden McIntosh, Evette Raper, Lexie Sapp, James Shaver, Claire Smith, Parker Stoddard, Skyler Sturgis-Garneau, Sophie Werner
Preston –MacKenzie Freeman
Purcell – Titus Pruitt, Cynthia Rodriguez, Cecilya Rogers
Tecumseh – Suni Meely
Tulsa – Alec Byrd
Weatherford – Michael Hixson
Wellston – Sidney Wilson
Yukon – Chelsea Fuston, Halli Humphrey
Home-Schooled
Ch'Mere-Renee Austin, Daniel Buster, Rachel Dennis, Jensen Link, Olivia Owens, Caleb Smith, Harrison Stone, Morgan Taylor, Cameron Tolle
Out of State
William Berumen, Arianna Camerlin, Milagros del Carmen Carrera, Briteanna Curry, Cheyanne Dube, Abigail Dulle, Anastasia Dulle, Lucia Guerrero Suarez de Freitas, Francisco Hernandez Esteban, Harrison Keane, Alicia Perez
USAO Honor Roll
Amber-Pocasset – Jaxson Prather
Anadarko – Nicole Aguilar
Ardmore – Demarco Calvin
Bethany – Joey Morales
Bethel – Destiny Miller
Binger – Savannah Alldredge
Bridge Creek – Lainey Morrow, Chandler Standridge
Broken Arrow – Eliana Alvarez, Abigail McNabb
Broken Bow – Fe'Era Watson
Burns Flat – Jordan Weese
Cache – Ethan Korn, Brianna Quoetone, Kaley Ware
Carnegie – Gisela Alonso
Cement – Ally McDaniel
Chickasha – Niki Autrey, Ethan Christian, Mikki Elam, Serena Green, Qi'Onna Madison, Jacob Mayhugh, Kyle McClain, Rhiannon Quillin
Choctaw – Taliah Thompson
Claremore – Colton O'Brien
Comanche – Jordan Kirkland, Christopher Ward
Crosby – Tahlia Casey
Crowder – MaKenna Locke, Montana Lovell
Cyril – Kaitlyn Long, Dawn Tsatoke
Del City – James Davis, Cyndyl Mondragon
Dibble – Jessee Clark, Aubyn Hatchett, Rilley Merrill, Arlo Pratt
Duncan – Falon Howell, Steven Stacy
Edmond – James Anderson, Sydney Arneson, Alexander Knight
Fletcher – Kelsey Ridder
Fort Gibson – Katelynn Bowden
Glenpool – Marquis King
Guthrie – Lacey Dutton
Indiahoma – Hope Marquardt, Trinity Albao-Cozad
Inola – Christina Michaud
Jones – Amanda Oliver
Kingfisher – Rylee Trent
Kingston – Gary Jackson
Lawton – Evonne Paul, Bryanna Wilson
Lexington – Kylie Hopkins
Madill – Samantha Hunt
Mangum – Emma Leamon-Webb, Chloey Orosco
Marlow – Mikahla Lavey, Allison Riddle
Maysville – Jamie Townley
McAlester – Kayle Beil
McLoud – Kayla Denton
Meeker – Kaleb Naylor
Midwest City – Amyah Black
Minco – Sydney Dacus
Moore – Holly Beck, Ana Carrion, Maritta Crawford, Breanna Halbert, Aaron Huebert, Paige Marshall, Crystal Munsey, Mary-Grace McNutt, Brooke Phillips, Meliton Salcido, Jaryn Stringfellow, Kylie Strotman, Xavier Yousey
Mustang – Taylor Hurt, Faith Morrow, Aubrey Ruttman, Isaiah Young
Newcastle – Alexis Roof
Ninnekah – Dakotah Davidson, Christopher Payne
Noble – Avery Crawford, Alex Rodgers
Norman – Janet Ogungbuyi, Emma Rice, Lydia Wills
Nowata – Leslie Randall
Oklahoma City – Phoenyx Baker-Blount, Hannah Bliugh, Josue Carrillo, Shaina Daron, Janey Figueroa, Amanda Hacksisombath, William Hoch, Arlette Melendez, Lexie Sapp, Eriyon Tecson
Paul's Valley – Jose Flores
Prague – Matthew Carlson
Purcell – Sara Dunnam, Ramon Hernandez, Aliyah Payne, Cadyln Wollenberg
Ringling – Haylea Eakins-Aycox
Roland – Destinee Asbill
Rush Springs – LaDonna Phariss
Shawnee – Corbin Cantrell, Kali Kasterke
Stigler – Jessica Cobbs, Madely Robertson
Sulphur – Savannah Ashford
Tecumseh – Casaundra Duncan, Jacey Kuhn, Shanin Moore
Tulsa – Kaitlyn Darrow, Kennedi Ford, Kaylin Morris, Sydney Northern
Tuttle – Bryce Legg
Union City – Emily Loughridge, Joshua Morris
Velma-Alma – Joshua Edwards, Jaden Jog=hnston
Verdigris – Addison Courtney
Washington – Chloe Windham
Wayne – Jamie Haynes
Weatherford – Brock Conkling
Woodward – Brittany Berry
Yukon – Ashlynne Prigmore, Savannah Rivera, Faith Ruoff

Home-schooled
Margaret Brooks, Jeffie Buster, Anna Campbell, Elisabeth Dohm, Hannah Dudleson, Sandra Estrada, James Fisher, Kalep Glandon Kayla Hill, Hope Marquardt, Madelyn Primeuax, Aleigha Prince, Leslie Randall, Samuel Roberts, Aubrey Thomas
Out of State
Jaimee Aeestouilh, Mihajlo Blazic, Darko Borisavljevic, Maria Boyd, Darnell Charles, Harry Cracknell, Tyrike Cunningham, Logan Dolan, Hagen Earls, Amos Ferka, Carlen Figueroa, Zachary Frost, Claudia Gallegos, Madison-Kyleigh Garcia, Aimee Grosz, Shaylin Hall, Luka Jekic, Rebecca Johnson, Luna Knoester, Chantelle Lanum, Matija Malenovic, Peyton McDowell, Allison Patak, Chelsea Patterson, Luna Perez, Ryan Rodriguez, Bethany Sackett, Stefan Savkovic, Roberto Serrano, Jessica Shumer, Maniqua Smythers, Aleksandar Stankovic, Devon Sutton, Jennifer Wall, Chiara Winkler, Andria Wood